First birthday party ideas for boys are difficult to come by. Mommies with Lil' Prince can easily relate to what it means. This post brings 11 unique boy's first birthday party ideas so that you don't have to search any further. Steal these amazing tricks and tips to make it a wonderful first birthday party celebration free of stress!!!!
With these breathtaking first birthday party ideas for boys, you can do a little extra planning and make this day all the more fun with cute decorations, games and activities. Our post serves you everything you need to plan a perfect birthday bash on completion of 1st year of your prince. Here you go…..
Cake Smash Outfits and Costume
Beautifully color coordinated pair of tie, pants and hats make cute baby birthday outfits. Cake smash outfits for boys are the funniest and funkiest clothing for little prince birthday party. Dress up your kid in these cash smash costumes which come in bright and happy colors with attractive prints that completely match with your baby's vibrant vibes. First birthday dresses have got to be exclusive and enchanting.
Check out Best Royal Prince Birthday Party Theme Ideas for Boys
Have a boy birthday coming up? Check out our Creative and fun Birthday Party Theme Ideas for Boys
Unique First Birthday Party Themes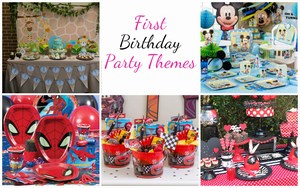 To make this milestone a special one, try unique themes for the occasion. Minnie Mouse 1st birthday party theme always works wonder. Cars, Disney World are creative themes for boy's birthday party. Farmhouse fun, circus, hot air balloon make interesting first birthday party ideas for boys in summer and fall. For parties in winters, Christmas, Ice Age, Snowman, Panda make fun-filled themes. Peas in a pod, Mario Brothers are some fabulous 1st birthday party ideas for twins.
Read also this: Coronavirus Lockdown Kids birthday party ideas
1st Birthday Party Invitations
Little prince birthday invitations have to be creatively designed. Coordinate the invitations with the party theme. You can go with DIY invitations or have them designed from professionals. These days paper invitations have been replaced by digital invitation cards which don't cost much on pocket and can be anything from simple to surprising!!!
Birthday Cakes
Cake is the focus of birthday party and when it is the first birthday cake, it has got to be exclusive. Designer cakes make an awesome choice on this special day. Have a custom made cake for your baby boy in synchronization with the theme of celebration or in accordance with what your baby likes. Colorful innovative cakes add on to the excitement of the day.
Read this: kids Birthday Party During Lockdown
Party Games & Crafts
Kids love activities and you really got to have some interesting party games and crafts to keep them busy. You can organize a treasure hunt in your backyard or have a bubble game planned for the young brigade. Keep them involved in some activity and don't forget to give them a prize when they win as that's their biggest motivation. For more creative games, you can also search on internet.
Venues for a First Birthday Party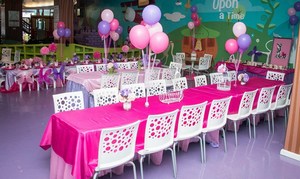 If it is a summer birthday party then you have arrange for it in your backyard as it is a comfortable place. You can easily set up a few tables, chairs and mats to prepare it for the occasion. If it is a winter celebration then you need a warm place. You can book a restaurant down the lane or pick up some good banquet. But make sure you plan the party in advance. Do not leave everything for the last moment.
Boss Baby Outfit is perfect for your special little boys first birthday and baby shower
Birthday Party Accessories
Birthday celebrations are incomplete without playful accessories. Markets have enthralling collection of party hats, funky masks, hats, glasses, shoes for different themes in various colors. Select these amazing party accessories for your baby boy's first birthday party to make it all the more entertaining for the guests.
Birthday Party Decoration
A birthday party without decoration is no celebration. First birthday party decorations have to be extra special. Get those beautiful birthday banners and signs, streamers and ribbons and confetti to decorate the place with more colors and creativity. Select these first birthday supplies in colors matching with your theme to keep everything synchronized. You can even use wall papers to do one of the walls specifically in a particular theme.
1st Birthday Party Food Menu
First birthday party food menu should strictly be as per the guests. You have to have kid's favorite foods like finger fries, fruit canapés, mini muffins, baby bread sticks, fresh fruit salads, baked potato smileys etc. Do not forget to include fruit smoothies, lemonade in beverages. For sure, you also have adults accompanying their kids, treat them with something filling like baked vegetables, mini pizzas, assortment of sandwiches etc. Keep the menu balanced and filling,.
Photography Cameras
Don't miss on the clicks…. Capture the beautiful moments of this special day in pictures. Keep your camera ready. You can seek help from your friend or sibling to click these pictures for you or if you don't mind spending little extra then hire a professional photographer who can do this job for you with perfection. First birthday clicks are always special and you must make sure that you don't miss any of the firsts of your little prince.
Birthday Return Gifts for Kids
Without favors, no birthday party can finish. With unique birthday return gift for kids, you can actually make your birthday party a hit in the young brigade. Personalized towels and bibs, colors and coloring books, magnetic letters, bath towel sets make great favors for kids. They will not just be loved by the kids but their mommies will also be impressed with your pick.
With these fantastic baby boy 1st birthday party ideas, you will surely feel sorted and more confident with planning one for your kid.
Also check out stunning 1st birthday party Ideas for your cute little baby girls.
Top Search: