Use the best boys theme party ideas and awesome 1st birthday party ideas to make it a perfect celebration for your munchkin. If you are planning baby's first birthday party then you need best ideas not only with some exclusive themes but also stylish outfits for first birthday party themes for baby boys in India. Add more fun to the unique first birthday party ideas for boys with the fantastically designed outfits to match the themes.
If you have the best birthday party ideas for boys but you are in search of boys birthday party theme outfits then this post will take you through creative boys birthday party theme outfits.
Read also: Little Girl Birthday Party Theme Outfits
Most Popular 1st Birthday Party Themes and Outfits Ideas for Boys
We have rounded up the 14 most unique and cutest first birthday party theme outfit ideas to offer you more choices and help you find something exclusive:
Baby Boy Sports Party Theme Outfit
Boys love celebrations that revolve around sports. Plan a birthday party around any sport and pick a perfectly complementing sports theme first birthday outfit. Be it party games or sports themed boy's birthday party outfits, you can select the best ones. Don't simply use the sports themed 1st birthday party ideas for decoration but also for outfits. Select from the collection of extensive baby sport themed outfits that include Cricket, Football, Badminton, Baseball, Basketball, Soccer, Volleyball, Biathlon, Billiard, Tennis, Hockey, Rugby, golf, bowling, Boxing.
Return gifts for kids and return gift ideas for a birthday party should be unique and budget-friendly.
Dinosaur First Birthday Outfit Boy – Dinosaur Birthday Theme
Dinosaur birthday theme is incomplete without dinosaur 1st birthday onesies and cake smash outfits. A perfect blend of cuteness and creativity, these dinosaur 1st birthday shirts make fantastic cake smash outfits. Be it a Jurassic or prehistoric themed party, you can have a custom made dinosaur birthday themed outfits designed for your little prince to have his dressed in a perfect dinosaur theme outfit to celebrate this day in style and fun.
Unique Safari birthday Outfit Ideas for your Baby Boys and Girls
Little Prince Boys Cake Smash Outfit / 1st Birthday Theme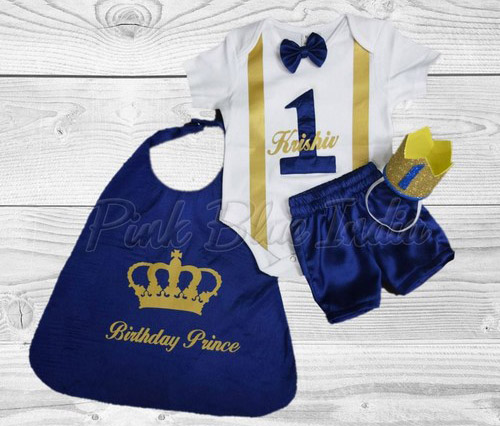 Dressing up your little prince in cute little prince outfits is something every mother wants. Whether it is a birthday party or a cake smash photo shoot, these little prince theme boys birthday outfits make a fabulous dress to celebrate. If you are planning prince themed birthday party for 1 year old then the personalized little prince outfits make a promising dress. Buy these creative Royal Prince birthday cake smash outfits that are loaded with love.
See Article Also: Cute 1st Birthday Outfits for Baby Boys
Baby Boys Circus Ringmaster Birthday Party Theme outfit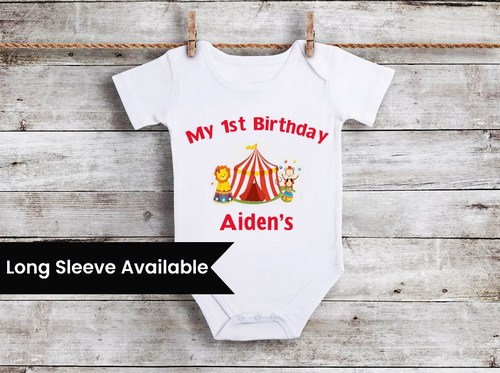 Blend the craziness of circus with birthday celebrations with a circus ringmaster birthday theme. Use the unique circus dress up ideas and shop for circus theme costumes for toddlers that will make them look truly adorable. Have your boy dressed in a perfect circus ringmaster boy 1st birthday outfit that also makes a really amazing circus cake smash outfit. Your circus/ carnival themed birthday party ideas would come out really beautiful with these nicely themed outfits.
Check this: Awesome Royal Prince Birthday Party Theme Ideas for Boys
Boss Baby 1st Birthday Theme Outfit for Boy
Go with the unique baby shower theme to celebrate the first birthday of your boy. Boss baby birthday theme for boy makes an exceptionally fun theme and with the right things available, you are all sorted. You can even dress him up in a fun boss baby birthday outfit boy. Find the fantastic boss baby boy outfit designed around the special blue boss baby birthday theme to make his special day a memorable one with this theme.
Safari Jungle Theme Birthday Party Outfit
Children love animal and having a birthday party planned around a safari jungle theme is a better idea when you have safari birthday outfit for boy. Cute safari animal birthday onesies and shirts make delightful jungle themed first birthday outfits for boys. Celebrate it with cake smash jungle 1st birthday outfits that perfectly match the theme. Pick these fabulous jungle theme dress for baby boys that are designed just for the theme.
Shop for Customizable Safari Birthday Outfit Boy
Underwater / Ocean Theme First Birthday Party Onesie
Baby boy ocean themes onesies are just what you need for the underwater theme birthday party. Crafted specially for ocean theme, the beautiful and stylish under the sea 1st birthday onesies make a fantastic choice. Not just that, they also make a lovely surprise present on baby shower. With such cute and irresistible 1st birthday outfits, you have nothing else to look for.
Baby Boys Mickey Mouse & Friends Birthday Onesie
Celebrate your baby boys' birthday with Mickey and Friends 1st birthday onesie in bright and beautiful colors. This is a theme loved by everyone and unique Mickey Mouse 1st birthday outfits for boys add on to the celebrations. These incredible cake smash outfits designed around Mickey & Friends theme will certainly make the first birthday celebrations memorable in every sense.
Disney First Birthday Outfit – Baby Boy Disney Theme Onesie
There is nothing better that Disney first birthday outfits for boys. Created with innovative ideas, the baby boy Disney theme onesies not only make comfortable outfits but also make cutest choice of dress for the occasion. With lovely Disney first birthday party onesies to choose from, you surely don't need anything else to have your baby boy look stylish and adorable.
Harry Potter Inspired Baby Onesie | Newborn Baby Gift
Make it a special birthday with unique Harry Potter baby clothes. Your little one is going to look superb dressed in Harry Potter inspired baby onesies. Simple yet fun to dress up Harry Potter themed onesies make a fantastic newborn baby gift. Buy online the lovely Harry Potter custom baby boy birthday smash cake outfits/ first birthday onesies that will make it a birthday celebration to remember forever.
Nautical First Birthday Outfit – Nautical Baby Onesie
Personalized baby sailor 1st birthday outfits for boys make awesome outfits for birthday special photo shoots. Induced with greatest style, nautical theme party outfits for baby boy are pure class. Dress up your little ones in the most adorable nautical first birthday onesies that are truly lovable. Make his first birthday an extra special one with these enchanting nautical baby onesies.
Vintage Baby Boy Bodysuit and Onesie 0-12 months
Designed around vintage style, these cute vintage baby boy bodysuits will look cutest dressed in these amazing styles. If you are following vintage theme party ideas then find these vintage baby onesies for baby boys between 0 to 12 months of age. Made with lots of love and with a beautiful vintage feel, these bodysuits make a wonderful pick.
Pilot/Aeronautical Theme Boy 1st Birthday Outfit | Airplane Baby Onesie
Kids are always thrilled seeing planes and therefore, what's better than cute airplane onesies and classy baby pilot onesies. If you wish to keep it different then pilot/aeronautical theme is an interesting idea and with the lovely collection of baby boy airplane 1st birthday outfits to choose from, you have nothing to worry.
Personalized Minion Birthday Shirt or Onesie for Boy
Minions are super cute and therefore they make the most loved choice of theme for first birthday celebrations. Choose from baby minion onesies and t-shirts that come in bright and beautiful colors. Dress up your munchkin in minions 1st birthday onesie boys that make the most convenient and also the most adorable minion birthday theme party outfits for baby boys.
Baby Boy First Birthday Paw Patrol Outfit/ Onesie
If paw patrol is the theme for first birthday party of your baby boy then finding a paw themed first birthday t-shirt or onesie is not a problem as you can select the perfect paw patrol birthday outfit for boys from the collection. These cute and comfy paw patrol baby onesies and tees look nothing but smart and adorable on your little darlings.
You can choose an adorable outfit as per the theme of the birthday party of your baby boy or you can have a customized outfit dressed around any theme with us. Just WhatsApp us or call us at 8003550118 and we will help you with many interesting ideas for themes and theme based outfits to make it a perfect birthday for your baby. And if you want then we can also design customized matching family t-shirts as well.
Top Search: