When it is the first birthday of your little baby boy, you want the outfit to be perfect. To make that milestone all the more special and memorable, you must go with an exclusive first baby boy first birthday outfit. Go with the special 1st birthday dress for baby boy Indian as well as western to celebrate his day in style.
In this post, we have come up with the most amazing and unique first birthday dress ideas for the baby boy. Browse through these fabulous first birthday dresses for baby boys that promise to make his first birthday celebration a day to remember forever.
What First Birthday Outfit to Pick for Your Little One?
If you are thinking about cute 1st birthday boy outfits for your little prince then we have come up with the most charming collection of dresses to choose from:
First Birthday Velvet Suit for Baby Boy
Dress up your baby boy in the most charming 5 piece velvet first birthday suit in maroon color. Have him rock every winter wedding and birthday party with this combination of blazer, pants, bow tie and white shirt. Boys and Kids birthday party outfit/Toddler to Teen Suits/Maroon Velvet Suit For Kids/Tuxedo For Boy/Toddler To Teen 5 Piece Velvet Suit/ Velvet Birthday Suits for Kids.
Royal Prince First Birthday Outfit Boy
He will look nothing less than a prince dressed in royal prince first birthday outfits. Truly stylish and classy, these royal prince outfits make the ideal 1st birthday gift for baby boy to have them dressed in the most unique fashion. These also make the most wonderful 1 year old photo shoot outfits for boys to shop for.
Read Also this: Matching Family Outfits for First Birthday
Boss Baby Outfit For 1st Birthday
Cute and smart black Boss Baby themed personalized Outfit 6 piece tail coat set, you don't have to look anywhere else. Make his birthday celebrations all the more special with this handsome outfit that consists of shirt, paint, coat, bow tie, shoes and caps.
Best Themed Outfit for Smash Party Boy
If you are planning a theme party for his first birthday then make sure you have shopped for the complementing theme outfit for him. Be it a jungle theme, Mickey Mouse, Superhero, car theme or balloon theme birthday celebration; you can have the most colorful and creatively designed theme based first birthday outfit for your baby boy.
Animal Theme Birthday Dress – Jungle Birthday Special Outfit
Cute and adorable animal theme birthday dresses make the perfect pick of outfit if your little one is an animal lover. He is going to steal ever heart dressed in the most exclusive animal themed outfits that must not be missed. Select from the vibrant and wide collection of first baby boys birthday onesie outfits that have been designed around animal theme.
Boys Formal wear for Birthday Party
Go with the handsome and stylish formal wear outfits for the first birthday celebrations of your baby boy. Pants, trousers, jackets and coats make a truly desirable choice of formal outfit for little sweethearts that rightly make the occasion all the more special. He will look nothing less than a gentleman dressed in them.
Custom Printed Baby Shirts for First Birthday
You can even have personalized first birthday outfits for boys that make lovely wear for the occasion. Go with the unique custom printed baby shirts that cutely celebrate his first birthday. These custom printed shirts can be paired with any kind of lower and make a comfortable as well as fashionable wear for the baby boys on their first birthday.
Mickey Mouse Costume for Baby Boy
Your little one is going to look as cute as a Mickey Mouse dressed in the Mickey Mouse dresses for 1 year old boys. Select from the extensive baby Mickey Mouse outfits for 1st birthday that are vibrant and unique. Shop online the adorable Mickey Mouse dresses for baby boys in India to have your baby boys dressed with love.
Funny and Funky Birthday Outfit for Boys
If you wish to keep it unique and stylish then dress up your baby boy in funky birthday outfits that are full of creatively and colors. These funky dresses add more fun to the celebrations and make his look nothing but the best on the day that is truly important in his life.
Cute Birthday Party Suit for Baby Boy
A chic birthday suit for baby boy is just want you need to have him dressed in sheer elegance and style. Go with the most charming birthday suits that will add more spark to the celebrations on the most special occasion. Select from these fabulous birthday Velvet suits that make a forever pick for milestones like these.
Superhero Costume Ideas for kids
Celebrate his first birthday with the superhero costumes. Whether it is a superhero theme based party or whether you wish to have your little one dressed as his favorite superhero, you will find amazing superhero costume ideas for kids to have them dressed in the best way possible to make these celebrations memorable.
Twin Matching Outfits for First Birthday
If you have twin babies then make sure that you dress them up in the twin matching outfits for birthdays that have been creatively designed to make the celebrations double fun. Have a look at the most amazing collection of twin outfits for birthdays that match and complement with perfection to bring out the best in your babies.
Casual Printed Birthday Outfits for Boys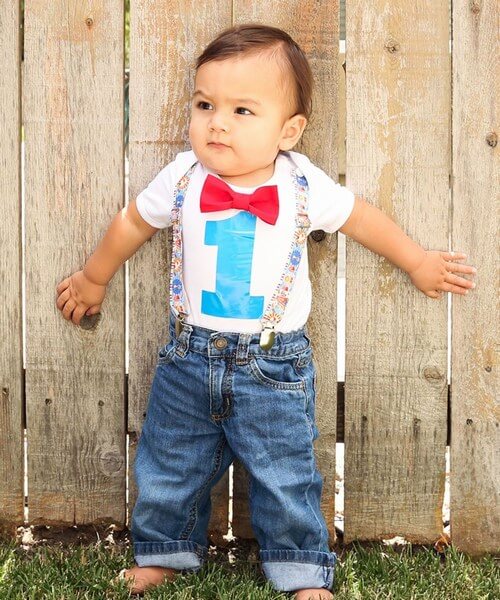 The casual printed birthday outfits for boys make a wonderful pick for all those who wish to dress up their babies in something simple yet unique. These lovely prints are a perfect blend of comfort and style and will make sure that your baby stands out in the crowd on this extra special day.
1st Birthday Dress for Baby Boy and Father and Mother
Dress in coordination with the 1st birthday outfits for parents in India. The matching dad and son outfits for birthdays along with matching mom and son dresses make a wonderful pick for all those who wish to click some memorable pictures as a family on a very special occasion.
First Birthday Dress for Mom and Son
Mom and son matching outfits for birthday make an ideal pick on the first birthday. Outfits for mom and son designed with perfect coordination make an awesome wear for the little ones and their mothers to have the occasion celebrated in high spirits. Bring out the bond of love you share with your son with these cute matching outfits for mom and son.
1st Birthday Boy Crown Hat
Keep it simple and fun with the unique 1st birthday crown hats that have been designed exclusively for the occasion. No matter what outfit your little prince is dressed in, adding this smart hat would change his complete look for the good as he will look exceptionally smart.
Birthday Party Accessories for a Baby Boy
You can also go for the unique birthday party accessories for your baby boy to make sure that he is dressed impeccably for his very first birthday party. Match these different accessories with his birthday special outfit to give him a perfect look on his very first birthday.
Top Search: