Choose best first birthday outfits and clothes for baby boys to dress them in style on their special day. It is a dream of every parent to make their baby's 1st birthday the most wonderful and memorable day as it marks the completion of first year of your little boy. And one of the most important things on this day is deciding the baby boy birthday outfits and clothes for a smart and stylish look. It can really get very difficult for parents to select the best 1st birthday boy dress as there are so many choices available in the markets but selecting the perfect formal partywear outfit is a challenge.
To make things easier for you, we have this amazing post which includes the best choices of first birthday dresses for little boys which are simply unique. Read on to explore these ideas and dress up your princess in attractive kids formal wear for the most special party this year.
Handsome Baby Boy First Birthday Outfits
Given below are some of the special birthday clothing ideas given below which are a must buy:
Kids and Boys 5 Piece Slim fit Green Velvet Suit
Boys and Kids birthday party outfit/Toddler to Teen Suits/Maroon Velvet Suit For Kids/Tuxedo For Boy/Toddler To Teen 5 Piece Velvet Suit/ Velvet Suits for Baby Boy. Perfect For 1st Birthday Party, wedding, Photoshoot and fashion show.
You May Like: Fashion Party Wear Outfits for Boys
Royal Prince Costume for Baby Boy
This is a complete four piece Royal prince outfit in blue and white which comes with a personalized touch. White shirt with blue waistcoat, pants paired with bowtie and shoes makes a complete set of cake smash outfit boy in India to dress him in great style.
Read also: Best 1st Birthday Party Theme Outfit and ideas for Baby Boy
Little Prince Charming Outfit for First Birthday
A perfect prince charming birthday costume is right here. A delightful replica of a royal blue prince costume is just what you need for your little prince for his first birthday. A combination of pant, shirt and shoes in blue and white with a hint of gold. The unique thing is the customized belt.
Buy Online https://www.pinkblueindia.com/baby-boy-prince-costume.html
Little Prince Personalised Baby boy 1st Birthday Outfit
The most incredible Prince 1st birthday outfit which is a combination of a pant, shirt, tailcoat, bowtie and a "Birthday Prince" printed cape. With this royal prince costume for baby boy in blue and white you don't have to worry about his special look on this significant day of his life. Buy Online
Royal Blue Boys Cake Smash Outfit / 1st Birthday Outfit
Go for this cute 1st birthday boy outfit to celebrate this first birthday. This prince costume for toddler is a printed onesie with a pair of shorts, an apron and a birthday hat. This is a must have cake smash outfit boy in India. And with such amazing custom first birthday outfits for boy, you are sorted to dress him up the best way.
Check this: Latest styles of Baby Boys Waistcoat outfit Set
First Birthday T-shirt for Baby Boy
This personalised 1st birthday t-shirt is perfect for any baby boy. Cute first birthday t-shirts for baby boy in unique prints and with fun messages make these t-shirts amazing baby birthday gift ideas for your little ones. Custom shirts make great birthday gifts.
First Birthday Formal Dress for Little Champ
Shop smart and fashionable baby boy birthday outfit to dress them up like little gentlemen. Choose from formal shirts and pants with waistcoat to keep their look simple yet trendy. You can select from wonderful choices of first birthday outfit in different colors and patterns which can easily be teamed up with comfortable pair of pants for your young heroes.
Baby, Toddler Boys 3-piece Party Suit for First Birthday
If you are looking for something exclusive and dashing then nothing fits better than a designer baby boy first birthday 3 Piece suit. You can select from formal tuxedos or suits which include a pair of pants, shirt, waistcoat, bow or tie. Dressing up your kid in these special birthday clothes will give your one year old boy an amazing makeover. These kids party wear formal outfit for boys are a must have on his special day.
Lil Boy Superman Costume for 1st Birthday Party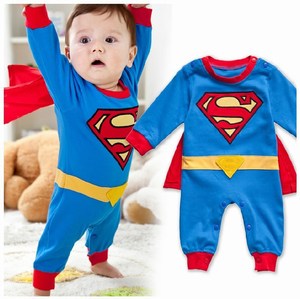 Boys are fond of superheroes like Spiderman, Superman, Batman etc. If you have planned a theme party designed around superheroes then these smart superhero costumes are the best 1st birthday party romper outfit for your charming baby. These beautifully designed smart clothes will promise a cute and trendy look for your toddler boy making him hero on his special occasion.
Kids Indian Ethnic Wear for their First Birthday
If you wish to dress up your little princess in a stylish ethnic look then there are choices of cute kurta pajamas, Jodhpuri Suits, bollywood dresses, dhoti kurtas in different colors and styles to give your hero a wonderful look. These Indian traditional clothes are a pleasant break from the usual western clothing choices and they will guarantee a rich and handsome look for your one year old baby boy.
Modern Boys Blazer for Birthday Party

Some of the parents want to design a classy yet simple look for their baby boys. The designer jackets and blazer for boys are another choice of clothing when you wish to give a smart makeover on their special day. You can buy summer coats with vibrant prints for the hot season. And for winters you can shop comfortable and warm winter jackets. They can easily be teamed up with pants or jeans.
Baby Shark First Birthday Shirt Boy
The darling section of Baby shark first birthday shirts for boys makes sure that your little prince is ready for the milestone moment. Creatively designed one year old shirts of birthday boys consist of eye-catching vibrant patterns with playful colors. These boy Baby shark 1st birthday outfits add a flawless formal touch to your kid. It is a sublime addition to your kid's wardrobe and a wonderful gift for someone else.
Mickey Mouse First Birthday Outfit for Lil Boy
Amazing collection of Cute Mickey Mouse 1st birthday outfits for baby boys. Dress up your charming kid in unique birthday dress perfect for Mickey Mouse themed birthday. Shop online colorful playful Mickey Mouse first birthday shirt as your little one completes the 1st year. Best outfit designed with love for your adorable baby.
Baby Accessories Matching Outfit for first birthday party

Without right accessories, the perfect birthday party look of your baby boy is incomplete. Given below are some of the kids accessories that guarantee a stylish look.
Cute Birthday Party Hats for Little Boy
To make sure that your baby boy stands out in the crowd, it is important that you buy him a sparkling and smart birthday party hats which matches with his first birthday clothing set. These party caps come in different styles and patterns helping you select the best one.
Baby's First Birthday Shoes with Matching Outfit
Do not compromise on your baby's shoes as shoes make a big difference. Go with cute kids booties or formal shoes to give your baby boy a completely unique look on this first birthday.
All of these choices of first birthday outfits promise a wonderful and exclusive look for your little hero on his very special day making it a beautiful memory for you and your child.
Shop children formal wear suit, boys rompers, bow tie and suspenders set, kids shirts, summer coats & more birthday clothing for baby boys in India. Free shipping & cash on delivery available on PinkBlueIndia.com
Checkout My Other Posts About 1st Birthday Outfits
Formal wear for your juniors on Special Occasions