Dressing up boys is quite a challenging thing for the mothers and when it comes to dressing them for weddings; it is surely a nerve-wracking experience. With limited options for party wear dresses for boys, it is not easy to buy just any formal outfit for boys. As a mother, you want to dress your young kid in the best baby wedding attire which can make him look the smartest. You want to have the best infant formal dresses or newborn formal wear for your young prince.
This post talks about some of the interesting kids formal wear for boys which are attractive choices of baby boy wedding attire. Choose from the below mentioned Indian kids wear which promise finest children's formal dresses. Let us have a look at some of the nicest infant formal dresses styles which are a relief for the mothers. Read on and find out these kids western wear for boys which promise fashionable look for your child and come with best of the comfort.
Semi-Formal Party Suit For kids
Dress up your young children in this smart and comfortable semi formal party wear suit. This is a wonderful kids western wear in India which is a fusion of fashion and ease of wearing. This toddler's semi formal suit comes with a pair of pants, a t-shirt and a jacket which makes it a complete party wear attire. This boys suit is one of the best pieces from the partywear collection which is a blend of comfort and style.
Boys 3 Piece Formal Suits & Dresswear
If you want to buy serious kids wedding suit for your little toddler then there is nothing better than the modish gentleman style 3 piece formal suit for children in India. It is a combination of formal trousers matched with a white shirt and a dashing waist coat which makes it a handsome western wear for weddings parties for your child. This is one of the finest choices of formal outfits for boys.
Comfortable Kids Western Wear
You cannot always dress your newborn baby in perfect formal wedding attire. For those days, you want something that is decent party clothing which is comfortable yet very handsome. This kind of clothing for toddlers is one of the best western wears to shop for. Your child can play around, run and enjoy the party in this amazing dress which is not perfectly formal but surely promises ease of wearing.
Party Dress for Kids in Checks
Another formal outfit for kids boys includes interesting checks. This is one pattern which will always stay in fashion. Buy this elegant children's formal wear in checks to dress up for young boy gracefully for wedding functions. With the look of waist coat, it imparts a look of boys suit and with the comfort of clothing, your baby will surely not mind wearing this amazing party dress.
Newborn Baby Formal Suit and Partywear Dress
For infant boys, clothing choices are all the more limited. Having a smart and comfortable formal suit for newborn baby boys is one of the best choices to shop from the party wear collection of outfits for infant baby boys in India. These formal suits have been designed keeping in comfort for the young children and they also ensure the finest handsome look for the newborn boys.
Baby Boy 3 Piece Birthday Formal Outfit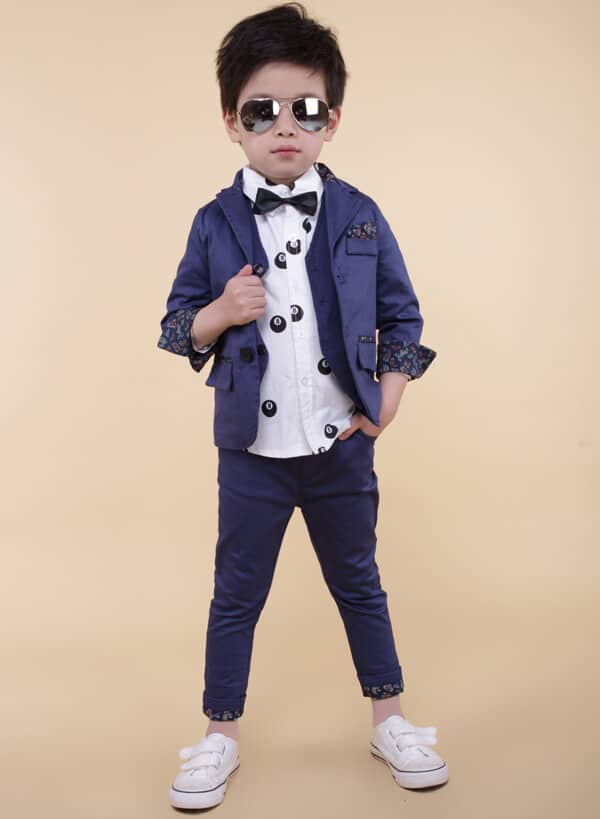 If your baby boy is young then the best formal western wear to add to his closet should be a 3 piece formal boy partywear suit. This is an unmatched combination of trouser, shirt and coat. This is one formal outfit which will make your little boy look like a cute prince. If you seriously want to dress your little one like a hero then shop online for this dashing ensemble which is perfect for wedding and birthday parties.
Sure to add to his charm, our smart boys partywear suits are designed for style and comfort. Browse page boy and wedding suits.