With the advent of summers, it is time for mommies to start shopping for cool and fashionable summer clothing for their little baby girls. As a mother, you want to make sure that your cute princess is dressed in the most comfortable and also the most splendid clothing for the season. Markets are loaded with enchanting prints, gorgeous designs and outstanding patterns which come in vibrant summer hues. But spending hours in markets finding the perfect unique summer dress for your kid can be a challenge, especially when it is hot outside.
This post brings the most amazing choices of 7 fashionable kids summer clothing for girls which are under the price of INR 1500 only. These are surely the most delightful dresses to dress your darling daughter in the most resplendent way for parties and outings. These clothing choices are perfectly within your budget and promise the finest look for your baby girl.
So read on and find out the most attractive kids summer apparels for your girl which are a must buy under Rs. 1500.
Trendy Baby White Polka Dots Summer Frock

This smart sleeveless designer baby girl summer frock in white color is a beautiful party dress for the hot season. This comes with black polka dots which give it a pretty retro look. The black colored on the waist adds more style to this delightful apparel. Shop it online for your cute little darling princess.
Baby Girl Pink and White Summer Party Dress
Another choice of smart and fashionable summer dress for your baby girl within your budget is this exclusive attire which comes with a rose pink colored bodice with a black bow. The white colored net flare with black dots makes it pleasant clothing for the hot season. This is a stunning frock to add to your girl's wardrobe.
Exclusive Kids Partywear Skirt with Top Combo
Summers are the time to dress your baby girl in cute trendy dresses. This combination of white top with a girl face print and cute bow in blue and the smart skirt in blue net is a wonderful piece to shop for your baby for this season. Made with soft material, it ensures a comfortable and light wear which matches the needs of the season for your baby.
Unique Party Summer Dress For Kids and Baby

Give your girl a completely new look with this gorgeous stylish party wear frock which comes in mesmerizing blending shades of blue. This beautiful summer apparel comes with a flare and flower bow on the waist which makes it a stunning clothing to wear to weddings, special occasions and birthday party celebrations.
Little Girl Off White Bodice with Pink Net Flare
Add a refreshing feel to the wardrobe of your little princess with this designer dress with off white bodice with floral print. It comes with a beautiful pink colored net flare which suits the season of summer. Have this unique fashionable summer clothing ordered for your little baby girl for a relaxed yet smart look.
Baby Hot Pink Net Summer Wear Dress
Dress up your young girl in the smart hot pink colored summer frock. This bright and gorgeous dress comes with cute frills along the neckline. There is a yellow flower on the bodice and a stylish pattern on the flare which imparts it an exclusive designer look. This is light and comfortable clothing for the summer season.
Baby Girl One Shoulder Frill Summer Dress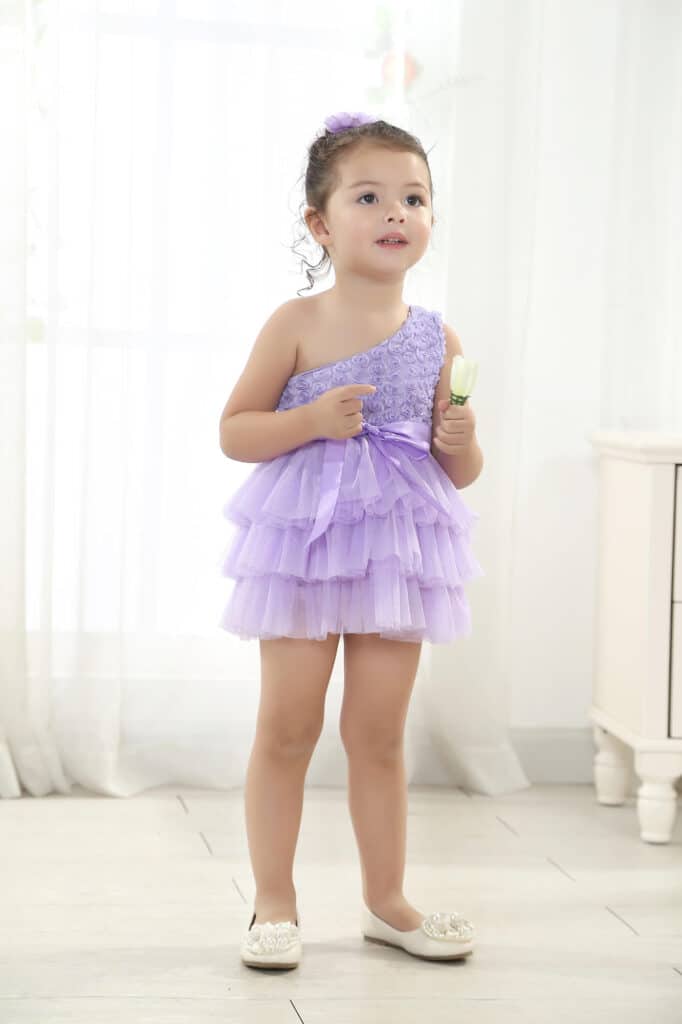 Buy the most amazingly stylish one shoulder designer dress for your baby girl to dress her like a princess. This summer apparel comes with a stunning bodice with floral pattern. The layers of frills in net make up a stunning flare. Dress up your cute little darling daughter in this extraordinary piece of clothing which is a must buy for this season.
You just had a look at the best choices of summer dresses for baby girls which promise a fresh and fashionable look. These exceptional apparels are ideal to give your daughter a unique look for parties and outings. And what makes them all the more alluring is the fact that they all come under price bracket of Rs. 1500.
You can find some tips on how to dress your baby for the warm months of the summer season.