Buy a First Birthday Dress in India directly from Pink & Blue Boutique
There is nothing more interesting and exciting for a mother than planning and celebrating a baby's first birthday. She needs to design and plan everything keeping in mind her cute little princess. In a kid's birthday party, the main focus lies on picking the birthday party dress for your baby girl and baby boy. Every mother wants her young one to look the best on such a special occasion.
Finding the 1st birthday dress for your one-year old baby in India can be a tough task if you don't plan it the right way. Though there are lots of options in the markets to choose from, but finding the perfect birthday outfit is not that simple. Well here are some important points which can help you pick nothing but the best birthday dress for your baby boy and baby girl.
Define your Budget for Birthday Party Dress

When you are purchasing a special dress for your kid, budget is never a concern but to ensure that you make a right choice, you must fix a budget. This will not only save you from spending exorbitantly but will also help you select the finest baby birthday dress.
Keep it Comfortable Clothes for Birthday
Always remember that style, fashion and design are important elements of the birthday dress but you must not forget that the baby needs to feel comfortable in the dress so that he can enjoy the party without any discomfort. Even if you are planning for a baby fancy dress competition in the party, dress your baby girl or boy in comfortable baby clothing. Too tight or too loose clothes always cause irritation.
Focus on the fabric
Fabric is another very important element to be taken into consideration because your baby needs to feel easy while wearing his birthday dress. Select the fabric as per the season. Avoid picking those fabrics which can harm the sensitive baby skin..
Be sure of the color
Color has a lot of effect on the mood so make sure you select light and pleasant shades to keep your baby happy. Don't go with too bright and too dark shades as they may not look nice on your little one. Keep it subtle and stylish.
Avoid too many embellishments
Embellishments add more beauty to the dress but in case of baby dresses, they are a big hassle. Avoid purchasing clothing with embellishments as there are chances that the baby may take it into his mouth. So keep it simple and smart.
So when you are purchasing the beautiful birthday dress for your baby, keep these points in mind to make your pick more interesting and convenient.
Find baby clothes and children's clothes in India, for Baby Boys and Baby Girls, at Pink & Blue Style Boutique.
Checkout My Other Posts About Cute First Birthday Outfits
Dressing a baby girl is always fun. Mothers have all the room to use their creativity for designing a gorgeous look for their little princesses.
Pick the best girls party gown or lovely Indian party wear dresses for kids to have them ready in the picture perfect kids party wear for an impeccable birthday look.
1st birthday of your little baby is princess is always special. You want to pick the most beautiful and cutest birthday outfit on this special occasion in which she looks stunningly gorgeous.
If it your baby girl's first birthday coming up and you are looking for an exclusive 1st birthday dress for her then one of the interesting choices to shop for your child are the pretty tutu outfits.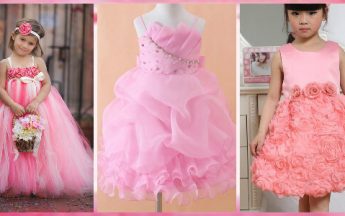 Gorgeous designer party wear pink colored dresses for cute Indian baby girls for perfect look at social gatherings.
Top Search: