Gorgeous designer party wear pink colored dresses for cute Indian baby girls for perfect look at social gatherings. Pink is the most favorite color of all the girls and when they dress up for parties in gorgeous kids party dresses in pink hues, they truly look like little princesses. If your daughter also loves the pretty pink party wear frocks when she is going out then you must get her the latest design party dresses which can make her look the best at every birthday gathering or wedding or any other special occasion.
Don't forget to check out our new arrivals of birthday frocks and gowns online for baby girls.
This post brings the 5 cutest designer baby girl pink party wear dresses and clothing in India which can be shopped online for kids between different age brackets for a stylish and glamorous look. Let us have a quick look at these amazing baby birthday outfits in pink color.
Pink Color Birthday Frocks | Girls Pink Flower Girl Dress
This sleeveless pink frock for baby girl has been designed using premium silk and has a lovely assortment of pink colored flowers on the bodice and scattered flowers on the flare. Shop pink frock online with us to buy her an exceptionally pretty birthday outfit that comes with a matching hair accessory that will complement her dress.
Baby Girl Pink Box Pleat Birthday Party Dress
Pink Party Wear dress for First Birthday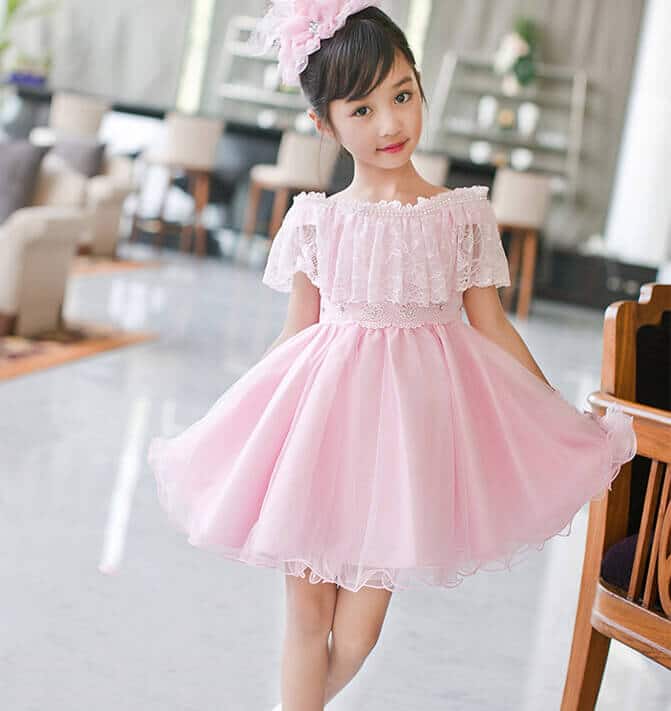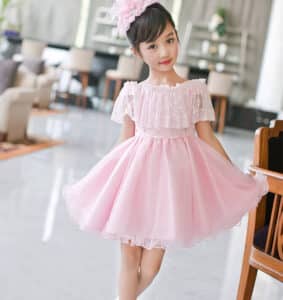 This is a soothing and yet very lovely pink baby formal party dress for first birthday of your princess. This is a cold shoulder baby frock which comes with stylish bodice with net flare making it a delightful dress for girls between 12-18 months. This is a classy piece to add to her closet.
Check This : Elegant Red Party Wear Dresses for Baby Girl
Hot Pink Kids Party Dress
Designer wedding party wear outfit for kids in hot pink color is stunning clothing. This baby girl latest design dress comes with floral arrangement on the waist with sleeveless bodice and net flare making it a simple attire to wear to any party and look graceful and stylish.
Check this also: Peplum Dress Party Wear For Girls
Light Pink Wedding Party Tutu Dress for your Princess
If you wish to buy an exclusive wedding party tutu dress for your little princess then this light pink colored tutu gown with a gorgeous floral bodice and net flare is the smartest pick for Indian kids. This attractive baby clothing promises the most amazing look for your girl on her birthday or any other formal gathering.
Korean Pink Baby Birthday Party Dress

Give your princess a gorgeous makeover with this exclusive designer birthday party outfit in Korean pink color. This enchanting baby dress has a fashionable bodice embellished with diamonds with net ruffled flare making it a stunning dress to wear to special occasions like wedding parties or first birthdays.
Pink Rose Floral Girl Dress For Summer party
This is a wonderfully designed pink rose floral dress which comes with an intricate arrangement of roses all over the dress. This is one formal outfit which is going to look prettiest on your daughter. Have this exquisite baby party dress ordered for your princess to dress her like a diva for summer parties.
All of these pink colored frocks, gowns and dresses mentioned above are wonderful baby clothes to buy for your kid to give her a smart look this party season.
Top Search: