Red has always been a colour that gets you all the attention and therefore, it makes a perfect choice of birthday dresses for girls. There are so many gorgeous looking red frocks for baby girls out there that make fantastic kids party dresses for little divas. The pretty red frocks for girls are constantly revived as per latest trends to always keep them unique and stylish.
In this post, we have compiled the best of red colour frocks for girls. These red birthday dresses for teenage girls and red birthday dresses for little girls are something that would always win them all the attention at every party. Not just for birthday parties but they also make a beautiful outfit for summers, Christmas celebrations, birthday party, 1st birthday, weddings, photoshoots, fashion shows and all kinds of events and special occasions.
Latest and Beautiful Party Wear Red Dresses Designs for Kid Girl
Shared below are the unique red birthday dresses and fashionable red frock dress in pretty designs that make a desirable choice of kids party dresses in India as they are too hard to resist.
Red Birthday Dress for Girls
This is a sophisticated party wear western dress in bright red colour. The assortment of flowers on the bodice makes it a refreshing red birthday dress for girls to have them dressed in an outstanding outfit on the special day.
Read also: Pink Baby Girl Dresses
Disney Red Minnie Mouse Dress for Baby Girl
For the cute Disney Minnie Mouse look, this red Minnie Mouse dress for baby girl makes an adorable wear. This is a simple red frock with ruffle sleeves and big shimmery black bow on the back. This 1st birthday dress for baby girl is a beautiful blend of style, comfort and fashion for your little girl.
Red Candyland Themed Birthday Party Dress for Girl
This kids party wear to shop online is a unique birthday party dress designed around the candy theme. The high-low patterned flare and lots of different kinds of candies embellishments on the flare make it a desire candyland birthday party dress for girls.
Explore PinkBlueIndia's Kids Sequin Dresses Collections Online
Party Wear Red Sequin Dress for Girl
For the perfect spark, this party wear red frock with sequined bodice makes a wonderful pick. Have your baby girl dressed in this glamorous red frock with a fantastic net flare and full sleeves bodice. And this red frock for girls comes with a matching hair accessory.
Watch Video of Red Dress: https://www.youtube.com/watch?v=PHZTcoXcPdI
Read also: Latest and Stylish 5 year girl party dresses for Birthdays and Weddings.
Red First Birthday Girl Dress
Beautifully embroidered bodice and a ruffled flare makes this wine red colour frock for baby girl an outstanding kids party wear to shop online. With this Red First Birthday Girl Dress, your little sweetheart is going to look simply amazing.
CHeck this article: 1 Year old Baby Girl Photoshoot ideas at Home
Long Red Designer Frock for Kid Girl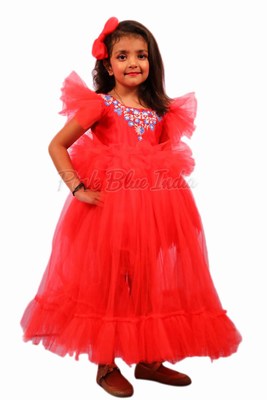 Dressed in this red long frock for girls, she is going to look so graceful on her birthday. It has a beautiful blue and white floral embroidery around the neck and stylish netted sleeves that make this long red designer frock a must have in her closet.
You May Like Also: 6 Years Girl Party Dresses
Princess Red Frock Party Wear
This is a fabulous baby girl red flower dress designed for parties and celebrations. The off-shoulder neck is adorned with flowers and the net flare adds on to the grace of this red frock which is an outstanding red frock for your princess.
Unique Red Birthday Dresses for Kids
This princess red frock is a blend of richness and sophistication. A smart high and low party wear red frock with golden sequins embellishments on the ends. This is an exclusive red dress for baby girl.
Baby Girl Red Floral Dress Online India
A classy high-low floral red dress for baby girls in India to shop online. Adorned with beautiful white coloured flowers, this baby girl red flower dress with sleeveless bodice and high-low flare makes a perfect pick.
Explore PinkBlueIndia's Flower Girl Dresses Online Collection
One Shoulder Baby Girl Red Dress
Dressed in this glamorous one shoulder red frock, she is going to look nothing less than a diva. The floral arrangement on the shoulder and flare and stylish flare add on to this princess red frock that is too hard to resist.
Read also: One Shoulder Dress for Girls
Beautiful Red Party Wear Dress for Girls Birthday
A resplendent baby girl red flower dress with a beautifully embroidered bodice and flare. The golden shimmery big bow on the back adds on to the style of this red frock for baby girl for birthday.
Baby Girl Red Flower Dress and Gown
This is a birthday dress for teenage girl which is a fusion of great style and fashion. A high-low red flower dress for baby girls which is adorned with white flowers on bodice as well as flare for a fantastic look.
Red Frilly Baby Dress – Red Frock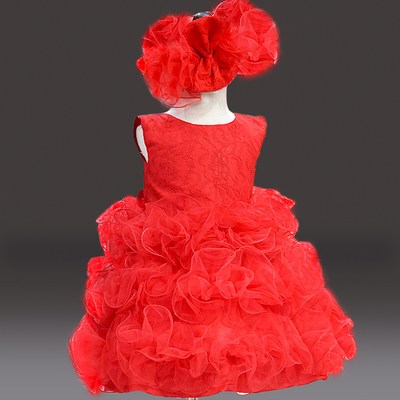 This is a designer red colour frock for baby girl with breath-taking frills. The flare of this outstanding dress is a work of beautiful frills twisted to create flowers. This makes a promising 1st birthday dress for baby girls in India. Buy Latest and exclusive girls ruffle dress online in India
These lovely red frocks are available in different sizes for girls of age 1 year, 2 years, 3 years, 4 years, 5 years, 6 years, 7 years, 8 years, 9 years, 10-15 years.
With the extensive choice of red dresses and gowns for baby girls, you can select the most attractive party outfits for an outstanding look. The red colours adds on to the personality of your child and ensures your baby wins every heart with her gorgeous red look.
We also make customized Red Party Dresses for kids, baby and teenage girls. Contact us at +918000011699 or WhatsApp us on +91-8003550118 or simply drop us an email with your requirements at [email protected] and we will be happy to help you.