PINK is the most loved colour by baby girls. And that's the reason designers come up with pink frocks for baby girls in different styles and cuts. The love for PINK is forever and therefore, moms are always in search of beautiful pink baby dresses at boutique for their princesses.
We have in this post the best of baby girl party dresses in different hues of pink. Each little girl pink frock in India has been made with love and creativity to give your girl a refreshing look each time she puts on a pink party frock.
Latest Style and Beautiful Pink Party Frock Designs for Baby Girls
An enticing collection of pink frocks for girls in trendy styles and newest patterns. These unique pink frocks for baby girls make an adorable and unique wear for birthday parties and special occasions.
1. Baby Pink Colour Frock with big bow
This is a formal party wear baby pink frock for little princesses. This pink flower girl dress with big bow on back comes with a complementary hair accessory. it a charming baby frock and gown to grace special occasions. The flare is feather-light and summery in feel. She will steal all the hearts with this simple long frock in pink colour.
Read Article: Best Kids Sequin Dresses
2. Stylish Pink Box Pleat Frock for Wedding
This is a summery Box Pleat party wear baby dress to shop online. This makes a pretty casual as well as formal dress for your cute diva. This baby pink colour dress material is fine net which keeps her cool in hot summers.
2. Pink Party Wear Long Frock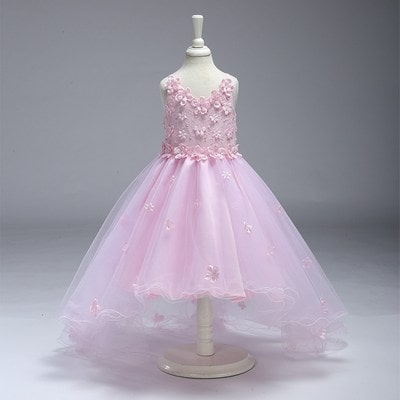 This is a baby pink high low frock for girls. The flowers on the bodice and flare add a special look to this baby pink frock. It makes a charming long frock in pink colour to spruce up birthdays, weddings and other special occasions. Made with light-weight fabric, it is a comfortable wear for your sweetheart.
Also Read: Children's Fashion Trends To Look Out For In 2022
3. Beautiful Girls Pink Gown with Dupatta
This is a masterpiece pink gown for toddler girls to teenage girls. This is a cute and comfy frock designed for both casual and formal occasions. The soothing colour and different patterns make it an ideal pick to keep summers soothing and fashionable for her.
4. Pink Ruffle Kids Frock
This is a new style high low dress for baby girl in pink color. Ruffled flare in net adds more volume to it. Bodice is simple with a flower motif on the shoulder. This is a comfortable party dress as there is a lining inside the flare. Everyone will notice your little girl if she dresses in this lovely pink frock for toddlers. Explore PinkBlueIndia's Flower Girl Dresses and Ruffle Gown Collections Online
5. Party Wear Pink Dress for Kid Girl
This is a picture-perfect long frock in pink colour. The layers of ruffles make the flare look fuller. This makes an excellent pink frock to wear on special occasions like weddings, birthday parties for a flawless princess-like look.
Read Article: Stunning Girls Feather Dress
6. Pink Feather Dress for Girl Birthday Party
This is a cute pink feather dress for baby girl perfect for summer and winter birthday party. This is a formal and party wear girl birthday party dress made with crochet and soft net. This is an extremely comfortable pink frock that is light-weight and easy.
Buy Online : Tier Birthday Party Dress for Baby Girl
7. Trendy Pink Party Wear Gown Online for Babies
This is a graceful pink frock for baby girls. It will look like she is wearing a bouquet of flowers with a stylish bodice and charming flare with big bow on the waist. This is a latest fashion feast to shop online for your daughter to be the talk of the town at every birthday party this season.
8. Pretty Pink Ombre Party Dress for Girl
This is a perfect baby pink ombre dress for little girls for weddings and birthday parties. An enticing handmade gown with multi-layered tail flare and fitted bodice. This pink party frock for baby girls is a comfortable way to dress your darling in latest fashion.
Read Article : Latest Girls Ombre Dresses
9. Baby Girls Fancy Western Frock
This is a graceful pink frock for birthday parties. The neckline is adorned with work and the waistline is uplifted with a big bow. This formal baby pink colour frock is a delightful party wear fancy frock for an upscale look. The flare is made with fine net. This is a classy pink frock that will redefine fashion for her.
10. Beautiful Fuchsia Pink Ball Gown for Baby Girl
This is a Fuchsia pink baby girl flower frock dress. Gorgeous floral pattern on bodice adds a beautiful summer bouquet feel to this pink frock for toddlers. This is a heart-melting party dress to grace birthday parties and other formal occasions in something special.
11. Pink Designer Baby Frock – Pink Cupcake Dress
An adorable cup-cake dressed made in ombre pink. This tulle and satin gown has a lovely bodice studded with peals and a flare which comes with multiple layers that add lots of volume to the flare. A beautiful amalgamation of style and comfort promises an exquisite look for her for parties.
12. Party Wear Pink Sequin Frock Dress
This is a light pink sequin frock for kids birthday parties and weddings. She will spark and shine with shimmery sequined bodice in silver. This is a gorgeous and classy party wear baby frock adorned with bow on waist and flower on shoulder.
13. Pink Flower Girl Dresses Toddler Girl
This is an excellent pink colour frock for baby girl with fancy floral arrangement around the waist. This sleeveless big bow party dress for toddlers to teenage girls is made with net and comes with a transparent back with flowers scattered all over. Your girl will steal the show with her elegant look with this dress. The fabric is also high quality to keep her comfortable.
15. Elegant Pink High-low Dress for Girls
This is a fashionable special occasion Girls high low pink dress designed for weddings and birthdays. Go ahead this floral bouquet shaped dress which makes an awesome birthday gown which is truly irresistible and comes with beautiful matching hair accessory. The flare is designed with light-weight net to keep her comfortable. She will shine like a star in this designer dress.
With such lovely choices of pink frocks for baby girls, let her stand out in the crowd with each pink frock so special and unique!!!
This page was last modified on Tuesday, January 05, 2021