Dressing up your baby girl like a gorgeous little princess is one thought common to all the mothers. We all want to dress up our young girls in pretty toddler dresses in beautiful colors and fashionable styles. Whether it is a birthday party or a wedding or some other special occasion, finding the right baby girl designer party wear outfit is quite challenging.
This post talks about the best kids' western wear clothing for girls. These trendy summer dresses for baby girls are an attractive fusion of style and look for the girls. Let us have a quick look at these engaging formal and casual toddler girl apparels.
Baby Floral Print Dress
If you are looking for something simple yet beautiful, then have these gorgeous floral print baby party frocks for your children. These captivating summer casual baby girl party dresses in vibrant floral prints perfectly suit the mood of the season without compromising on the style quotient of your kid.
Baby Girls Polka Dot Birthday Dress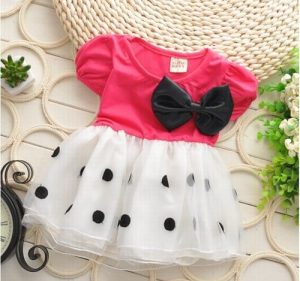 Give cute retro look to your darling sweetheart with petty long frocks with polka dots. These summer special baby outfits are elegant 1st birthday princess dress for toddlers. They come in various styles and patterns which ensure a gorgeous makeover of your little girl.
Read article: Sequin dress for little girl
Baby Girls Minnie Mouse Dress
Children love cartoons and Mickey Mouse is one such cartoon which is loved by all. The fashionable Mickey Mouse dress with designer bodice and smart flare in bright colors promise a wonderful look to your baby girl for casual outings and birthday parties. Shop online this exclusive trendy party wear clothing.
Rose Flower Girl Dress
Girls are as beautiful as flowers. Dress them up in fashionable special occasion baby flower dresses. They come with a glamorous bodice consisting of a gorgeous arrangement around neckline or waist or sleeves. These rose flower kids summer dresses come in various colors and styles to help you select the best outfit.
Toddler Ruffles Tutu Dress
We all love ruffles as they add more volume to the flare and add a distinct look to the party frocks and gowns. These colorful toddler ruffle tutu dresses come with interesting designing with heavy volume flare consisting of ruffles. The nicely fitted bodice complements the style and makes it a desirable toddler dress to have for parties and weddings.
Pettiskirt Tutu Dress
Pretty pettiskirt tutu dresses are smart choice of 1st birthday party outfit for baby girls. Buy online these vibrant and fashionable skirts in different colors with beautifully designed tutu styled ends. You can easily match them up with different tops and t-shirts for a ravishing trendy look for your daughter.
Cinderella Party Tutu Dress
If you wish to have a gorgeous formal party wear frock for your baby girl then the enticing Cinderella party tutu dress is one of the best choices. This exquisite formal clothing comes with a fashionable bodice with floral arrangements, shimmery sequins or crochet pattern with matching flare adding a gorgeous touch to this 1st birthday outfit.
Rainbow Dresses for Baby Girl
Children are always intimidated by colors and dressing them in colorful rainbow dresses is one of the most beautiful ideas. These gorgeous summer dresses come in blending rainbow colors. They are smartly stylized using ruffles, flares and other patterns to give a unique look to your daughter for parties and beach outings.
Petty Ethnic Gown for kids
Give an ethnic touch to your baby girl's clothing with the fabulous petty ethnic gown for children in India. This is a wonderful blend of contemporary style and traditional look. Your daughter will surely look like a princess in this formal petty gown which comes for best prices.
Baby Hello Kitty Tutu Dresses and Frocks
If you are looking for an ideal 1st birthday party wear dress or a mesmerizing special occasion outfit for your toddler girl then hello kitty tutu dresses and frocks are perfect choice of apparel for her. They come in various designs, styles and looks that are simply irresistible.
Now you have all the choices to select nothing but the best summer party dress for your baby girl, something in which she will look stunningly gorgeous.
You can find some tips on how to dress your baby for the warm months of the summer season.