Girls have to be dressed pretty always and if it is their birthday, then they have to be dressed gorgeous!!!
Pick the best girls party gown or lovely Indian party wear dresses for kids to have them ready in the picture perfect kids party wear for an impeccable birthday look. Some exquisite and impressive designs and styles that make the kids party dresses the best in town.
What to Wear your Little Girl for Birthday Party
We have some of the loveliest baby girl party dresses online to make the enchanting pick for her special day. Look at these baby girl party dresses to craft a fantastic personal birthday look for her. The best of kids party dresses for the OMG effect!!!
Kids Party Dress – Flower Girl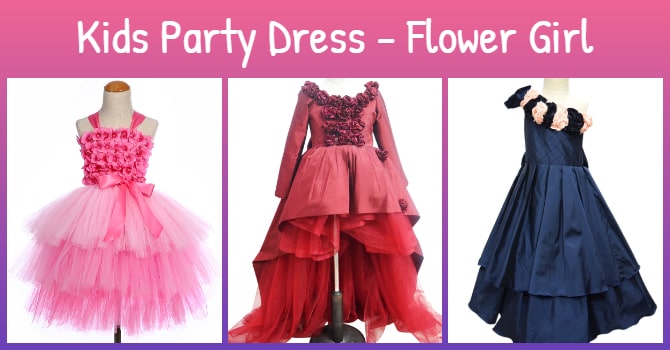 The freshness of flowers and their vibrancy comes alive in these children's party dresses which flaunt the beauty of flowers. Bodice or flare, sleeves or waist, everything adorned with flowers make the dress look much prettier.
See more ideas about party wear dresses for kid boy
Pink Birthday Party Dress For kids
Party wear dresses for little girls look more charming when they are in pink. Select from the enticing range of pink frocks, gowns and many more kinds of kids party wear dresses, all dyed and painted in their favourite pink.
You May Like: Girls Candy and Sweets Dress Ideas for Birthday Party
Unicorn Birthday Party Dress
Let the rainbow colours shine beautifully in the unicorn baby girls party dresses. Exquisite in style and impressive in colours, this unicorn birthday party dress is what every baby girl dreams of dressing in. She will look nothing less than a shinning star on her day.
Buy Unicorn Party Dress. Perfect unicorn birthday party idea for your little one
Kids One Shoulder Birthday Dress
This is an adorable kids party wear dress to have. The one shoulder style adds more glamour to her personality. She will look oh-so-graceful in party wear dresses for little girl with elegant bodice and free-flowing flare to win all the hearts around.
Read also: 5 year girl party dresses for Birthdays and Weddings
High Low Green Birthday Dress for Little Girl
The high low kids party dress is a beautiful way to add more style to the simplest of the baby girls party dresses. This green coloured kids party wear dress is an ideal combination of great style and gorgeousness for her birthday.
Get stylish & trendy Girls high low dresses online shopping at PinkBlueIndia.com
Ball Gown Type Kids Birthday Dress
Dress her in the best kids party wear with this stunning ball gown. A picturesque swanky party gown which will lift her style and win her all the limelight at the birthday party. Designed with perfection, this kids part wear dress up fashion for her in the most exclusive way.
Long Party Dresses for Kids Online
The longer the flare, the more mesmerizing she will look. Long party dresses are the best kids party wear. Nicely fitted bodice and floor length flare makes her look like a diva walking the aisle. Dress her gorgeous in this awe-inspiring part outfit!!!
Indian Party Wear Dresses for kids
Dress her different on her birthday with exclusive Indian ethnic wear. Her beauty will shine brighter with traditional dresses for girls. Vibrant of Indian party wear dresses for kids like baby lehenga, kids Indian dresses, Indo-western dresses, Indo-western gowns look really pretty on birthdays on your little princess.
Birthday Party Gowns for Kids
Birthday party gowns are the evergreen kids party wear dresses for a special look. Let her flaunt her style gracefully with this party gown for kids. Crafted with love and beautiful designs, this makes a perfect pick to rock her look on her birthday.
Girls First Birthday Party Dress
First birthday party dress for girls has to be something exquisite and something special. Pick a kids party wear which brings out her cuteness in the most charming birthday dress designed specifically to grace her very first birthday!!!
you may like also: First Birthday T-shirt Gift Ideas for Baby Girl
So, did you find a perfect kids wear for your baby girl to rock her birthday from the list shared above? Did I miss on some style for her? Well, share with me in the comments!!!