Whether it is a birthday party or a wedding, cute baby boy shirts have always topped the list of kids party wear dresses. Kids designer casual shirts, handsome white formal shorts, baby boy shirts with ties or bows always promise a prim and proper look for children.
Online stores offer amazing choice of party wear children shirts. You can choose from funny casual baby shirts in India to children's' wedding shirts for special occasions. With the right shirt in the wardrobe, you can dress up your kid in the most exclusive and stylish way without spending hours looking for something special. These shirts can be worn for birthday parties, vacations or any other special occasion…
2nd Birthday Party T-Shirt Design Ideas.
Fascinating Baby Boy First Birthday Party Shirts in Latest Trends and Style
This post brings some of the most attractive baby cotton shirts for first birthdays for baby boys These smart party wear dress shirts are perfect clothing to buy for baby boys in India. Let us have a look at these 5 adorable birthday shirts for toddler boys from PinkBlueIndia.
Buy Online Baby Cotton Shirt in Black and White
Have this party wear cotton shirt for boys in white colored ordered online. This cute casual shirt for kids comes with black colored sleeves creating a perfect combination of colors. With standing collars and brown colored chest pocket, this is a unique birthday party designer baby boy dress shirt.
Trendy Children Casual Birthday Shirt For Boys
This is a simple and smart birthday shirt for baby boys. This unique shirt comes with stripped borders on placket, collars and chest pocket with a plain white or black base. Team it up with trousers or jeans to give your children a unique look for parties and weddings this season.
Best 3rd Birthday Shirt Gift Ideas For Baby boys and girls.
Baby Boy Funny Toddler White Tie Shirt

Buy this smart baby boy funny toddler shirt with tie in soothing white color. This is a wonderful white party wear white cotton shirt with print on bodice and tie in white and black checks. Have this fashionable designer birthday shirt added to your kid's clothing collection to give him a desirable look for parties.
Designer Kids Birthday Party Shirt in Sea Green
This is a soothing and stylish Birthday party shirt for kids. This full sleeves children shirt in sea green color comes with a traditional design printed on the back side. It comes with standing collars adds a classy look to this kids birthday party wear designer shirt which comes with comfortable fitting.
Baby Boy Casual First Birthday Shirt in Yellow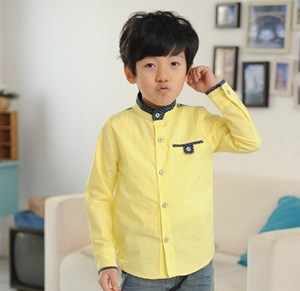 Smart party wear shirt for baby boys. Make this summer season fashionable and trendy with this birthday party baby boy shirt in yellow color which comes with blue cuff ends and mandarin collars. This children shirt dress comes with an elegant cut which makes it an amazing and cute shirt for kids.
With such enticing choices of children's shirts for birthday parties and weddings, you can stop worrying about what clothes to buy for baby boys in India. Whether you are looking for a birthday party apparel for boys or you want some exclusive attire for photo shoot, these ravishing shirts for boys from PinkBlueIndia are finest choices.
About us PinkBlueIndia.com
Glamorous gown for girls in soothing salmon color is ravishing wedding ball gown for girls. Unique style flare with peach net on the inside adds on to the fashion quotient of this beautiful dress. The shoulders of the attire come with floral pattern making it a fancy toddler outfit to wear to pageants and photo shoots.
Free shipping and cash on delivery facility anywhere in India. To shop online with us, click on https://www.pinkblueindia.com or contact us at +91-8000-011-699, Whatsapp +91-8003-550-118.