Dressing up in matching family t-shirts has its own charm. You can dress up in unique personalized and custom t-shirts to celebrate your bond of love on birthdays, festivals, vacations and other special occasions. With PinkBlueIndia, you can design your custom infant and toddler t-shirts with utmost convenience. They make wonderful mother and daughter gifts on special events to beautifully express their love for each other.
In this post, we have come up with the most alluring choices for mom and daughter matching t-shirts. You can have these mother daughter best friend t-shirts to dress distinctively in these smart custom made tees. Custom design your own t-shirt online by simply adding the text and image and submit with our designers. They take just 2-3 days to process your order subjective to when you order.
You May Like: Mother Daughter Matching Dresses Designs
Let us have a quick look at the amazing matching mom and daughter outfits that are perfect to flaunt your bond.
First Mother's Day is truly special for new moms and with such adorable matching Mother's Day clothes designed just for new moms and their babies, it gives you one more reason to dress coordinated with your little one and get some awesome clicks. Add a special touch with Mothers Day baby clothes that are crafted with love!!!
Personalized Mommy and Me Matching T-shirt Outfit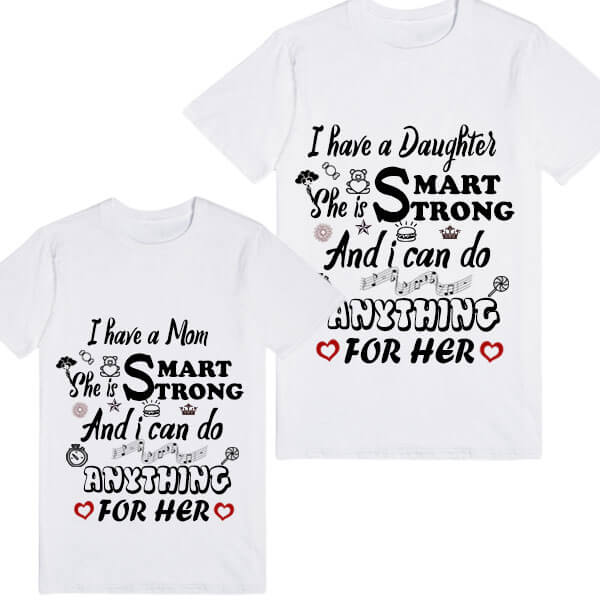 Unique and funny mom daughter quotes printed on these custom made matching t-shirts are always a thumbs up. They add more spark to the simplest of the looks because of their exquisite look.
Find the best First Mothers Day Gifts For New Moms
"First My Mother Daughter Forever My friend" Matching T-shirt
Dedicated to the love shared by a mommy and her princess, this white fun custom t-shirt for kids comes with First My Mother Daughter Forever My Friend message printed on it in pink and black.'
Read Article : Mother Daughter Dresses for Indian weddings
"Princess Queen" Mom and Daughter Clothes Family T-shirt
Grab this custom printed t-shirt for babies and their mothers. This complementing pair of Princess and Queen one year old t-shirt for birthdays are truly very adorable to dress like divas on special occasions. Shop Now
Personalized Mother and Daughter Family Tees Set
Personalized kids' t-shirt for holidays with beautiful floral print and amazing quote are very impressive. Simple white matching family tee set is perfect to pack along on your next family holiday.
You May Like: Father and Son Matching Outfits
Custom Printed Matching Mom and Baby T-shirt for Holiday
With this custom kids' t-shirt, you can dress in coordinated clothing for your next vacation. This wonderful tee for mommy and me is a smart custom printed t-shirts for babies in India.
With such an amazing choice of adorable custom infant short sleeves t-shirt for baby girls and mommies, you can surely try on a unique matching look to add more fun to your clothing. With such smart baby custom message t-shirts, you surely will not mind experimenting a little. So what are you waiting for, try these baby custom name t-shirts which can be designed to suit your taste!!!
Check out our cool Collection here you can buy Unique Designs of Kids Siblings T-Shirts
Currently available for express deliver in major cities like New Delhi, Mumbai, Bangalore, Hyderabad, Chennai, Kolkata, Pune, Ahmedabad & others across India.
Get easy personalized mommy and baby, daddy and baby matching family tees across USA, UK, Singapore, Canada, Australia and across the globe with PinkBlueIndia.
If you have a design on the mind then have it custom printed with us.
You can even have personalized baby rompers designed for your little one.
Best 3rd Birthday Shirt Gift Ideas For Baby boys and girls.
We have an enticing range of Royal Family matching t-shirts for birthday party and other special occasions.
Super Rush and cash on delivery service available all over in India. To shop online with us, click on https://www.pinkblueindia.com or contact us at +91-8000-011-699, Whatsapp +91-8003-550-118.
Custom Holi T-shirt are great gifts for your kids and loved ones this Holi.
Shop and Customize 2nd Birthday Family Shirts and Great gift for your little girl or boy