Mother's Day is here. This day honours all the mothers and motherhood. In 2022, it will be celebrated on May 8th 2022 and it makes a perfect occasion to get your hand on matching Mother's Day clothes for mommies and their babies. Go for cool photoshoot sessions or celebrations with First Mothers Day clothes that are a combo of cool mom t-shirts and rompers for the little sweethearts. These Mothers Day clothes make a beautiful surprise Mother's Day gift for the moms as they will enjoy dressed like their munchkins.
This post is all about exclusive Mother's Day matching outfits. You can have personalized Mother's Day t-shirts and coordinated bodysuits to add some more fun to Mother's Day!!!
Check out our cool Collection here you can buy Unique Designs of matching Brother & Sister T-shirts
Best Clothing Gifts for Mom This Mother's Day
Dress in fun to wear First Mother's Day outfits that make lovely coordinated dresses. These Mother's Day baby clothes and funny mom t-shirts make an adorable clothing gift for mom to make her Mother's Day special in every way. Have a look at some of these first Mother's Day outfits.
Mother's Day Matching T Shirts
Matching t-shirts for mom and the babies are the best way to spruce up Mother's Day for the duo. Choose from the best Mother's Day t shirts for mommies printed with some unique messages to add a sweet laugh to this day dedicated to mommies.
Check this also: First Father's Day Gifts ideas for Lockdown
First Mother's Day Outfit for Mom & Baby
If it is the first Mother's Day then you need the best of first Mother's Day baby clothes along with unique t-shirt designs for mom and me. They will make the best pair dressed in the most fabulous Mother's Day Matching outfits.
Shop Online: Family Matching Dress Online Shopping
Mother's Day Matching T shirts – Mommy and Son Outfits
Create a perfect match between a mom and her son with vibrant and cool mom t-shirts and tees for boys. These 1st Mother's Day baby clothes have been designed especially for special days like these which are worth a celebration.
You May Like: Matching Gifts for Father and Son on Father's Day
Check out our best collection, here you can buy exclusive designs of mom and baby matching party dress Which are Available in all sizes for all ages Its starting from 6-12 Month Old Baby girl to XXL Sizes.
Matching Mother Daughter Clothes for Mother's Day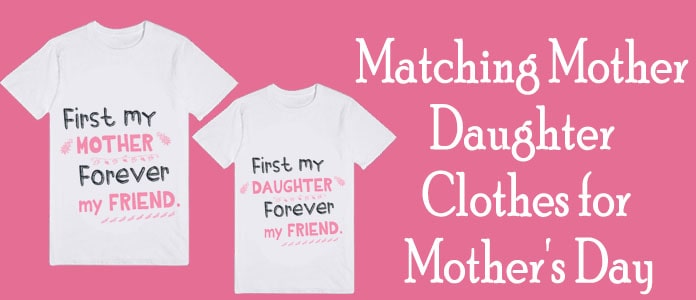 Mother's Day baby clothes designed for the cute daughters and their moms to celebrate Mother's Day in matching clothes. Elegant matching mother and daughter t-shirts the perfect outfit for mothers day. Funny mom t-shirts combined with tees, rompers, bodysuits for little princesses make a must have pick.
Mother's Day Clothing Gifts for Mom
Surprise your mom with the most amazing Mother's Day clothing gift for her…. Mother's Day clothing for mom. She will love the funny and cool mom t-shirts which celebrate motherhood in the most beautiful way possible.
Mother's Day Fashion Jewelry Gifts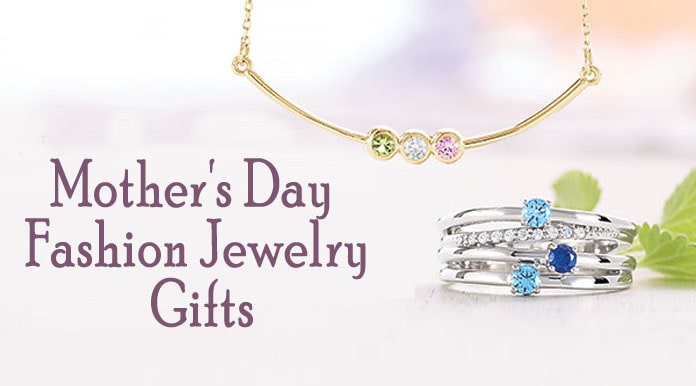 Along with Mother's Day baby clothes, you can shop for the best of Mothers Day fashion jewelry gifts. These unique pieces of jewelry have been designed just for this beautiful day and match perfectly with the spirit of the occasion. Gift your wife a beautiful present with the finest Mother's Day gift ideas shared above. Designed for all moms like new moms, supermoms, mothers-in-law, aunts, grandmas etc. these make a perfect gift to celebrate Mother's Day with moms.
What to Wear on Mother's Day 2022
Because it is a special day, it is extremely important to dress up in something special. Here are some of the important tips to keep in mind for a fabulous look on Mother's Day:
Light and Classy –You don't have to go over the top for this occasion. Keeping in mind the hot season of summer, you must keep it light and easy. Go for soothing colours and casuals to have a perfect look for this day.
Matching Clothes – You can win all the attention in the town with matching Mother's Day outfits for mom and babies. They are surely the best way to dress on this day and rock it in style.
Accessorize It – Instead of wearing something heavy, wear something light and accessorize it for a smarter look. You can use fashion jewelry or belts, bags or scarves to keep it stylish and unique.
Comfortable Footwears -You must always choose comfort over fashion because you have to manage your little ones. So pick up shoes that keep your feet happy. Sandals are the best pick in this regard and heels are a big no to ensure easy movement and no pains.
Surprise all the dads this Father's Day with unique and latest Fathers Day Baby Clothes. Just like personalized Mother's Day onesies, you can have fantastic first Father's Day baby clothes to dress them up as the most valued first Father's Day gift for the dads.