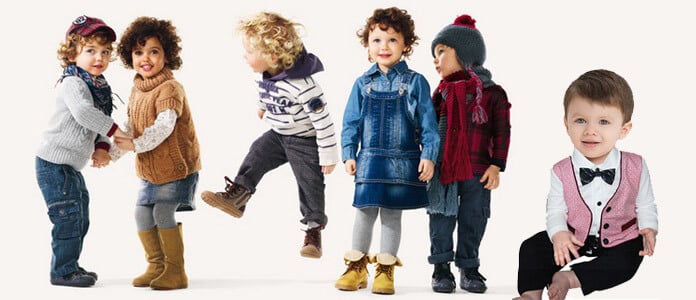 Be it any season, newborn babies need special attention and care. With a complete change of environment from a warm and cozy mother's womb to the harsh external environment, infants need more attention as far as their clothing is concerned. Winters are kind of tough on newborn babies as they are not able to regulate and adjust their body temperatures like adults. Hence, to protect them from the problems of cough, cold and fever in chilling winters, it is very important that you make them wear warm clothes which can ease the harsh climatic changes by maintaining a healthy body temperature for them. With winter wear for newborn baby, you can make his first winters easy.
This article brings all the parents and would be parents, the necessary information on newborn baby winter clothes. Get every detail for cold weather clothes for baby and everything you need to know about little baby winter fashion for happier and healthier winters.
Winter Dress for Baby Boy and Girl
Stylish winter clothes for babies have to be picked with precision. Go with smart kids' dresses and winter party dresses crafted using soft wool. Kids' winter dress for wedding are a must pick along with first birthday winter outfits for girls and boys. Shop them in latest patterns and elegant cuts and fits to ensure that they rock every party in best baby woolen clothes.
Warm Coverings
It is really important to cover the infant in warm coverings whenever you take him out. It is an extra layer of clothing over his usual winter clothes which protect him from shivering cold. Remember, new born babies are very sensitive to the first winter they face and need more clothing to stay warm. Hence, always carry a set of warm blankets and coverings to cover the kid from outside.
Warm Thermal Inner Wear for Toddlers
This is another very important piece of clothing in winters. Make sure you have bought soft, thin and warm thermal inner wear for toddlers. There are warm slips and pajamas to keep the newborn baby warm. Easily maintain the body temperature with infant thermal wear for Indian children. Buy warm baby thermal wear online that make a must have baby winter inner wear.
Baby Pullovers and Sweaters
Pullovers come in great varieties. From colors to patterns and textures, there are amazing variations in sweaters. They are soft and comfortable for the new born. Do shop for woolen pullovers and sweaters for the little baby.
Designer Outerwear & Jackets for Babies
Baby winter coats and jackets are warmer than sweaters and pullovers. But they only work when you are taking the baby out. Designer jackets for babies with hood are a great option to soothe the infant with warmth and make awesome newborn baby winter clothes. Have these baby outerwear winter coats for newborn to ensure the best of the style. Shop online best baby outerwear to add these new born baby winter clothes to your child's closet. In case, you are at home then these winter attires can be a little discomforting for the young ones.
Unique Baby Poncho for Winter
Baby ponchos for winters are fashionable kids' winter wear. You can have smart baby girls' winter ponchos and ponchos for baby boys to make their winters all the more stylish. Baby girl poncho sweaters not only keep your princess warm but don't let your kid compromise with latest winter fashion trends.
Cute Skivvy for Baby & Toddler
Baby wool skivvy can be worn as winter inner wear and outer wear. Toddler skivvy comes in all possible colors and can be easily teamed up with winter dresses. Go with smart baby skivvy bodysuits to keep your kid's wardrobe ready for winters. Select from the range of best baby skivvy which are soft on tender baby skin. There are baby girl and baby boy skivvies to choose from.
Woolen Caps and Hats For kids
It is important to cover the head and ears of your little baby to protect him from harsh and cold winter winds. So whenever you are taking him out, make sure you cover him in woolen caps and hats which can cover his head and ears perfectly. This will reduce the chances of him catching cold or cough.
Woolen Socks for newborn babies
To make sure that your baby is comfortable and warm on a chilling day, touch his feet and you would know. Warm feet are a must for a regulated body temperature. Whether you are home or going out, make sure that your infant is wearing warm woolen socks so that he feels cozy and happy even on the most freezing winter days.
Winter Wear Accessories for Babies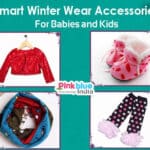 Don't miss on winter accessories for babies at any cost. With stylish shrugs for babies, neck warmer scarf, toddler woolen cowl, baby cardigans, kids' shoes and various other winter wear for children, you can create unique winter look for your baby boys and girls. These desirable infant winter accessories help you dress your kid with a difference!!!
These are the important clothing for newborn babies. Make sure that you don't overdress him with lots of woolens as it can again lead to discomfort and overheating. Always carry a warm cover as an added protection to cover him from the outside. Also try and maintain a decent room temperature with the help of heater or blower to make sure that baby stays in a warm and soothing environment.
To make it a happier shopping experience, PinkBlueIndia offers special facilities to online shoppers by treating them with Free Shipping and Cash on Delivery in India.
Confused about what to shop for kids for winter… read How to Dress up Baby in Winter
Planning a winter party for children… get Best Ideas for Toddler Parties in Winters
This page was last modified on Friday, September 230, 2016