Birthday parties are loved by all….whether you are a toddler or an adult. It is the time to loosen up and enjoy good music, great company along with awesome food. Birthday celebrations for kids are a great way to help them interact and enjoy with other children of their age group. It is not just a fun time but also an amazing learning time for your toddlers.
Activities in winters are less as we want to stay home and stay cozy. Organizing fun-filled parties for kids is a wonderful idea to make their winters a little more active. Though partying in winters has its own charm and constraints but it is for sure the best way to recharge your toddler with high energy levels and make lazy winters lot more entertaining and participating for kids.
Here are some enthralling ideas for organizing an exclusive toddler party in winter season. Read them and rock your parties with these wonderful ideas….
Party Cake for Babies
Kids adore cake and for them parties are incomplete without yummy cakes. So don't miss on a delicious and attractive cake for children. If you don't mind being creative then you can invest some more time to design something unique… something that is loved by the toddler gang.
Kids Winter Party Dress
If you have planned a party, you also got to decide on winter party wear dresses for baby girl and baby boys. Buy little girls winter dresses in stylish patterns and latest designs to add more fashion to the party. Choose from classy winter outfits in hues perfect for the season. Here are some choices to help you make an impression purchase:
Winter Party Fleece Jackets and Coats for Children
The best things to keep your baby warm are children's fleece jackets. Baby jackets for boys and girls are a must buy for kids for winter parties. These coats and boys fleece hooded jackets make perfect kids fleece outerwear for the chilling season. Have them in different colors to dress up your baby with a difference.
Toddler Winter Wear and Accessories for Parties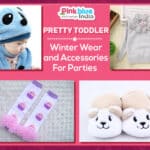 For a distinguished party look, you cannot afford to miss on toddler winter accessories. With smart woolen hats, warm socks and boleros, shoes, toddler shrugs, warm leggings and leg warmers, baby ponchos, baby cowl and neck warmers, scarves and fleece vest, you can give your kid a completely unique look for parties this season. Combine them exquisitely to create an innovative look for your baby boys and girls. These kids' accessories promise more fashion and fun for children.
Winter Party Decoration
Party without decorations is so boring… kids would never ever enjoy such parties. From simple balloon decorations to theme based frills, drapes and other party supplies, you can create amazing party spaces for boys and girls.
Organize a Day Party
In winters, having a party during the daytime is surely the best option. You can either host a lunch or a high tea party so that kids feel comfortable and cozy in the daylight. As at night the temperatures drop and babies want to relax and be home. So make sure that you organize your party during the daytime.
Garden: A Perfect Party Location
There is nothing better than soaking up the sun on a cold day. The soothing sunrays are loved by all. Organize your toddler party in some park or garden. Young babies will get to spend good times under the sun and they will feel nice and fresh. It is a great idea to get them out of the house and make them more active and interactive.
Go with a Unique Theme
Themes make parties more happening. Pick up an interesting idea and make all your arrangements in sync with that idea. It is a great way to encourage the kids and their mommies participate in the event:
This is a simple and decent them to make your toddler party a complete blast. You don't require making too many arrangements for it. Colorful mats with paper cups, paper plates, homemade healthy snacks like sandwiches, squash, burgers, fruits etc. are some of the things you would need. Place everything on a table and your arrangements are done. Don't forget to get some simple games for the toddlers to keep them busy and entertained.
This is a wonderful theme for a toddler party as they just begun to understand animals. You can ask kids to come dressed as animals or you can get different animal masks for babies to put on. They will surely enjoy it. You can have fruit salads, animal shaped cookies for the menu. Serve them in animal print plates and organize interesting games around your theme. You can gift them beautiful animal story books as party favors. You can even have a nice story telling session for young guests.
Kids love colors and having rainbow as the theme of the party will be really interesting. Having kids dressed in various colors on a winter afternoon will add more beauty to your celebrations. You can use colorful balloons and ribbons in decorating your venue and have fresh fruits, juices, salads for a rainbow menu.
These are some of the ideas that you must keep in mind while throwing a toddler party for your little sweetheart in winters. So go with any of the ideas mentioned above and organize your party around them to pep up your celebrations.
Now you are well equipped with all the information you require to make best arrangements for winter parties. Click here to know more about dressing up your baby in winters.
This page was last modified on Saturday, September 23, 2016