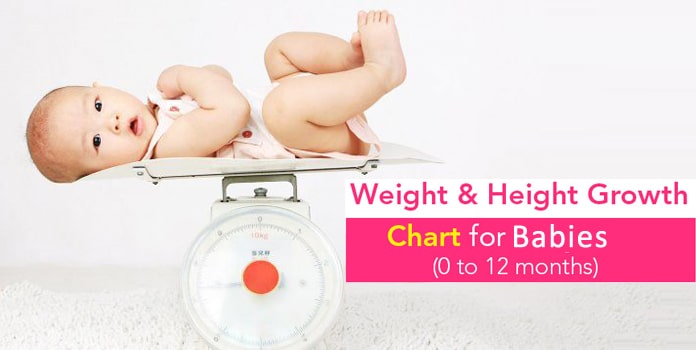 Indian Child Height & Weight Chart: 0 to 12 Months
Weight is usually the most common way of judging the health of a baby. All Indian moms believe that if their baby is a chubby one then he is healthy. As a matter of fact, baby's activeness defines his health over his weight.
As parents, we must be familiar with baby growth chart in India to know that everything is going right. Indian baby height and weight growth chart helps you understand whether your baby is healthy or not. In this post, we have shared Height and Weight Chart for Indian Babies (0 to 12 months) for better clarity.
What Is the Baby Growth Chart?
A child growth chart is a growth chart developed for babies after conducting research on growth patterns of babies across the world. There is separate Baby Boy Growth Chart and Baby Girl Growth Chart which is followed and recommended by health professionals across the globe in order to track the growth of the baby.
Growth Charts in India include the age, weight, height of the child along with Baby Growth Percentile Chart in India highlighting different body measurements in babies.
WHO Standard Height and Weight Chart for Indian Babies
After collecting lots of data and conducting extensive research on child growth in WHO Multi-center Growth Reference Study, Standard Height and Weight Charts for Babies across various countries was developed. These charts show the growth pattern of a normal baby as per the standards in his country.
Indian Baby Boy Height and Weight Growth Chart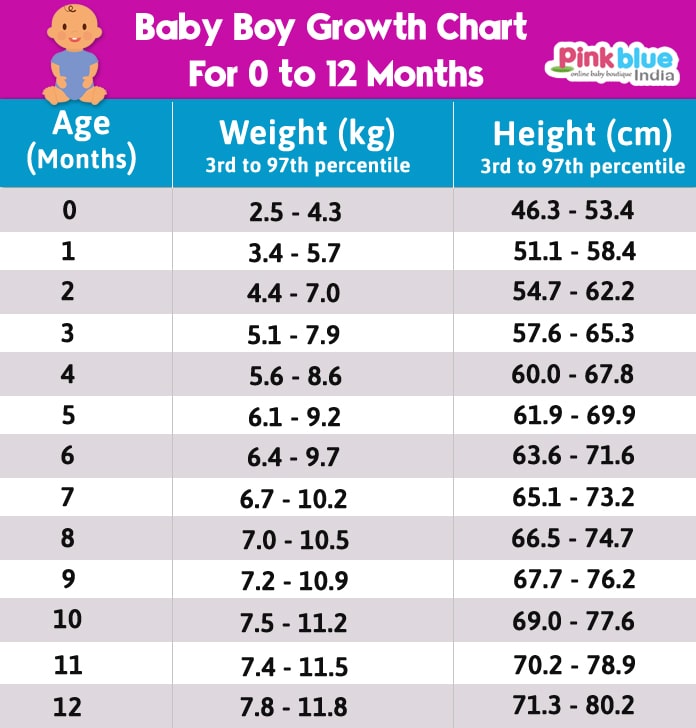 Using the Height and Weight Growth Chart for baby boys in India, you can easily calculate the ideal weight and height starting from his birth up to five years of age. According to normal growth pattern, the pace of gaining weight will be faster up to first 12 months and then it will reduce. This is not only India baby weight chart in kg but also works as head circumference chart for Indian babies along with various other parameters.
Indian Baby Girl Height and Weight Growth Chart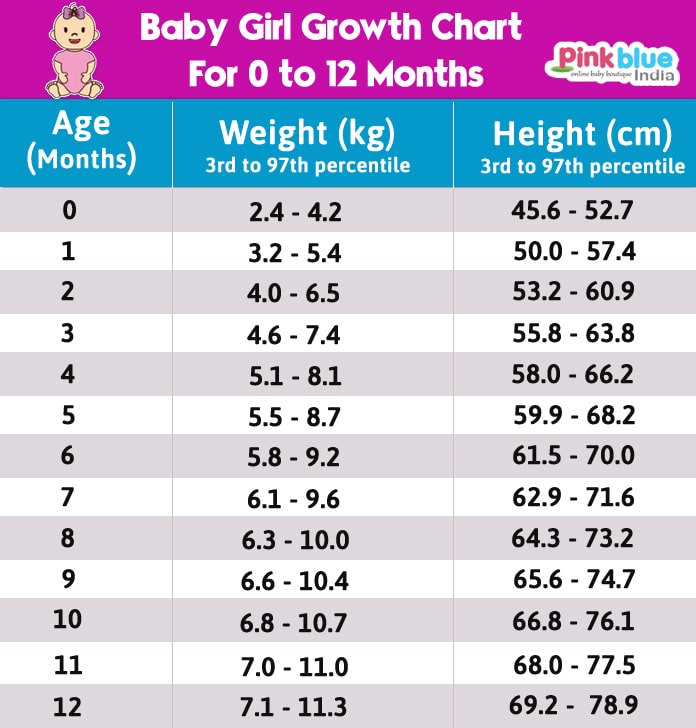 You can use the Height and Weight Growth Chart for baby girls in India to have a rough understanding of growth of your little one. This works as a baby weight chart by month or you can also refer it as Indian weight height chart according to age. The chart also reveals that the pace of weight gain slows down once baby girl is a year old.
Things to Do When Baby is Underweight
If you have referred to baby growth charts and found out that your baby is underweight then it is surely an alarming situation and you must work to fix this to ensure good health for your baby. Here are a few things to help you manage your baby's weight:
Have him checked by a pediatrician to ensure that there are no complications with his health on medical grounds.
If he is all good then you need to work on his nutrition intake.
Bananas, Yogurt/Curd for Babies are unhealthy food options and must be included in their diets.
Do not include items like ice creams and other junks in their meals.
Understand the Benefits of Almond Milk for Babies and feed them with this kind of highly nutritious milk.
Useful Tips on Inculcating Healthy Eating Habits in Toddlers, Babies
Kids these days have become very picky and fussy about food and this kind of attitude towards food is the reason their growth is getting affected. We have come up with a few useful tips which make sure that your babies eat and enjoy all kinds of food and be blessed with healthy growth:
Use finger foods to encourage self-feeding
Have your child participate in cooking as and when possible.
Develop healthy eating habits by having at least one meal a day together as a family which will work as a role model for them to follow.
Include three to four portions of different kinds of vegetables and fruits in their meals every day.
Gradually introduce new colours, new textures, new tastes to their food.
Encourage your child to play every day as this will help him get tired and enjoy the food in a much better way.
This child growth chart is just a scale which gives you a rough idea about the healthy height and weight of your baby. It is very important that as parents we work on having an active and healthy child because growth in weight and height has different pattern in different babies. So, just enjoy seeing your baby grow and grow healthy!!!
Read these easy home remedies to stop Loose motions or Diarrhea in infants and kids. Check our complete guide on home remedies for loose motions in baby.
Top Search: