To make the first birthday more special for your little one, personalized baby clothes are the best idea. With convenience of custom order baby one piece, you can dress up your little one in the most special way as he or she completes the first year. Personalized baby rompers are an interesting way of dressing up your kid. In this post, we have come up with the most wonderful personalized baby boutique clothes that make the perfect custom baby gift.
Have a quick look at these custom rompers for baby girls and baby boys that are not just comfortable but also very stylish for the occasion. With such lovely newborn baby white rompers for one year old , you will need nothing else to give them a wonderful party look!!!
"Happy Birthday Mummy" Custom Printed Baby Romper

Baby and toddler onesies with Happy Birthday Mummy print add on to the adorable factor of our child. Get these personalized baby gift rompers to dress up your one year old baby.
Read also: Birthday Party Theme Outfit For Boys
Personalized First Birthday Romper 'Daddy's Little Princess'
Cute baby girl clothing with Daddy's Little Princess print is unique way of dressing her on her birthday. You can find these twin girl onesies in different colors with personalize messages.
Find the perfect Personalized gifts for kids – every time. Get kids return gift ideas for birthdays and many more special occasions.
Custom Guitar Printed Baby Romper One-Piece
Custom one-pieces with guitar print are beautiful unisex rompers to dress up your adorable darlings. They make perfect newborn twin clothing to make this day all the more special and stylish. Explore Now
Personalized Onesies & Baby Bodysuit "Baby Yo Lo with a Babe"
Funny baby clothes in India come with Baby YO LO with a Babe message. Have these personalized baby clothes for twins in India designed to perfection to spruce up the look of your baby.
Buy 1-12 Month Custom Baby Milestone Onesies and Rompers
Soft custom made monthly milestone onesies and rompers to dress babies through 1-12 months. Shop online unique 1-12 monthly milestone baby bodysuits personalized as per your choice. Dress up your little only stylishly in customized 12 months milestone romper set designed for comfort.
Custom Newborn Baby Romper Clothes "Love Family Message"
Express the family love with personalized onesies for twins with Love Family Message.  This is a perfect family outfit to dress up your little one on the completion of his or her very 1st year.
Custom Printed Funny Baby Romper For 1st Birthday Party
Creatively designed personalized romper suit with customized messages on it never fails to impress. Make first birthday more fun with cute Funny baby bodysuits which are high on cuteness quotient.
Customized "Brunch Buddies" Newborn Baby Onesie Romper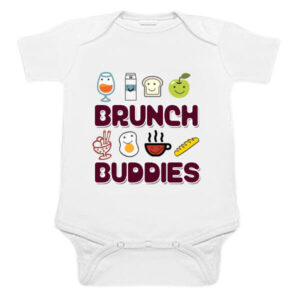 Another choice of custom funny baby clothes for twins are Brunch Buddies personalized baby rompers in Australia that make up a perfect clothing choice on the occasion of your babies turning one year old.
"Mom's Cutest Crush" Unisex Newborn Baby Romper with Heart Print
Get this lovely customized baby clothes in India with Mom's Cutest Crush printed on them. These personalized baby rompers in Singapore will melt ever heart with their super cute message.
"My Auntie Loves Me" Customized Baby Girl and Boys Romper 6-12 months
Dedicated to the bond of love between your baby and the aunt, these custom baby outfits with My Aunite Loves Me message are wonderful twin baby clothes to shop online. These unisex rompers for 6-12 months babies are not to be missed. Buy Now
Cute Little Boys and Girls Romper For Birthday
With such pretty twins onesies set designed to make birthdays more fashionable for boys and girl, you don't need anything else. These customized baby clothes in India are beautiful rompers which are just a click away.
Pick the color of your choice and have these twin onesies sets designed to suit your taste. With easy to design personalized floral bodysuits for babies, you can surely make their first birthday clicks more memorable. These boy girl twin onesies make the best gift for your little ones.
Explore the enticing range of personalized rompers with unique messages to match the occasion and have them designed with us.
We offer them in different sizes ranging from 3-6 months, 6-9 months, 12 months, 18 months and 24 months. Keep in mind to order a bigger size as they run small.
For any kind of customization on your mind, get in touch with us and we will help you with the best.
To make birthday parties more fun, shop online the best of Cake Smash Outfits.
Enjoy Customized Baby T-shirt and Tees Printing to have personalized clothing for children.