Your baby is going to complete 6 months and it is undoubtedly a celebration time!!!!
Crafted using pure organic cotton, half birthday baby clothes in India are designed around amazing ideas perfectly complementing the occasion. Princess half birthday white baby rompers, Twin Baby Outfits and prince half birthday onesies for babies up to 6 months are a delight. Cute and cozy "It's My Half Birthday" onesies in India for your newborn baby make incredible 6 month cake smash outfits on completing 6 month's milestone.
Customize baby girl's bodysuits and 6 months birthday outfits for boys with images, text and photo shoots you like. 1/2 birthday onesies come with premium quality printing done directly on the garment which is baby safe and also highly durable. Some of these half birthday dresses in India come with good quality glitters pasted on them, which don't wither with washes.
Utilize the unique 1/2 birthday Outfit ideas for boys and girls dresses to pick awesome half year bodysuits to dress your little one as he or she turns 6 months old. Given below are some stunning six months bodysuits suggested for photo shoots and birthdays.
Buy Funny Baby onesies Online From PinkBlueIndia.com
Recommend Products For Half Birthday Onesies & Baby Bodysuit
6 month Birthday Onesie – Half Birthday Outfit Girl Boy
Have a customized 1/2 birthday onesie or bodysuit designed for your little boy. Comfortable and soft half birthday onesies are the best way to dress your baby prince as he completes 6 months. Select from sleeve size, colour, print and pattern to have a customized half year bodysuit designed just for him.
Unicorn 1/2 Birthday Onesie, Custom Baby Outfit
With the wonderful newborn Unicorn 1/2 Birthday outfit, you have your little girl dressed in incredible unisex newborn Unicorn half Birthday Onesie/bodysuit. Have them rock and roll in the latest and the most adorable newborn baby girl Unicorn onesie that are pure love and lots of comfort.
It's my 1/2 Birthday Onesie/ Half Birthday Outfit Girl
"It's My 1/2 Birthday" onesie with a beautifully printed text explaining the occasion in the unique way is an ideal idea to dress up your baby girl. Princess half birthday romper is a seamless blend of comfort and fashion to make sure that your little darling rocks on her special day.
Personalized Halfway to One – 6 Month Baby Birthday Outfit
Your baby is halfway to one and you must pick an innovative half birthday dress for the little munchkin. The best half birthday baby clothes are those which keep the baby happy and mom easy. Half birthday onesies are all time favourites cake smash outfits and photo props to celebrate your baby's milestone in the most memorable way.
Custom Baby Half Birthday T-Shirts Online India
If you don't like what's there, have it custom made!!! Half birthday t-shirts with ease of customization are the best 1/2 birthday ideas to dress your cute baby. You can choose the image or text you wish to have printed on the t-shirt to design it specifically your baby.
Half Birthday Girl Outfit, Smash Cake Onesie
Let your 6 months old princess smash the cake and click lovely pictures. Dress her in custom made six-month bodysuit designed with love. ½ birthday princess romper in colour and print of your choice makes her day of celebration all the more fun and entertaining. She will look cutest dressed in half birthday baby clothes crafted just for her.
Half 1/2 Birthday Outfit for Newborn Baby Girls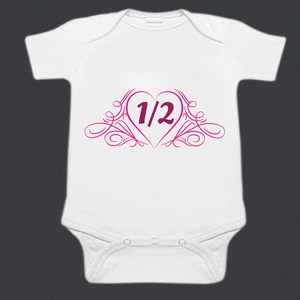 With a glittery "1/2" printed on heart, this half birthday outfit has been designed to add more glamour to 6 months birthday celebrations. Your newborn baby girl will look ravishing dressed in this 6 months cake smash outfit which is an amalgamation of comfort and style.
6 Months old Baby Milestone Romper
As your little one turns 6 months old, don't forget to celebrate his milestone by dressing him up in cutest baby milestone rompers. Designed specially for half yearly birthdays, these onesies suit the occasion and also promise some loveliest clicks for your baby.
Personalized Half Birthday Print Onesie
The best of half birthday romper for baby boy and girl can be shopped online with customized prints on them. 6 month photo shoot outfit make it so easy for you to pick an exclusive baby onesie in India and dress your darling in the most comfortable bodysuit.
Perfect Half 1/2 Birthday Clothing For Baby Girl
Half birthday is a milestone for your little princes and it certainly calls for some celebration. Baby girl half birthday outfits make an adorable wear on this occasion. Buy online for the cutest 1/2 birthday outfits for her from the fabulous collection of half birthday dresses for girls in India. Dress her up in the most unique 6 months birthday dresses for baby girls that are made with lots of love.
Baby Girl Clothes Half 1/2 Birthday Outfit Set
She will shine bright dressed in this fun Half 1/2 birthday outfit for girls in India. White top and purple tutu skirt together make a fun cake smash outfit with glittery gold bow and hair accessory. Dress her up in this unique 6 months birthday outfit for girls with "It's My 1/2 Birthday" printed on it.
6 month Birthday Dress for Baby Girl – Red Gold Outfit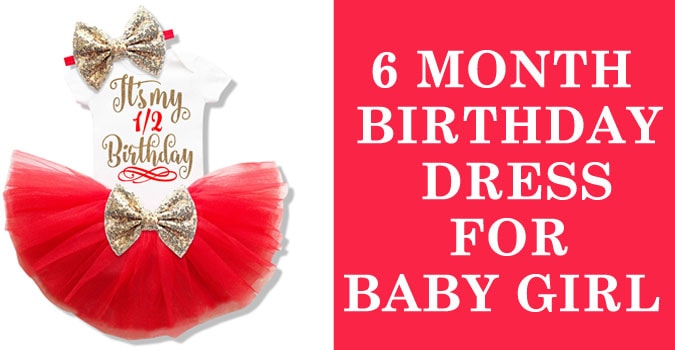 When your baby loves red then this 1/2 birthday outfit for girls in India is a perfect choice for her. A cute combination of white top printed with "It's My 1/2 Birthday" in gold and fluffy red tutu is a fun dressing to celebrate her milestone. The sparkling golden bow and hair band is a perfect addition to this half birthday outfit.
Baby Girl Half Birthday Cake Smash Outfit Pink Gold
Give her a completely new look with this half birthday dress for girls in India in white and pink. With this white top printed with a message and pink tutu in net, she is going to look the best dressed in this cake smash outfit. The golden sequins bow and headband sums up this 1/2 birthday outfit girl in India the best way.
1/2 Birthday Girl, It's My Half Birthday Outfit
Design her new look with this 1/2 birthday outfit for girls in black, white and gold. White top printed with "Its My 1/2 Birthday" message and black tutu is paired with golden bow headband. This half year birthday dress for baby girl has complementing legwarmers to keep her warm in winters.
With such fun 6 months birthday dresses and half birthday onesie for girls, dressing up your princesses will always be stylish and fashionable.
Whether it is your niece or nephew who is soon going to complete 6 months, surprise the little one by gifting a perfect unique half-birthday gift Idea. You can also have a customized birthday romper designed for the newborn with a personalized text or image printed on it for a greater impact.