Mothers and daughters look the prettiest when they dress in the gorgeous mother daughter twinning dresses. The amazingly adorable mom and daughter dresses are designed to reflect the beautiful bond of love the duo shares. These mom and daughter dresses for 1st birthday, weddings and other special occasions make an awesome wear to dress in the most stunning way possible.
To help you find the best mother daughter dress set, we have come up with newest Mother Daughter Collection 2023 comprising of the latest mother & daughter matching outfits to dress alike for all occasions.
Beautiful & Stylish Mom & Daughter Matching Dresses & Outfit Ideas in 2023
Look no more as shared below is the most enticing collection of mother daughter dress collection 2023 for you to browse. Find the same dress for mom and daughter with these interesting outfit ideas shared here.
Mom and Daughter Unicorn Theme Birthday Dress
Take the unicorn themed celebrations to just another level with the fabulous mother and daughter unicorn themed birthday dress to put on. This is a combination of gorgeous of an enthralling dress dipped in the vibrant unicorn shared and a beautiful sleeveless top for the mother with a belt and flare in unicorn shared.
Check this also: Our Favourite Mother-Daughter Dresses for the Red Carpet
Matching Mother Daughter Party Wear Frocks
Celebrate a special occasion dressed in this charming combination of same dresses for mom and daughter. It is a combination of white and sea green dress with pink belt for the mother as well as for the daughter but it comes with a cute big pink colored bow. Dress in complete synch with this alluring matching outfit.
Gorgeous Mommy and Me Twinning Gown in Pink Color
This pink colored mommy and me twinning gown makes a fashionable outfit to dress up on special occasions. Shop for this delightful combination which is a gown for the mother with dupatta and frock for the baby girl with frilled sleeves and flare. The bodice of both the outfits comes has a floral design to make it a vibrant piece of clothing to buy.
Read Article: Plus Size Family Matching Outfits
Mother Daughter Combo Sharara Dress For Ladies and Girls
Designed for special occasions like Diwali, Mehandi, wedding etc. this is an incredible ethnic wear to buy for the mother and the daughter. This is a perfect mother and daughter combo sharara dress that is dipped in the orangish yellow color and comes with gotta patti work and matching dupatta to perfectly grace the occasion in a special way.
Buy Mother Daughter Matching Dress Pink Ombre
Be it a wedding celebration or birthday party, this matching mother daughter dress in pink ombre makes a wonderful pick for the duo. It is a combination of pink ombre lehenga for the mother which comes with a dupatta and a frock for the daughter with floral embellishments on the bodice and fluffy flare in net in the pink ombre hues to create a perfect synch for them.
Matching Mom and Baby Girl Rosette Party Dresses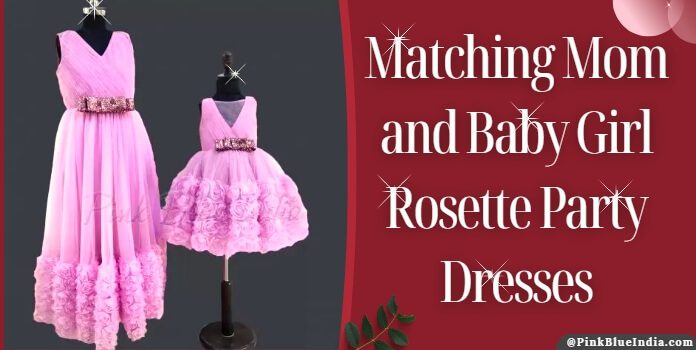 This mauve colored rosette party combination makes a must have party wear matching mom and daughter outfit for birthdays and other celebrations. The gown for the moms comes with a sleeveless bodice, stylish shimmery bow and flare with roses. The frock for the daughters is a replication of the mother's dress and makes a same mother and daughter outfit to have them rock the parties in unmatched style.