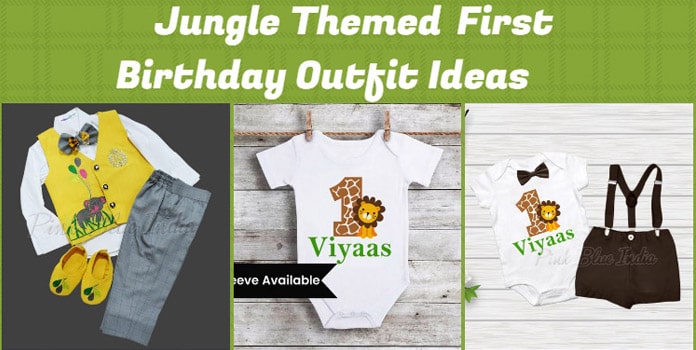 If jungle theme is on the mind for the first birthday party then you must also find a cute jungle 1st birthday outfit for your baby boys and girls. An adorable personalized safari birthday outfit is something that can make these jungle theme celebrations stand out. Whether it is a jungle 1st birthday onesie or infant and toddler zoo themed outfit, you can find it all at one place.
Read through the post to explore the most amazing jungle themed first birthday outfits for boys and girls. Shared below are unique safari birthday outfits for boys and girls that are worth a pick.
Jungle theme Birthday Party ideas for Toddlers and Kids
Planning a jungle themed birthday party is not a tough job if you have some interesting ideas in mind. Green is the color which goes well with this theme. You can also include the wild animals in the celebration to make them more fun. Using stuff toy animals is something that will stand out really cute. Moreover, there are many interesting 1st birthday safari outfits that make a desirable choice of 1st birthday safari outfits for the occasion.
Jungle Safari 1st Birthday Outfit for Baby Boy
Have your little one dressed in exclusive safari birthday outfit for boys. These really amazing jungle baby boy outfits for the one year old make an interesting choice of theme based dress for baby boys.
First Birthday Boy Safari Outfit – Jungle Dress Online
You can select from the wide range of safari toddler outfits that include onesies, shorts, suspenders with bow ties that are too cute to miss on. These 1st birthday outfits for boys make a fabulous choice of jungle dress to shop online.
Safari, Jungle Theme First Birthday Baby Onesie/Bodysuit
Keeping in mind the comfort and convenience, the safari and jungle themed onesies for babies have been designed. These exclusive first birthday baby onesies have been created specifically around the jungle theme and make an evergreen choice of jungle safari 1st birthday outfit for boys and girls.
Wild One Birthday Girl Outfit Jungle Baby Girl 1st Birthday Smash Cake Dress
To have a perfect jungle themed party, you need wild one safari birthday girl outfit. These jungle themed first birthday outfits for girls make an exceptional pick for cake smash as well. She is going to look cute dressed in the creatively designed animal 1st birthday dress for baby girl.
Jungle Safari Tutu Outfit | Wild one Safari Birthday Girl Tutu Outfit
Celebrate her birthday around the wild safari theme and with the most adorable wild one safari birthday girl tutu outfits. There is an extensive range of jungle themed birthday tutu outfits for girls to choose from to make her celebrations extra special.