Winters is surely a beautiful season. Good time to wear warm clothes and also enjoy hot and sizzling food. If your little one's birthday falls in this season and you are planning to through a dinner party for kids then figuring out kids friendly winter recipes can be a mind-boggling exercise. Whether you have a small dinner or large party on the mind, cooking winter themed snacks for preschoolers could be a challenge.
Check out our yummy and tasty Indian lunch box or tiffin box recipes for kids
Yummy and Easy Winter Recipes for Baby's Birthday Dinner
Read on and find out casual dinner party menu ideas perfect for an entertaining winter birthday bash. With these elegant and easy winter recipes for dinner, you can make your celebration an unforgettable experience with these simple but yummy Indian winter food for babies.
Hot Chocolate with Mini Marshmallows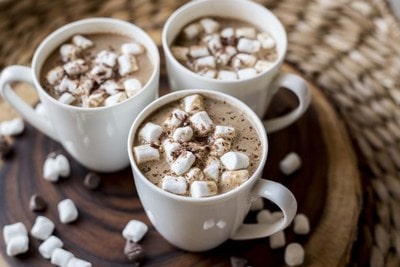 Kids love hot chocolate and winters are the season when it tastes the most delicious. Add to this favourite children's drink cute little marshmallows. Your little guests are definitely going to enjoy this delightful beverage which is apt for the season.
Paneer Tikkas
Winters and barbeque go hand in hand. Not only adults but kids also love it. Smoky, sizzling paneer tikkas make a wonderful item of winter entertaining menu. They are perfect for small dinner parties as you can set up the barbeque in your backyard or garden and serve it fresh.
Looking for easy baby shower food recipes Ideas on a budget?
Brownies with Chocolate Sauce
Soft and yummy brownies with hot chocolate sauce poured on them are another kids friendly delight on the charts. You can prepare them in advance and serve them hot to your guests. This is a very easy winter recipe which doesn't ask for too much involvement and labour.
Mixed Vegetable Cheese Pizza
Winter is the time when you can find lots of vegetables. Prepare freshly baked, thin crust cheese pizzas with finely chopped vegetables. This will not only make a healthy meal if you use wheat pizza bases but will definitely be loved by your little guests as they enjoy the birthday celebrations.
Pav Bhaji Toasties
Pav bhaji is a kid's friendly food item. You can use lots of seasonal vegetables to prepare tasty bhaji. Serve it hot by roasting the pavs like toasties and top it with bhaji like topping. This is a twist in the regular Indian dish which will be loved by all the kids.
Masala Garlic Bread
Kids enjoy cheese and garlic bread. Take a garlic loaf, hollow it from the center and fill it with lots of cheese along with lots of chopped veggies like onion, capsicum, bell peppers, mushrooms, corn kernels etc. and bake it in the oven. Once it is done, cut it into small pieces and serve it with tomato ketchup.
You May Like Also: Indian Baby Weight and Height Chart
Soupy Noodles
All babies are crazy about noodles and because it is a winter birthday bash you can serve them soupy noodles which are a wonderful kids friendly meal for cold weather. Piping hot soup with finely chopped veggies and noodles work as healthy snack. It is not only filling but also perfect for the winter season.
Baby Gulab Jamuns
Those cute, little gulab jamuns served hot in winters make a wonderful Indian dessert. They come in very small size and you can buy them from any good sweet shop in India. Because of their tiny size, children will enjoy them. Just pop and eat!!!
These are some of the easiest winter party menu items which you can include in the next birthday bash of your kid. These are super-delicious recipes to make cold weather more enjoyable for your little guests.
Check This : Summer Birthday Party ideas for Baby Boy and Girl