One year old babies are so much fun to be with. There are so many changes that happen during this one year and every change and phase is so beautiful to observe and watch them grow. These babies are constantly changing, learning many things and engaging everyone around them. The baby develops learning, speaking and listening skills during this one year. He/she also learns to crawl, walk and eat. Babies try and become more independent. It is very important for parents to pay a lot of attention to babies and interact, stimulate and teach them for healthy physical and mental development of their babies. There are many indoor and outdoor educational games and fun activities for one year old baby.
You may be interested to read: Easy Games and Activities for Daughter's Birthday in India
Little Drummers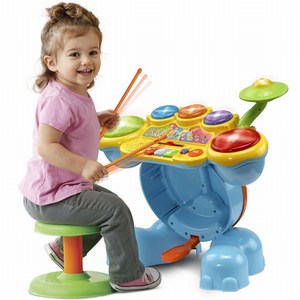 Sound always excites kids. Make music using drumming instruments. Create fun tunes and play by creating loud beats. You play first and allow your kid to watch and learn. Then let your kid also play by creating loud beats. Clap and cheer the kid while he/she plays. You kid will feel extremely happy and will be encouraged to play more. Kids just love the loud noise and this creates fun and excitement for them. Do not look into rhythm or a systematic approach. Let the kid play the way she/she likes. This game will help your kid to learn skills like coordination, listening skills, and musical exploration. You can use spoons, vessels, pots, and sauce pans etc which are available at home to create music.
You May Like also: 1 Year old Baby Girl Photoshoot ideas at Home
Playing House
You can create a play house, a tunnel or fort out of a cardboard. Create an entry and exit. Show your baby how to go in and come out. Then let your baby do the same. Teach how to knock the door while entering the play home, ring the doorbell, and check if anyone is at home or not. The child will enjoy this game a lot and can relate to real-life scenarios. In this game the child will be able to learn Social skills, and learn to explore their environment.
Make it a wonderful first year as a parent one with best books for baby's first year that tell you everything you need to know.
Telephone Calls
Buy a toy phone or a mobile for your little kid and you take another phone and pretend to call him/her. Make calls and talk to your child. Make some conversation and talking different tones and as different persons. Kids really love to talk over phone. Kids will learn telephone manners, language and social development.
Tube Talk
Create a tube with a paper or cardboard or any unused water tube at home. Talk from that tube and ask you id to repeat what you said. This can be really fun and will make your child laugh a loud. This game will teach your child to discriminate between different voices and play in turns. Your baby girl or baby boy will just love this game.
Fun with Water
This is the best activity for a 1 year old baby at home. Kids always love playing with water. Give your baby girl/baby boy a tub full of water and some cups, bottles. Ask your baby to fill them and then empty them and let the process continue. This water game will be super fun for your baby. Your baby will learn the skills like quantity estimation.
Building Blocks
Children love to build towers. Give him blocks and ask him to place them one over another and build a block. Your baby might need little help and cheering as there will be disappointment when the blocks fall down. Give him/her big blocks which are easy to hold and place one over another. Kids will learn coordination skills
Also check out our simple & easy Diwali festival drawing for kids.
Happy Clapping
Babies who are above six months should be able clap for themselves. Mae he baby sit before you or take in your lap and sing some nice nursery rhymes and make the baby clap. Make sure the clap is in rhythm and has a certain pattern. You baby will love your singing and also will learn eye-to-hand coordination skill. This will also enhance language skills.
Hide and Seek
This is a very simple but most loved game by the babies. This can be as simple as you cover your face and uncover. You baby will be waiting to see your face. Another way to cover your baby in a towel her into another room. She/he will be delighted to know that he/she is in a different location. Another way to play this game is ether you hide in a room and ask your baby to find you or your baby hides in a room and your find her/him. Every time you discover each other your baby will be delighted.
These are some lovely educational games to teach a 1 year old baby. All these games, crafts will help your baby to grow mentally and physically.
Looking for New Year's Eve Activities for kids in India? Here's 10 New Year's Eve Crafts and Activities perfect to do with your preschoolers.
Summer Activities for Kids : Creative Ideas for Keeping Kids Busy This Summer
Easy Ways to Energize Your Tired Children
Amazing Ideas to Keep Kids Entertained and Busy at Weddings
Basic Parenting Tips for Infants
We have activities to keep your child busy on holidays in Dussehra.