If you're a new parent, you're probably thinking about how to best capture your baby's first year. There are so many different things you can do, and it can be hard to know where to start. She's so cute and adorable, and she's just getting into her first year. She's already a little bundle of energy, and she's already starting to develop her own personality. She's starting to learn how to walk. And she's just getting into that sweet stage of her life where she's starting to become more aware of her surroundings. And she's also starting to learn how to talk. And she's also getting into that stage where she's starting to become more independent. And she's also starting to develop those first little speech patterns.
Recording all these moments is a very special and important thing for a parent. In this post are some ideas for baby photoshoot at home, unique one year photo ideas, one year old girl photoshoot outfit and baby girl birthday photoshoot.
Unique First Birthday Party Photoshoot Ideas
Birthday is the time to celebrate the first year of your child's life. There are many child photographers, whose main focus is on kids photography. And, they take wonderful pictures for all types of occasions like birthday party photoshoots. Though it may be a hectic task to plan a birthday party, taking photos should not be difficult. Therefore, for a huge party celebration, have a photoshoot of your own. Here are some best first birthday photoshoot ideas that will surely be loved by parents, family members, and friends.
The Basket Photo
Take a basket and place a blanket so that the baby feels comfortable and the basket looks aesthetic. Tuck the baby inside and click photographs from different angles.
Baby Girl Photoshoot Outfit & Dress
Some amazing outfit ideas are from fairytale scenes or popular cartoon characters. Dress up the baby in the cutest outfit and use props to make the shoot more interesting.
Photography Shoot with A Birthday Cake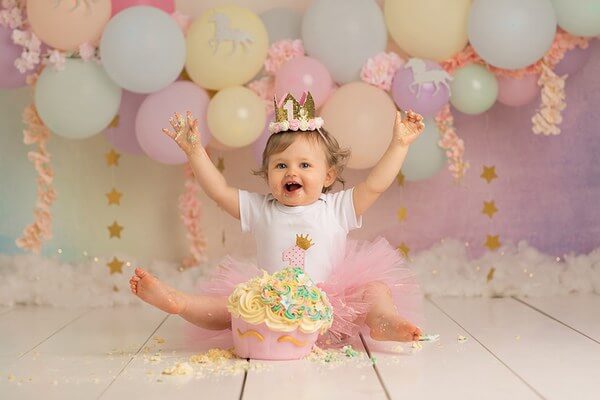 Babies give the cutest expressions when they get to enjoy their favorite cake! Use this as an opportunity to capture the beautiful moments.
Photoshoot with Balloons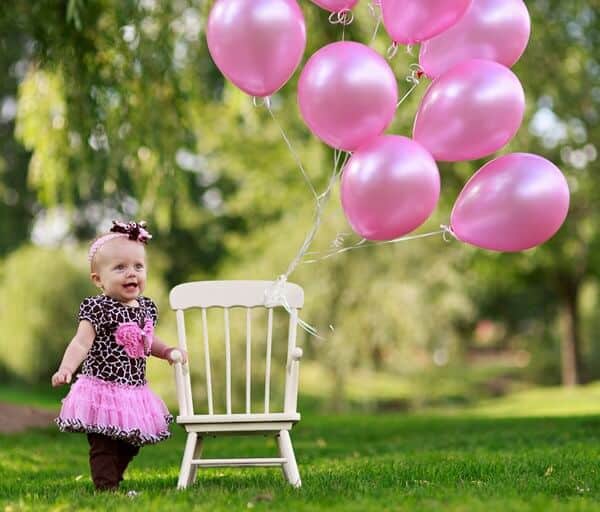 Kids love balloons. Balloons can be used to show the number of months the baby is old. Or you can attach strings of balloons and let the baby hold the ends. Let them enjoy while you capture the natural shots of them.
Photoshoot with Friends
One of the coolest themes you could use for a photoshoot of your baby is celebrating their friendship. Get the friends together, dress them up in a theme if you like and have fun while you take some cute photographs.
Formal or Cute Baby Photoshoot
For a formal photoshoot, dress your princess up in a beautiful frock or gown and make sure to create a background for the princess to shine. Take solo and family photographs of the cute little princess.
Number One Sign
A number one sign so as to show that the little one has turned a year old, can be a nice idea for the shoot. Place the sign next to where the baby is sitting. Let them play while you capture the most natural shots of them.
The princess
Dress up the little one in a beautiful dress or gown and place a crown or tiara on her head. Capture the clicks of our princess from every possible creative angle.
Cake Smash
All you need to do is dress the little one is a frill dress and let them enjoy their favorite cake and ice creams while you capture some great shots.
Flower Crowns
Dress the bundle of joy in pastel-colored rompers and place her on the bed tucked inside a blanket-basket. Spread around flowers of similar theme.
The favorite soft toy
Take out the favorite soft toy of the little one. Dress her in a funky way and take some candid shots while she is enjoying her playtime.
The food photo
Nothing makes her happier than food. Decorate the dining table with her favorite items from the menu and let her sit on the table in between the dishes. Let her enjoy while you capture some good photographs.
The pet
If you have a pet, there is no doubt about the bond that your pet and your baby share. You could take photos to capture their bond and put it out in the world.
The twinning photo – Mommy and Me Matching Outfits
Match your baby by wearing a similar outfit. Choose clothes you both enjoy, like an outfit you can dance in. Mommy and me photos show the eternal bond between mother and child.
Step into Nature
Being in nature brings another level of vibe and joy in kids. Bring together the friends and family, to capture some good solo and group photos of the little one in the lap pf mother nature.
Playing with Bubbles
Bubbles and water are the perfect playtime for the little bundle of joy. Make use of this playtime to take candid photographs.
Twinning
Matching t-shirts are perfect for a set of twins! Show how fun mornings are with your bundles of joy. Double trouble!