Gorgeous, vibrant and cute baby headbands make the most delightful pick of infant hair accessories. Dress the soft hair of your little one with these adorable children's tiaras and crowns for weddings, princess birthday party tiaras.
PinkBlueIndia has an awesome collection of baby headbands online at wholesale prices. Find the most stylish baby flower headbands, first birthday princess crowns for toddlers and various kinds of hair accessories with an extensive array of baby headband designs that match with different dresses.
With our 1st birthday princess tiara headband, you can add a sparkling touch to the simplest of the dresses and make photo shoots more glamorous for your kids. Each and every tiara and crown for babies is exquisite in its design and made with hand and lots of love.
Buy cute baby headbands and hair bows for newborn baby girls to shop online in India. We stock a stylish range of baby headbands for newborn, infants, baby girls in various designs & colours.
Let's take a look at how to choose a baby headbands for your little girl.
These newborn hair accessories make lovely gifts for baby showers, birthday parties and return gift. They can pop up any wedding celebration, holiday, school performance, photo shoots or party for your darling princess!!!
There are different types of headbands for baby Girl in India.
Little Girl Princess Golden Birthday Tiara Headband
Whether it is an event at her school or her first birthday photo shoot, with this glittery golden birthday party crown and tiara headband , you can dress your daughter's hair just like a princess. Make her look like a princess from a fairy tale with this ideal hair accessory which complements party dresses and gowns in the most enticing way possible. She will definitely feel like a princess with this golden tiara on her head.
Baby Girl Silver Birthday Princess Crown Headbands
Shop online toddler flower girl tiara headband for birthdays, weddings, photo shoot, bachelorette parties & more. This baby tiara headband makes an elegant 1st birthday crown for infants and toddlers. You don't have to struggle to dress her soft hair as this princess crown for baby girl is the best pick to add a princess look to her locks. You can match it with perfection with her birthday dress or gown. Be it a birthday or a wedding, this Baby Crown Headband is for all such special occasions.
Cute Baby Flower Headbands Online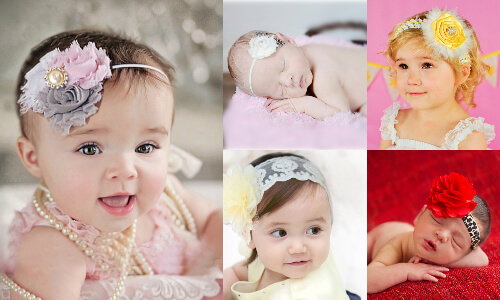 Go for big flower headbands for babies. These baby girls rose headbands are graced with beautiful flowers for dressy hair. Buy best of baby flower headbands in all possible colours. We showcase a never ending range of adorable and glamorous fancy flower hair bands for newborn little girls. Shop them online in India to make hair dressing fun for your babies.
Baby Girl Headwrap
Add more style to her dressing with enchanting baby headwrap bows. These hair accessories comes in different knot patterns designed using lace and crochet. They fit the little head of the babies comfortably and keep the hair in place with unmatched look. These baby headwrap bows definitely make the little babies look all the more adorable and cute.
Buy Cute, Colorful, Party Headband Bows for Babies
Shop online in India the most beautiful, colorful and playful infant hair accessories. Find the best of newborn baby girl headbands at our boutique store dedicated to adorable newborn hair bows and various other infant hair accessories that keep mommies free from hassles of dressing up little locks of their little girls for parties and weddings.
Infant Baby Crochet Headbands with Flowers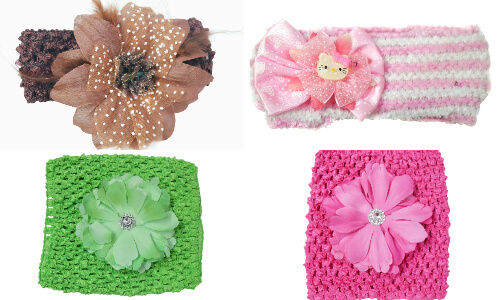 Crochet headband for babies fit comfortably on their heads and stay intact. They come in all possible colours you can think of and have beautiful flowers, beads, ribbons and laces on them that give them a unique design. These comfy crochet headbands with flowers are the best choice of hair accessories for infants as they don't hurt their scalp and make dressing more fun for the little angels.
Beautiful Newborn Baby Hair Clips
Find exceptionally beautiful little princess hair clips at our store. We have an enthralling range of baby hair clips that are very soft and attractive. These hair clips for newborns come with different kinds of motifs attached on to them in various colours to help you pick the one which matches with the dress of your infant. With these lovely hair pins, you can craft a stunning hair do for your baby complementing her lovely clothing.
Our headbands and hair clips have been designed for newborn babies through toddlers making hair dressing a creative fun!!!
Beautiful Pink Headband for baby add the perfect final touch to any outfit! Find more such comfortable girls pink bow hair accessories online in India at Pinkblueindia.
Not only that, you can check out our amazing collection of gorgeous birthday tiaras for adults.
You can even Make your own DIY baby flower headbands with these few simple steps.