One of the best choices for first birthday headbands for babies in India is beautiful floral tiara. These heavenly tiaras up for sale at our online store are amazing pick for dressing up your girl for birthday parties and weddings. Not only this, you can have floral tiaras online for stylish photo shoots and newborn baby photo sessions. They are also an interesting choice of party favors for little baby girl guests.
Here are some of the most attractive baby headbands in India. These floral tiaras available for online shopping are perfect way to dress your princess hair in the simplest yet most beautiful way.
Unique Princess Flower Tiara
Baby princess tiara headband with mesmerizing floral arrangement is surely an irresistible pick for tiara headbands for toddlers. Shop online these unique flower girl tiaras in pretty designs and different colors which make them so easy to team up with her gowns and frocks for weddings and birthdays.
Baby, Toddler & Little Girl Tiaras Photo Props
Use little girl tiaras as photo props to click awesome pictures of your newborn baby. These colorful toddler girl tiaras make easy and affordable photography props and also bring out her cute appeal in the most exceptional way.
Kids Birthday Tiaras and Crowns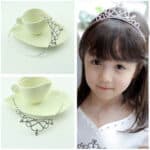 Toddler Baby Birthday Party tiaras and crowns come with sparkling embellishments. Studded with diamonds and stones, they promise a princess like look for your daughter. Kids and little girl tiaras are designed for special occasions like first birthday party or fancy dress competition to make your girl stand out. Shop online in India these floral tiaras.
Princess Crown Hair Clips
Princess crown hair clip are easy to wear simple hair accessory to help you keep your baby's hair properly pinned. Cute infant girl crown hair clips come with small motifs pasted on high quality clips making them a must have for your princess.
Cute Baby Crown Headbands for Wedding
Baby girl tiara headbands are beautiful crown headbands for girls for weddings and other special occasions. You can comfortably match them up with different dresses in any color and create a beautiful look for your daughter for such events and help them win all the attention.
Flower Crown Hair Clips for Girl
Flower hair clips and floral tiaras for little princess are fabulous infant tiaras. They are easy to wear and promise an exquisite look for your newborn baby girl. They are perfect for a dressy look of your girl and also keep their soft locks in place without much effort by mommies.
With these wonderful tiaras and flower crowns you can easily have beautiful hairdos for your toddler girl without investing much of your time and energy. With little crowns, you can create a fancy look for your girl which will make her look all the more angelic than she already is. So shop online these pretty hair accessories for your darling to give her a gorgeous look.
Shop online with us and enjoy free shipping and cash on delivery in India on all orders. We also ship worldwide to countries like USA,UK, Australia, Canada, Malaysia etc. and various other countries