All mothers have one common wish and that is to dress their baby girls like a princess.
Crown your little girl with adorable tiara headbands for a flawless princess look!!!! With such beautifully designed birthday girl headband crowns, your girl is ready to rock every party.
PinkBlueIndia unveils the unmatched collection of sparkling birthday crowns for baby girls in India. Fantastic collection of shimmery 1 year old birthday tiaras to add a royal touch to her personality. These make perfect hair accessories for children that dazzle their hair in the most stylish way. Handmade tiara flower crowns make a lovely match with the party gowns.
Click and add these pretty princess tiaras for baby girls from our glam and glee collection of birthday headbands for babies.
Pink Birthday Princess Crown Headband
Wonderful match of a crown and bow with net in a fan shape. This pink crown baby headband fits comfortably on the head and has an exclusive appeal to it. Place this first birthday bow headband on her head and enjoy the beautiful smile she will wear along with her tiara.
Shop Online: Felt Crown for Birthday Boy
Baby Crown Hair Clip Online in India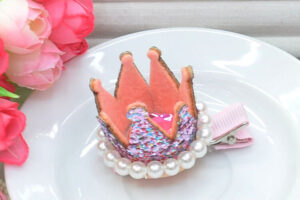 Dazzling and sparkling crown set on a hair clip is so unique. Small first birthday crown which will never fall from her head because it is placed on her hair with a soft hair clip. With white pearls around the base, she will look seriously stunning flaunting this 1st birthday crown hair clip. This makes a delightful Baby hair clip for wedding and birthday.
1st Birthday Princess Tiara Headband in Peach Color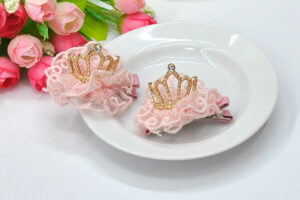 A golden crown with peach net in the base is set on a hair clip. This is an awesome first birthday crown for baby girl in India designed with love and affection. Your princess will enjoy this unique birthday headband for babies which is available for online shopping.
Flower Girl Tiara Headband in White color for Toddlers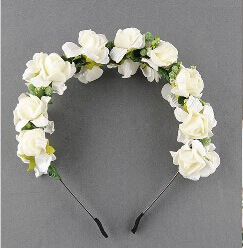 OMG!!! A divine tiara flower crown studded with white roses and green leaves on a hard headband. An exceptionally gorgeous children's hair accessory which goes beautifully with flower girl dresses for birthday parties. Pick this flower tiara online in India for best prices.
Baby Girl First Birthday Tiara
Birthday headband for baby in tiara style with pink flowers and green leaves adorned on it. It makes a pretty birthday crown for girls which looks lovely with tutu dresses and evening party gowns. Surprise her with this Princess Crown Tiara for Little Girls.
These are some of the most stylish birthday crowns for baby girls in India. You can shop online for the best of Children's hair Accessories & Party Wear Dresses in Bangalore and other parts of the country for an exclusive look for formal gatherings. Add on to the cuteness factor of your 1 year old toddler with such pretty DIY first birthday tiara headbands. They are truly the best way to add on to her grace and glamour on her special day.