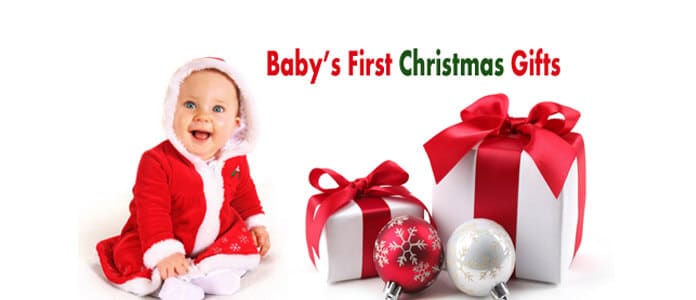 Christmas is the time to create beautiful memories with your family, friends and relatives. This is also the time to exchange gifts. We all engage in big time shopping looking for personalized presents for the people we love. If you have a cute little baby in your house and it is his first Christmas then you can make it more memorable for him by gifting a special first gift on this special occasion.
If you are confused about what you can buy for your cute little newborn infant on the occasion of Christmas to make it the best present for him then here is a short list of 15 most amazing personalized Baby's First Christmas Gift items that can make your child happy.
1. Christmas Pajamas
You can buy smart and stylish Christmas pajamas for your toddler on this occasion and dress him in beautiful red and white colored pajamas which have been designed especially for this festival. They are cozy, comfortable and fashionable.
2. Christmas Picture Frame
Christmas Picture Frame in sparkling shades of gold, red and red are another choice of gift for your infant baby. They come in various shapes, designs and styles. Capture these beautiful times in pictures and place these wonderful pictures in one such frame which will be a memory for lifetime.
3. First Drum
This is the time to play music and let yourself loose. You can present your little child a colorful drum. For sure, your baby is going to love this amazing gift of love on this festival. Let him have thrilling times by letting him play wonderful music.
4. Organic Teether
If your baby is really small then you can always pick for a cue Christmas tree shaped organic teether for him. They come in beautiful colors imbibing the feel of the festival. It is an amazing present for your newborn baby as he will keep it with him all day long.
5. Baby Handprint Ornament
If you are looking for something exclusive then you can take your cute baby's handprint and use them for having personalized jewelry designed with them. These are something which you can keep for life and remember the sweet times when your child was young.
6. Christmas Quilt
Christmas quilt is a thoughtful present for your young kid. You can shop for a colorful, vibrant, warm and designer quilt for your child which can keep him warm and comfortable on cold winter nights. They come in various patterns and designs. You can always choose the one you like within your budget.
7. First Boots
You can shop for the very first pair of shoes or boots for your newborn baby on the occasion of Christmas. This is the best time to add something new to his wardrobe and cover his tiny little feet in smart pair of boots. Go for fashionable and stylish shoes.
8. Christmas Piggy Bank
Another very interesting choice of present on Christmas is a piggy bank. You can inculcate a good habit in your child to save money. There are various kinds of piggy banks in the market designed specifically for the festival. From Santa Claus style to Snowman pattern, you can present any of these.
9. Rocking Reindeer
To keep the feel of Christmas alive, you can shop for a rocking reindeer instead of a rocking horse for your toddler baby. For sure, your child is going to enjoy this present on which he can ride like a prince. This is another very memorable present for your young baby on this festival.
10. Silver Rattle
If your kid is really small, like he is just born a few months back then you can buy him a beautiful rattle made in silver. This is a very sweet and heartfelt present for your baby which will always be special for him. Instead of buying usual plastic one, this festive season shop for something more elegant and different.
11. Baby's First Christmas Clothes
This is another very interesting choice of present for your little kid. Present him smart, comfortable and cool first christmas dress which he can wear during the gala celebrations. Make sure you go for something in combination of red and white to keep the feel of festival alive and make your child look the best on this festival. Looking for an adorable baby first Christmas outfit for your little one's first festive season?
12. Baby Walker
If your baby is growing fast and he is in full swing to learn walking then you can buy him a colorful baby walker which will work as his favorite toy. He will learn to walk faster and in a more playful manner. Mark this Christmas special by buying this walker for him and helping him learn to walk faster.
13. Christmas Record Book
This is one of the most precious gifts for your little baby. Shop for a record book in which you can mention and record all the small details related with the festival and with your child. This will work as a wonderful memory in future when your baby would sit down remembering that first celebration he had with his family and other related memories which are so moving.
14.Personalized Jacket
You can always go for a cute colorful personalized jacket for your baby. Choose a color and design of your choice and have your kid's name printed on it. This will be something very special and personalized for your infant and you can always keep it safe for his memories.
15. First Stockings
Buy beautiful red colored stockings for your little sweetheart as this will be his very first pair of stockings. You can have his name embroidered on it or you can have it beautifully embellished with different kinds of hangings for a gorgeous look. This is something which he will always love.
These are the most wonderful Christmas gifts which you can present to your baby on his very first festive celebration.