With Christmas around the corner, it is time to start shopping for beautiful Christmas party dresses for girls. But as a mother you would want to shop for something exclusive and stylish for this December festival 2018 which can make your little baby girl look like a princess. Shop for designer Christmas clothing, Santa Claus outfits and Merry Xmas dresses from children's boutique to gift your baby a wonderful my first Christmas dress.
This post talks about the latest Christmas collection of enthralling fashionable party clothing up for sale for young girls in India. Choose from these classy Christmas wear to make it a special day for your daughter.
Red and Black Minnie Christmas Outfit
Dress your little baby girl in the beautiful Christmas 2018 party clothing in red and black color. This tutu dress has been designed around the famous Minnie Mouse cartoon. It comes with a crochet bodice with a beautiful flare. The matching headbands with Minnie ears in black make it a perfect dress to buy for your princess.
Red and White Santa Claus Costume Romper
Making your little girl dress like Santa Claus is one of the best ways to make her first festival special and memorable. Shop online this smart romper clothing in red color which is the perfect imitation of Santa's dress. This comes with a cap and fur piping which makes it beautiful Merry Xmas holiday clothing for your baby.
4 Piece Christmas Romper Party Clothing
Go with this complete combination of 4 piece clothing to dress your baby girl in the most fashionable party clothing on her first Christmas. This comes with baby first Christmas onesies in white with cute skirt in red and green frills with matching legwarmers and hair band. This is one of the best ways to dress up your girl for the Christmas party. Buy this piece up for sale at children's boutique.
Pretty Partywear Christmas Fashion Outfit
Have this stylish Santa Claus theme inspired baby girl fashionable clothing ordered. This unique festive Christmas wear holiday clothing is a smart option to dress your girl on this special occasion. This is a combination of red colored Santa style frock and a cap with white fur piping. This is a comfortable December party dress which keeps your baby warm.
Red and White Snowman Christmas Dress
Make Christmas 2018 special with the pretty white and red colored Snowman dress for your little toddler girl. This comes with a white bodice with snowman printed on it. The red tutu net flare complements the look and makes it a pretty designer Christmas wear for your little princess. Dress her smartly for Merry Xmas.
Red Polka Dots Designer Merry Xmas Outfit
Buy online the special red colored boutique designed Christmas dress from latest collection for 2018. This party wear clothing comes with white polka dots and net frills in red and green net. The Santa Claus face on the bodice goes perfectly with the festive theme. The green ribbon bow adds more class to this attire. Buy Now
I Love Santa Christmas Party Dress
Have this smart Christmas holiday clothing ordered online for your baby girl. The white bodice in full sleeves comes with I Love Santa print on it. The red colored net frills match beautifully with the feel of the festival and the look of this outfit. Dress your princess like a cute doll in this December party wear clothing.
Red Tutu Designer Dress for Christmas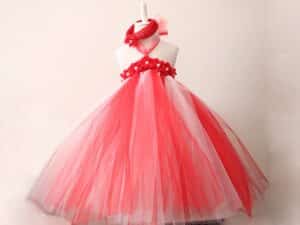 If you are looking for something exclusive and fashionable then go with this beautiful tutu dress in red color. This special occasion festive wear clothing comes with bodice embellished with flowers and gorgeous flare. There is a complementing hair band which comes free with this attire for a perfect party look.
4 Piece Merry Xmas Dress for Baby Girls
Go with this stunning combination of 4 piece clothing set for Christmas. This my first Christmas dress is a combination of a white and red colored tutu frock. It comes with cute legwarmers. The beautiful pair of baby shoes and hair band in red color make it an ideal fashion party dress to shop for your girl.
3 Piece Christmas December Dress
Buy the smart pair of three piece clothing set for December festive this 2018. This exceptional frock in red color with polka dots flare comes with cute baby booties in red color and a matching hair accessory with floral motifs. Order this exclusive piece up for sale and dress your baby in this most fashionable fancy party dress this year.
This page was last modified on Friday, 23 November, 2018