Christmas is the time to dress in the most beautiful clothing. With Christmas 2016 around the corner, mothers get busy shopping for fashionable Merry Christmas rompers for their young baby boys. They look for the finest first Christmas outfits and Santa Claus kids costume for their little heroes which make them look the cutest and also the most stylish.
If you are also in need of my first Merry Xmas dresses and shoes for young baby boys in India, end your search with this post which brings to you a breathtaking collection of holiday and Christmas clothing for the baby princes. Browse now and see what is in store for your child.
Complete Santa Claus Costume Set for Boys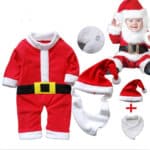 If you wish to dress your boy in the best Christmas 2016 kids costume then shop for this amazing romper set for him which comes with a romper in red and white along with a matching Santa Claus cap and a soft beard. This is surely the finest designer baby clothing to make your child's first Christmas special and fun-filled.
Red Merry Xmas Romper Set for Kids
Another exclusive choice of holiday baby clothing is this red colored Merry Christmas romper dress for kids which is a perfect replica of the Santa Claus. This cute and comfortable is the best my first Christmas outfit for your toddler boy. It comes with white furs and a matching Santa cap which add more grace to this fashionable costume.
Smart Red Christmas Shoes for Baby Boys
Shoes are surely very important when it comes to dressing your child. Buy this designer pair of smart red colored shoes for your little boy to make him dress in the most exciting combination. These baby booties are going to match with his Christmas party dress in the best way and will seal a fashionable look for him.
Cute Christmas Party Wear Loafers for Kids
If you wish to buy the most comfortable and easy to wear shoes for your kid then shop online for the exclusive pair of booties for baby boys in red color. These smart loafers are a perfect combination of ease and fashion. Your baby boy can wear them to Christmas parties and holidays for the stunning look in 2016.
Kids and Adults Santa Claus Hat
Winters are all about caps and Christmas is all about being fashionable. This warm woolen red colored Santa Claus Christmas hats is the perfect thing to shop for your boy. Match it up with his party dress. It comes with a Snowman and Merry Xmas tree motifs pasted on it with a blue colored pom-pom fur ball on the top.
Red Little Mermaid Photo Prop for Christmas
If you want to click your baby's beautiful pictures to make his very first Christmas memorable for life then shop for this pretty red colored Little Mermaid kids costume which is the best choice of photography prop for the festive. This is a three piece outfit in which you can dress your little baby and click the pictures.
So make Christmas 2016 fun and exciting with these party clothing options for baby boys. Each of these outfits is special and perfect to dress your kid in something different.
This page was last modified on Monday, December 12, 2016