Christmas is the most awaited time of the year. No matter what age you are, you look forward for Christmas celebrations. As parents, we must do something extra to make it all the more special for our kids other than buying baby first Christmas outfit or picking personalized baby first Christmas gifts. Other than that, there are various Christmas activities for children to keep them busy and entertain them. There are also Christmas activities for families which are beautiful way of spending time with your loved ones. Christmas activities for school and Christmas activities at home surely add more charm to Christmas for your children.
This post unveils some of these contemporary and traditional Christmas activities, Christmas craft activities for kids in India. Let us have a look at some of these:
Christmas Crafts for Children
Paper Lanterns
You can have children engage in making paper lanterns of different shapes. This is a fun Christmas craft activity as they can use these lanterns to decorate the Xmas tree later.
Read also: Baby's First Christmas Gift Ideas
Christmas Cards
You can let your kids show their creative side by making cards for Christmas in vibrant colours which they can send to their aunts, uncles, cousins, teachers etc. and wish them with love.
Make a Santa
Another interesting Christmas craft activity is to design a Santa Claus using cotton, velvet and other things on a thick sheet of paper. You can have this Santa placed in your house on Xmas or have framed.
Designing Christmas Bookmarks
Encourage your children to do something innovative and useful and designing bookmarks is surely a thing. They can gift these self designed bookmarks to their friends and cousin and make it a memory.
Traditions for Baby's First Christmas which every parentmust know
Fun Christmas Activities for Kids and Babies
Cooking for Christmas
Take them along while making sweets for Christmas. You can enjoy their assistance when you bake cakes or muffins or ask them to decorate them with chocolates or candies.
Decorate the House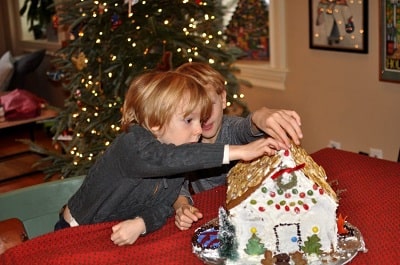 Festive times are busy and your children can be a great help to you in decorating the house. This is a very constructive Christmas activity for kids as they will learn many things as they help you.
Create Christmas Picture Album
Involve your kid in creating a picture album for the family on the occasion of Christmas. You can make him do the collage of pictures or have him put all the beautiful memories together to celebrate the occasion.
Gingerbread PlayHouse
This is the best Christmas activity for family to design a king size gingerbread play house using cardboard sheets. This is surely going to be one wonderful Christmas activity for preschoolers.
Shop online for the best first Christmas Baby outfit crafted with love and care!!!
Christmas Games for Toddlers and Preschoolers
Christmas Fashion Show
Have your kid and his friends dressed in fancy dress on Christmas. This is one Christmas game everyone is going to enjoy thoroughly.
Xmas Gift Stacks
This is one of the best Christmas party games for kids. Get some gift wrapped empty boxes and ask them to stack one gift over other. The group with the biggest stack wins the game.
Jingle Balls in the Glass
Place lots of glasses in a pattern and now ask the children to put the Christmas balls in these glasses from a distance. The one who gets the maximum balls in the glasses is the winner.
What's in Stocking?
This is a guess game in which you place different gifts in different stockings and children have to guess that what is inside the stocking. The one who has maximum correct guesses becomes the winner.
These are some of the super fun New years eve activities for kids in India. Keep up with this activities, games and Traditions for Baby's First Christmas to make every Xmas a more beautiful one!!!!
Top Search: