Winters are here and being a mother you are extremely worried about finding the best kids' winter outfits for your child. You want to make sure that these winter wear for juniors are a perfect blend of comfort, ease, warmth and fashion. Fashionable winter coats and smart winter caps are the best choices of winter wear for kids to keep them warm during these chills. Cute and colorful kids winter outerwear come in amazing designs that make up amazing baby winter wear.
Here is a compilation of the smartest kids winter jackets and baby winter hats for 2016. Choose from the wonderful options of baby boy and baby girl outerwear in India which can easily be shopped online sitting at home along with kids' woolen caps and hats. So put an end to the choice of smart winter dresses for your kid with these options.
1. Classy White Fur Winter Jacket for Babies
Dress up your little kids in the most stylish warm winter clothing. Classy white colored designer fur coat comes with all the softness and comfort in the world. Shop online boys' fur coats and baby girl fur coats in divine white to keep them cozy and fashionable this winter season. These kids' fur jackets in India are available for online shopping and make awesome choices of winter clothing for children.
Enthralling range of regal baby winter coats for 3 months to 5 years
2. Kids' Hooded Winter Coats & Outerwear
Hooded wool coats for kids and children winter jackets with hoods make incredible winter outfits. These toddler boys' outerwear are designed keeping in mind the warmth of a woolen and great style for the season. They make ace choices for winter clothing for children.
Get a perfectly fitting baby winter coat for kids from 3 months to 5 years of age for a distinguished appeal.
3. Baby and Kids Fur Jackets for Birthday Party
Winters and fur go hand in hand. Baby fur coats and jackets promise a sophisticated look for birthday parties in winters. Shop online in India gorgeous baby girl fur coats in different colors. Childrens fur coat jackets for toddlers are utterly soft and warm… just what you need to make winters cozier. Baby fur coats and jackets are exclusive party wear jackets to buy for kids. Have these real fur coats ordered for kids that make top notch baby girl party fur jackets.
4. Kids Boys Wool Sweater with Red Car
Buy the most amazing winter woolen sweater for your young boy. Kids pullover sweaters are comfortable and stylish winter dress red colored car on it. Woolen sweater for baby boys keep them warm and also happy. Shop online smart kids' sweaters in amazing colors and designs for happy winter season. Buy Now
Fabulous collection of baby woolen winter sweater size for 3 months to 5 years of age.
5. Toddler & Baby Girl Pullover with Floral Design
Pullovers for baby girls with enchanting floral prints are a must pick for the season. Baby swears up for online sale come with colorful floral design in different vibrant hues making it a delightful toddler girl pullover for the season. Buy kids' pullover sweaters in creative designs to dress up your girl for the cold winters.
Buy beautiful baby winter pullovers for girls in all sizes from 2 to 5 years from children's pullover collection.
Swanky Woolen Winter Caps for Boys and Girls
Have a look at the most refreshing and vibrant collection of baby wool hats for children, to dress them up in style with this winter kids' accessory.
6. Baby Pink Panda Woolen Cap and Muffler
Winter clothing is incomplete without a warm winter cap for kids. Go with this smart combination of cute hat and muffler in baby pink color. This designer piece has been designed around Panda theme and has been made using soft wool to keep your baby comfortable and warm on the freezing winter days and nights. A must have woolen cap for baby girls.
7. Cute Toddler Baby Knitted Woolen Hat with Horns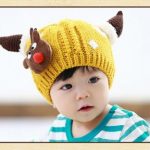 Shop online in India the smart and fashionable winter cap in red color. This beautiful baby winter hat been beautifully knitted and comes with brown horns and a reindeer face. This keeps the ears and head of your kid completely covered thereby making it perfect baby wool hats to buy for your child.
8. Kids Poncho Style Winter Cap
Winter caps for kids include this exclusive baby girl winter hat that offers complete coverage to your baby. This winter hat for babies comes in red colored poncho style with an attached scarf. Shop online this unique cap which completely covers your kid's head, neck and ears in one go thereby imparting best warmth possible.
9. Red Baby Winter Cloak with Gloves and Earmuffs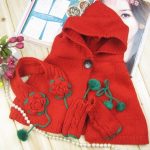 If you want to keep your baby warm on a cold winter day then go with this beautifully designer red colored cloak which comes with matching earmuffs and gloves which impart complete comfort to your little one. Have this woolen winter accessory ordered for him from anywhere in India in this unique baby boy winter hat.
10. Cute Kids Woolen Hat in Peach and White
Shop online this cute peach and white colored stylish hat for your baby to keep him warm in winters. This baby boy winter hat available in India comes with fur on the head and ears on the side. There is complete coverage offered by this amazing woolen accessory which is perfect to dress your child for outings in winters.
Choose from these 10 superb choices which are surely the finest choices to buy the best winter clothing for your kid to dress him with perfection in winters 2016.
Make your shopping a mind blowing experience with Free Shipping and Cash on Delivery on all orders within India.
Follow these finest fashion tips to dress your kids best for winters.
Know everything about dressing up newborn babies in winters.
This page was last modified on Saturday, September 23, 2016