Its winter and time to indulge in shopping woolen clothes in Trendy winter Fashion 2018. Buy beautiful woolen clothes for boys and girls from PinkBlueIndia and make your child look pretty. The kids winter outfit are a comfortable choice for any kid as they would like to cozy up during the winters. The woolens available here are of the latest trendy collection and fashionable winter wear for unisex and children available in different sizes. So check out the latest winter clothes for kid online and woolen fashion now and shop online the clothes!
Kids Winter Warm Cool Cartoon Hoodie and Pant Set
Hoodies are cute, hoodies are smart. Buy the clothing set in woolen which consists of hoodie and pants. Cute and smart, the attractive boy hoodie is available in the baby boy winter care collection and would keep the young child nice and kids winter warm during the winter season. the grey cartoon print on the hoodie makes it a more attractive buy for every child. The hoodie and pant baby boy outerwear clothing 2 piece set is perfect for wear during play time, for occasions like weddings and parties or for everyday use. So lay your hands on children woolen clothes and the grey Cartoon hoodie and pant now.
Stylish Baby Girl Sleeveless Winter Jacket with Hood
Winters bring hoodies and winter jackets everywhere- kids just love them. Grab the beautiful and stylish baby girl sleeveless winter jacket in soft pink color. the sleeveless children winter jacket has a metal zipper in the front with its interiors in fluffy white fill. Check out the latest collection of winter kids vest jackets and baby girl sleeveless vests and kids half sleeve winter jackets with hood and get your best buy.
Toddler Boy 2 Piece Fleece Warm Sweatshirt and Pant Set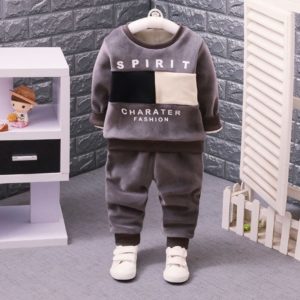 The toddler boy two piece set of winter wear sweatshirt and pant set is worth investing in for your child. Buy online the kids fleece outerwear and two-piece set which includes a beautifully printed sweatshirt and color coordinated fleece pants. With a contrasting crew neck, the fashionable boys clothing sets are available at different sizes for a perfect wear for your toddler baby boy. The kids winter warm sweatshirt has long sleeves with adorable fleece rib-knit cuffs at the ends and are available under the childrens clothing set collection.
Soft and Cozy Baby Pink Warm Fleece Overalls & Dungarees
Browse through the beautiful childrens dungarees collection at PinkBluIndia and order this soft and cozy baby pink warm fleece dungaree. Toddler baby girl overalls always are a trendy fashion wear- they are another piece of warm, cozy and cute little girl pink fleece overalls set available exclusively in India. The dungarees are made from our premium quality fleece are a perfect choice in winters. They are easy care Fleece Overalls and require very less maintenance for the naughty child to wear regularly the toddler woolen clothes.
Perfect fit for 1-2 years, 2-3 years, 3-4 years, 4-5 years old girl and boy.
PinkBlueIndia offers ready to ship kids winter wear online service for fast delivery to Mumbai, Delhi, Bangalore, Hyderabad, Ahmedabad, Kolkata, Surat, Lucknow, Thane, Vadodara, Ghaziabad, Ludhiana, Agra, Faridabad, Amritsar, Navi Mumbai, Chandigarh, Gurgaon, Jalandhar, Guntur, Noida, Patiala, New Delhi, Surat, Chennai, Nagpur, Indore, Bhopal, Nashik, Coimbatore, Jammu, Mysore, Shillong, panji, etc.