Make cute baby girls look more adorable with awesome winter fashion clothing for kids. Stylish winter wear jackets, beautifully knitted sweaters and vibrant baby cardigans for girls in India are gorgeous cold weather and winter clothes to add to her closet. Smart long sleeves winter dresses for juniors and woolen winter wear ensure that your girl looks pretty and stays warm in these winter wear for children.
This post brings best choices of winter wear for juniors. It unveils wonderful baby girl winter clothing that looks gorgeous on your little doll.
Smart and Cute Winter Dress For Baby Girl
Awesome winter party dress for baby girl comes with full sleeves. This baby girl boutique outfit makes a gorgeous winter wear for girl to shop online with red strawberry pattern. This winter warm dress for baby girl will be loved by your little princess as this is cute and comfortable clothing for the season. Have it in dark blue color or soothing white to dress your baby smartly.
Toddler Girl fur Coats and Jackets with Attached Bow
Cozy and comfortable baby girl fur coats make winters a lot more comfortable. Get these children's fur coat jackets for kids in India to keep them cozy. Baby fur jackets for birthday parties and weddings come with an attached hood with rabbit ears. This baby girl real fur party jacket comes in bright pink color with yellow polka dots.
Unique Baby Girls Faux Fur Cape with Satin Tie
Faux fur cape for wedding is an exceptionally gorgeous winter wear for girls in India. This fur ribbon tie cape jacket for toddlers is a perfect pick to make winters more fashionable. Unique white faux fur cape for children adds a classy touch to your baby's wardrobe thereby making her stand out in the crown.
2 Piece Fur Pullover & Legging Set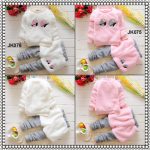 Warm baby girl pullover with legging in soothing baby pink and grey color is a wonderful kids winter outfit. Shop online this smart baby girl winter clothing set which comes with long sleeves woolen sweater with a complementing pair of leggings. This winter dress is also available in off white color.
Baby Girl Cape Style Warm Jacket with Hood
For fashionable winters, have wool poncho jacket warm cloak coat with an attached hood. Shop online cute little princess style unique poncho jacket for your doll to dress her up in the most wonderful way. This cape cloak is a warm butterfly hooded jacket available in pink color. It is not just adorable to look at but also a very warm outerwear for kids in India.
Cute Little Girl Padded Winter Jacket with Hood
Another smart baby girl outerwear are girls padded winter jackets with hoods. These comfortable and warm kids special occasion winter wear keep your baby cozy on the coldest nights and can be teamed up very easily with different choices of clothes.
Leather Jackets for Toddler and Baby Girl
Fashion leather jackets for babies are unique winter clothing for weddings, birthday parties etc. Shop online cute leather jackets for juniors that look smart with jeans, skirts, pants etc. Party wear leather jackets for toddler girls in solid blacks and browns match easily with all kinds of lowers that are perfect to beat the cold.
Toddler Girl Fleece Coats, Jackets & Outerwear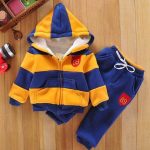 Fleece jackets with hood make wonderful winter jackets for baby girls. With cute rabbit print, these kids fleece clothing are a must pick for infants as they make a comfy kids fleece outerwear for girls in India. Shop online these fleece hooded jackets to keep your darling warm.
Kids & Baby Girl Winter Accessories
Do include unique kids wool accessories in your shopping list. Cute and comfy winter matching wear and accessories for girls include woolen caps and hats, warm socks and shoes, leggings and tights. Get these trendy infant winter hats and knitted shoes that are best cold weather accessories to keep them cozy.
With an exceptionally amazing range of winter wear for girls in India, you can easily pick fashionable outerwear for the cold season. These warm clothes fit comfortably on girls of age 0-6 month, 6-12 months, 12-18 months, 1-2 years, 2-3 years, 3-4 years, 4-5 years.
Not just in India but you can shop online for these pretty winter dresses for juniors from across the world which include countries like United States of America, United Kingdom, Canada, Australia and various others.
Get awesome handsome Baby Boy winter clothes for little princes.
Find unique Winters Dress your Kids For the Cold to keep your babies stylish.
Real Kids, Real Life