Winter is one such ruthless season that may engulf children quickly and make them suffer from cough or cold. Of course, they are delicate toddlers, who do not have strong immunity system. This is the reason that they should be covered well with winter caps for kids online India. It is because the online stores sell a variety kids wear in winters. It is because of the excessive chilly weather, it becomes important for the parents to select from a wide variety of products available online. This happens to make sure that the kids are dressed well in winters too. After all, they have the right to look good.
In winters, covering head is extremely important for the kids. And this necessitates for using hats or caps. Baby winter hats are an ideal choice to make because they are manufactured with warmer material. They haves diverse patterns that lend a designer touch to its appeal. This ensures the baby get the maximum comfort.
Stylish Winter Caps for Kids and Babies
Baby woolen caps online have been made available in various sizes, which enable the kids to cover their heads in style. Right from the P-cap style to round shaped and woolen caps for kids, the parents can buy them at affordable rates.
Orange Woolen Cap and Muffler Set for Kids
The beauty of orange shade has been brought in the form of woolen cap having a black pom-pom. Giving it a cuter look, the cap is available with a muffler in same shade. Adding style to the cap and muffler set is a square with star. Of course, such woolen caps for kids tend to keep them warn and safe from chilly cold winds.
Lovely Rabbit Pattern Baby Winter Hat & Cloak Cape
Cuteness overloaded with excellent rabbit style design is attached to front open shoulder cover. This will make a child look smarter. Not just covering the head properly, it protects the shoulders too. Such type of baby woolen cap design gives better styling. In fact, it is available online and manufactured with high quality wool.
Stylish Baby Pink and Off-white Flower Winter Cap
Considered ideal for sweet little girls, such types of winter caps for baby girl will make her look beautiful. The two big flowers adorning a woolen cap can be worn with any form of dress and keeps the head warm in winters. It is available in baby pink and off-white shade. Definitely, the flower pattern on the cap lends it a designer appeal.
Crochet Fuzzy Panda Bear Cap for Children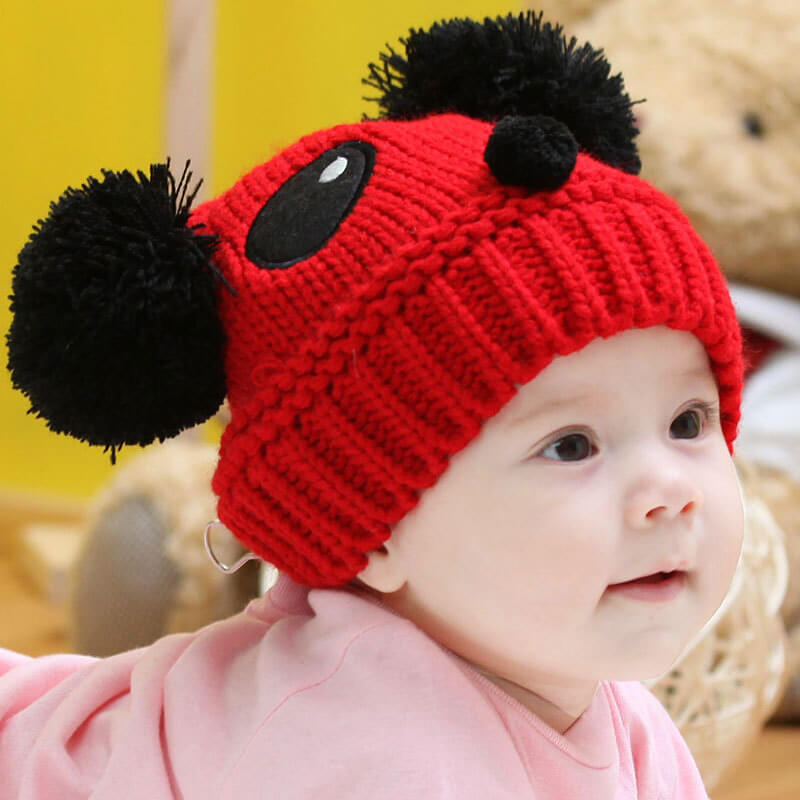 Ever thought that the panda would look cuter than ever? Well, it is the panda style designed woolen cap for the toddlers in hot pink and black that does the work. It is manufactured with high quality wool and keeps the head warmer in decreasing temperature. With this cap in the wardrobe, your child will look exceptionally smart.
Cute Red Baby Cloak with Earmuffs & Gloves Knitting Pattern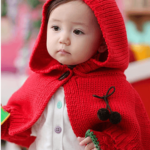 Babies are delicate blossoms, who have to be protected from the harshness of winter season. This is the reason that keeping them warm with toddler winter hats with ear flaps is becoming a trendsetter. Certainly, the best part of this product is that it has flower pattern on both side of the ears and an attached cloak to keep shoulders warm too. It is beautified with red and green color combination.
Baby Girls Boys Winter Hat and Loop Scarf Pattern
With winters setting around to give you child it is important for the parents to protect their toddlers in such a harsh season. For them, yellow colored cap and muffler set for the child is an idea choice. This will keep the head and neck of the child much warmer. Adding style to the set is cat pattern that is much suited as winter hats for new-borns and even toddlers. Its side strings can be left loose or tied around neck as per need.
Soft Winter Crochet Owl Shape Knitted New-born Baby Hat
Winter is one such season, which necessitates for the usage of caps. And it is the fashion requirement of people that has enabled designers to come up with stylish caps, even for new born kids. This is the reason that such a crochet baby cap with owl pattern and side plaits will keep the head of new born warm because they have a delicate skin. This falls in the category of cute toddler winter hats in a combination of green, pink and blue shade.
Comfy Toddler Boy Girl Knit Beanie Hat for Fall Winter
The beauty of the kid is enhanced with dressing worn by them. And in winters, caps happen to add an extra pinch of cuteness in their appeal. This red colored knitted cap with a flower pattern in the front may allow the kid to look smart. It is an excellent product for kids in winter.
Cute Infant Baby Woolen Cap with Bunnies on the Ears
Cuteness is one such factor that exists in every child. And when it is an infant, there is an extra amount of cuteness in the matter. The cute red colored cap with two white bunnies on either side augments the charm in the baby. Such winter hats for infants are a must to protect them from extreme cold weather. It looks really beautiful because the bright shade enhances the looks of a child.
Smart New-born Baby Wig Hat with Bows
The temperature in winters keeps o reducing with time and the nights are exceptionally cold. This is the reason that toddlers require caps to protect their head as they might catch cold. For them, smart new-born baby wig hat with bows is an ideal choice to buy. In fact, the parents can purchase baby woolen caps online at affordable rates.
Trendy Toddler Winter Beanie Hats with Flower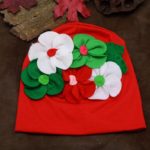 Flower is a specialized pattern, which adds to the beauty of a cap. In fact, each and every pattern crafted on the beanie hats looks simply gorgeous on the kids. These Skull Caps & Beanies can be used as Gift for Kids on their birthday or otherwise too. So, people can gift cute and trendy toddler beanie caps to the kids for looking stylish.
Apart from an exotic variety of Children Stylish Caps, beanie hats and mufflers, the online stores sell qualitative baby sweater too. In fact, the purpose of selling kids winter clothes online is to help parents, who do not get enough time to roam around stores for selecting the best product for their child in the winter season.