The baby market is a hit these days. Today our babies are exposed to more options that we could even imagine at our times. Everything is marketed these days in the cutest and prettiest form possible. Feeding bowl, feeding spoon, feeding bottles and baby accessories and clothing is all found under one roof.
New parents need guidance to shop quality products for their toddlers especially when it comes shopping feeding bottles. The hygienic quotient related to it being the catch. Today, we have come up with a list of the top 5 baby feeding bottle brands in India.  You may also order these online.
Comotomo Natural Feel 8-ounce Baby Bottles
Price in India: Rs. 1917.00
The baby bottle feature an innovative and sensible designed with a soft silicone nipple that mimics natural breastfeeding.
Key Features
Skin-like, soft and squeezable body
Wide-neck design for brushless, stress-free cleaning
Medium-flow nipples with 2 holes ideal for 3-6 months
Safe in microwave, boiling water, dishwashers and sterilizers
BPA-, PVC- and Phthalate-free
Age: 3-6 months, Materials: Silicone, plastic, Capacity: 8 ounces
Adiri 9.5-ounce NxGen Stage 1 Nurser
Price in India: Rs. 1187.00
The baby bottle is designed with advices from mothers, practitioners, scientists, lactation consultants, cutting edge designers and engineers.
Key Features
Bottom vented, one-way Petal valve
Supports transition from Mother's breast to bottle
Ideally shaped soft medical grade silicone nipple
BPA Free
Slow flow silicone nipple, warming disc, cover cap
JPMA certified
Top rack dishwasher safe
Age: 3-6 months, Materials: Silicone, BPA-free plastic, Capacity: 9.5 ounces
Dr. Brown's Natural Flow Wide Neck Newborn Feeding Set
Price in India: Rs. 2648.00
Dr. Brown's baby bottle is designed to reduce colic, spit-up, burping, and gas in the ear. It is most ideal for breast milk and formula at the same time.
Key Features
Polypropylene bottles are BPA, PVC, Lead, and Phthalate Free
Patented internal vent system
Designed to reduce colic, spit-up, burping, gas and fluid in the ear
Top-rack dishwasher safe
Gold winner in the 2000 Medical Designs Excellence Awards
Philips Avent Bottles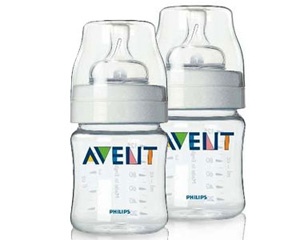 Price in India: Rs. 475
Philips Avent Bottles are made from BPA free material with breast similar design to help you feed your baby comfortably in India. It offers natural feeding teats with its advanced anti-colic system.
Key features
Ergonomic shaped BPA free bottles
Sweet and comfortable petals
2 years guarantee
Designed to reduce colic, spit-up and burping
Happy and contented feed
Chicco Feeding Bottles
Price in India: Rs. 449
Chicco Feeding Bottles uses pure transparent glass material with silicone teat regular flow for easier feeding. It offers maximum support to the lips and avoids swallowing of air and hiccups.
Key features
BPA free hygienic bottles
Unbreakable transparent material
Anti-colic valve for maximum support
Natural bottle-feeding that resembles breast-feeding
Maximum support to the lips
Do not miss our tender collection of rash free baby diapers in India.
Check out these simple tips to Know Health Benefits of Almond Milk for Babies
Top Search: