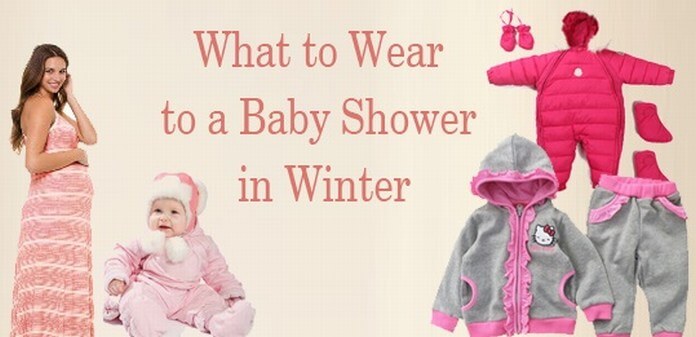 Baby shower is the time to celebrate the advent of new member in the family. From the mother to be to the family, friends and relatives everyone is excited and happy to make these celebrations memorable. You want to dress up in the best of your clothes to make this occasion a memorable one. But if the baby shower function falls in winter season then you really need to do a mind boggling exercise to find the best dress for the event.
Read through the article to find out the best suited dresses for a baby shower in winters and dress like a diva……
Dressing Options If You're the Expecting Mother
Opt for Easy and Convenient Dressing
The mother-to-be must look special on this wonderful day. Also, at the same time, you must feel comfortable and easy as you will be meeting all the guests. At this time, when you will be 7 months pregnant, select a dress keeping your comforts on the highest priority. Go for a nice woolen tunic or a smart cardigan. A light winter clothing is good enough to keep you warm. You can experiment with your dressing with a smart stole or scarf. This will stylize your dress.
Do not go for high heels as they can leave you with lots of pain by the end of the function. Make sure you pick up nice smart flats that complement your dress. Keep them simple which can look good on your pedicure feet. Boots are also a good option in winters to keep your feet warm.
Check this: Virtual Baby Shower during Coronavirus
Dressing Options If You're a Guest
Dress According to Venue and Time
If it is a day function in a backyard then you can dress casually in a tunic with a matching scarf and necklace. If the function is at a banquet hall then you need to dress more smartly. You can wear a nice dress with an elegant neck. Keep it classy. Carry a smart stole with it and you will shine at the shower. Do not forget to carry your smart and well fitted overcoat.
Winter is the season of bright and happy colors. If it's a day party then you can wear floral prints and bold colors. And for an evening party, you can wear dark and intense shades.
Add more style to your dressing by picking smart heals that go with your dress. You can also wear light stockings to protect you from the chilling winters.
These were some of the dressing options for girls at the baby shower. So whether you are a mother-to-be her friend or cousin, you must dress up according to the winter season with complete elegance and smartness.
Read Article also: Maternity dresses for Photoshoot
Don't Forget Baby Shower Gifts
To make this event memorable, it is important that you take some special shower gift for the mo-to-be to surprise her and make her feel special. A thoughtful present is always recommended if you are someone close to her.
If you are the host then gift your guests some amazing baby shower gifts which are in sync with the party theme or idea. Go for the best return gifts for the guests to surprise them with something unique and special.