Birthday parties are the times to dress well. And when you have a cute little baby girl, it becomes an extra special moment for you because you can use the best of your fashion sense and creativity to dress her like a princess. One such attractive option to buy for your cute little princess is the baby tutu skirt in the most fashionable and mesmerizing designs. Indian markets are full of partywear toddler tutu skirts in enchanting hues.
Let us have a look at some of the most amazing tutu skirts which are the best way to dress your kid for birthday parties. Create a different look with every outfit by matching it with a different top and accessories.
Fashionable Pink and Blue Tutu Skirt
Buy online the beautiful pink and navy blue colored tutu skirt which comes with a stylish pattern. The complete skirt is in navy blue color with net frills in pink. It is a superb skirt for your baby girl to wear to parties and functions and look gorgeous.
Smart Pink and Orange Newborn Girl Skirt
You can also go for the tricolor skirt for your cute baby girl. This skirt comes with pink and orange color with tutu frills in bright yellow color. The complete combination is truly mesmerizing as it has all the bright shades to match up tops of different colors with it.
Single Color Navy Blue Tutu Skirt
If you wish to purchase a tutu skirt in single color then this is a beautiful choice to go for. This navy blue colored skirt comes with dense net frills which impart great volume to this clothing. You can match it up with floral tops and tees for dressing your girl for any outing.
Gorgeous Light Blue and Green Skirt with Stripes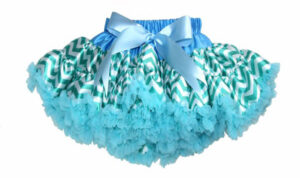 Another interesting choice of skirt for kids in India is the summery tutu skirt in the combination of green and blue. This designer piece comes with blue base with stripes on a white satin base. The frills are of sea green color which complements the whole combination. This is a wonderful piece to pick.
Orange and Black Newborn Baby Tutu Skirt
You can also go for the rarest combination of orange and black. The flare of the toddler tutu skirt comes with an orange base with black colored polka dots on it. The frills are of black color to match up with the whole theme and there is a ribbon bow on the waist for perfect party look.
Light Blue and White Designer Toddler Tutu Skirt
If you are looking for something extremely classy and summery then go for the beautiful sky blue and white colored skirt which comes with a crochet waist line. There are shimmery stars on the flare. This is a beautiful and attractive piece of dress for cute toddler girls which is stylish and smart.
Choose from any of these tutu skirts mentioned above to dress your cute princess in the most fashionable and adorable way. Each of the pieces mentioned above are exclusively designed to beautify the look of young girls in India.