Dressing baby girls is fun. Tops and tees for girls make an essential part of their wardrobe. You need to have lots and lots of tops for girls which can be paired with different kinds of lowers like skirts, shorts, leggings etc. As a mom you understand that there is always room to buy tops tees for baby girl to keep meeting her growing needs.
Whether you are looking for baby tees for 1 year olds in India or wish to pick best designer girls top online for your little princess, this post talks about all kinds of girls tops and tees in different styles for different purposes.
Baby Girl Tops and Leggings
Tops and leggings are popular baby girls clothing. Have these smart party wear tops for girls to dress them up in a trendy way. These long sleeve baby tops and tees go well with leggings, especially in the winter season.
These tops fit perfectly on girls between age of 6-9 months, 12-28 months, 1-2 year, 3-4 years.
Unique Little Girl Ruffle Top
For a fashionable look, have ruffle top for girls. This unique baby clothing makes an awesome choice of baby boutique designer tees for baby girl. The layers of ruffle add more style to the simplest of the clothing just with a little designing technique. Match it up with any lower for a smart look.
3 Piece Baby Girl Outfits & Clothing Sets
With baby girl clothing sets, you are sorted with a perfect combination of baby girl top, trousers and white inner. This makes a classy baby girl outfit and can be worn for parties and formal gatherings. Have this exclusive three piece combination set for your little princess.
Dance Diva Little Girls Tops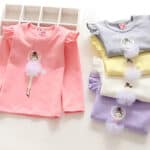 If you are looking for partywear tees for baby girl then this full sleeves baby tops promise an exceptional look for girls. These smart and stylish dance diva baby and kids tees can be shopped online in India to give your princess a wonderful look for parties and weddings.
Baby Girl Top and Tees with Pajama
For a comfy look at home, baby girl top with pajama is an amazing pick. With cute baby girl tees with pajama, you can dress your girl in soft and easy to wear clothing. They are perfect choice as nightwear. Your baby can sleep, play, run and stay easy in this combo.
These tops and pajamas are suitable for girls between 9-12 months, 12-28 months, 1-2 year, 2-3 years of age.
Baby Party Wear Tops on Jeans
Jeans is complete without toddler and baby girl tops. Find smart baby girl tops online and team them up with their jeans. Unique party wear tops for girls in beautiful colors, designs and style promise a stunning look for your baby and make them stand out in social gatherings.
Baby & Toddler Tops & T-Shirts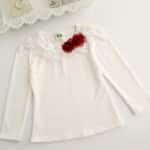 Get cool full sleeves t shirts for kids and cute baby tops for girls in floral prints, geometric designs and various other styles. These short and long sleeves baby tops and t-shirts are a must have in every girls' cupboard as they can be easily teamed up with different kinds of lowers.
With such wonderful choices, you can comfortably find perfect tops to add to your girl's closet for any and every occasion.
PinkBlueIndia makes online shopping more lucrative by offering Free Shipping and Cash on Delivery to all shoppers in India.
Overseas shoppers can also enjoy best international shipping in USA, UK, Canada and other European countries.
If you are looking for gorgeous baby girl dresses then click to explore the amazing collection.
Get those pretty shoes for little girls to complete her look.
Shop online attractive baby headbands for perfect hairdos.