Baby' boy's first birthday is the most special event that is celebrated in a grand scale. If you are searching to give a unique gift, just click on PinkBlueIndia website and you will find many unique gifts, designs and fun clothes to choose. PinkBlueIndia has ready-made and custom-made dresses for gifting for baby boy's first birthday. This store has a variety of stylish baby dress, rompers, clothes, party suits, cake smash outfit and Customized T-shirts designed especially for Newborn, Infants & Toddler boy.
You can gift these amazing collection of first birthday baby clothes to any newborn in your family or in your friends' circle from PinkBlueIndia. This store has made gifting easy for those living in USA, UK, or Australia. They can gift these new born or first birthday gifts to their friends or relatives, blessed with new born or celebrating 1st birthday. PinkBlueInida gives an option to free gift wrap each gift individually. If you have many gifts to be sent to India, the store does a free gift wrapping collectively too.
Boys Suits With Tailcoat Jacket – Boys Formal Wear
Tailcoat suit for baby boys is the flawless combination of style and elegance for a classy makeover for weddings and formal parties for your little prince. Tailcoat for boys is a 5 piece suit comprising of a pair of trousers, shirt, waist coat, bow tie and a smart dress coat for toddler boy with a trendy twist. He will look like a royal British Prince dressed in this sophisticated costume for toddlers which is so upscale. Milk/ black colour suit is an evergreen kids wedding outfit as it a perfect example of resplendent style. Go for the fantastic child tuxedo jacket tails online in India to have the best wedding costume for boy.
If you are looking for the perfect personalised birthday gifts for kids?
Royal Prince Costume for Baby Boy
This is a complete four piece Royal prince outfit in blue and white which comes with a personalized touch. White shirt with blue waistcoat, pants paired with bowtie and shoes makes a complete set of cake smash outfit boy in India to dress him in great style.
Check this: 2 year old Birthday T-Shirt for Baby Boy
Little Prince Charming Outfit for First Birthday
A perfect prince charming birthday costume is right here. A delightful replica of a royal blue prince costume is just what you need for your little prince for his first birthday. A combination of pant, shirt and shoes in blue and white with a hint of gold. The unique thing is the customized belt.
Personalized Boss Baby Boy 1st Birthday Outfit Set
Go with the unique baby shower theme to celebrate the first birthday of your boy. Boss baby birthday theme for boy makes an exceptionally fun theme and with the right things available, you are all sorted. You can even dress him up in a fun boss baby birthday outfit boy. Find the fantastic boss baby boy outfit designed around the special blue boss baby birthday theme to make his special day a memorable one with this theme.
Little Prince Personalised Baby Boy 1st Birthday Outfit
The most incredible Prince 1st birthday outfit which is a combination of a pant, shirt, tailcoat, bowtie and a "Birthday Prince" printed cape. With this royal prince costume for baby boy in blue and white you don't have to worry about his special look on this significant day of his life.
Royal Blue Boys Cake Smash Outfit / 1st Birthday Outfit
Go for this cute 1st birthday boy outfit to celebrate this first birthday. This prince costume for toddler is a printed onesie with a pair of shorts, an apron and a birthday hat. This is a must have cake smash outfit boy in India. And with such amazing custom first birthday cake smash outfits for boy, you are sorted to dress him up the best way.
Newborn Boy First Birthday Gift Set – Bow Tie & Suspenders Outfit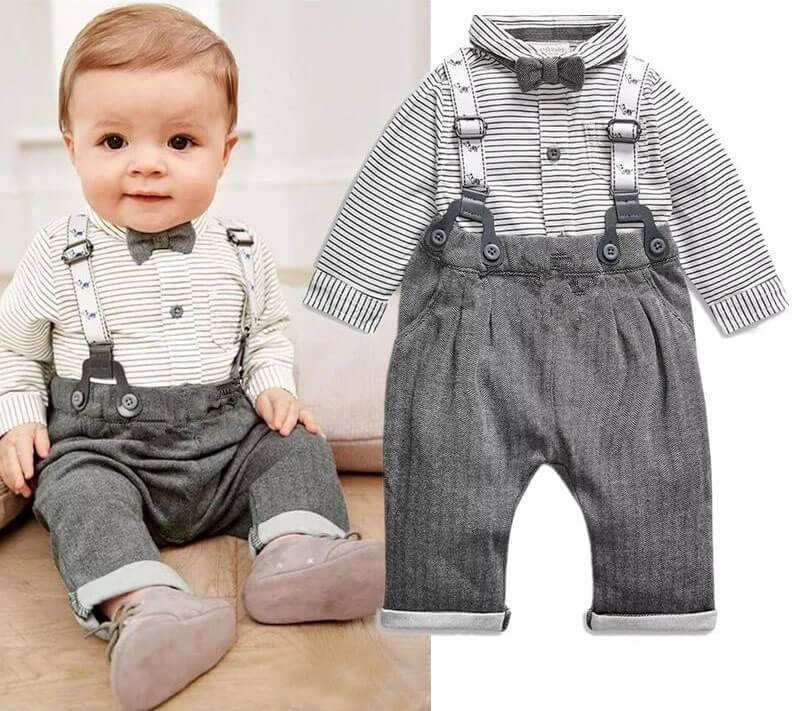 This White shirt with a grey pant with Y-suspender and bow tie is a right choice for first birthday gift set. The suspenders are adjustable and can be removed to give a different look to the dress. The bow and suspender are perfect accessory for new born baby's clothes. This dress suits family celebrations, weddings, and other functions too.
Infant Boys First Birthday 3-piece Onesie Outfit Set
This 3-piece Onesie Outfit Set is a perfect first birthday dress. This dress has a long sleeve grey shirt and wine Pants. It comes with elastic waistband and matching bowtie are Removable and Adjustable. This Infant boy's dress is very comfortable and has a soft feel.
Read Article: Little Tuxedos Suit ideas
Newborn Onesie with Vest, Bow Tie/Pants for Birthday Boy
This long sleeve onesie four-piece set will make your kid look fabulous. The pant has elastic which is self-adjustable and will fit well. The vest has fancy buttons on the front and bow tie is detachable.  He will look adorable and picture perfect at his birthday party.
Ring Bearer Outfit Set: Bow Tie Shirt and Suspender Short
The little gentleman suit has a Bow tie Shirt, and with Suspender which is adjustable. The bowtie comes in a matching color and fabric and is removable and adjustable. Different sizes are available for infants and kids. This dress is apt for weddings, parties, and all occasions.
Infant Boy Wedding Outfit – Gray Suspender Shorts & Bow Tie Shirt
This is a lovely color combination of grey suspender shorts and pink Bow tie t-shirt. The suspender straps are adjustable. The fabric of the outfit is very soft and comfortable. The pink shirt comes in long sleeves and woven buttons. This is just perfect for a wedding and any party.
Birthday Gift Clothing Set Shirt, Y- Back Suspender and Pants
This dress is a perfect choice for your son's first birthday. This dress has a white shirt, a pant and a broad Y strapped royal blue suspender. It has a nice royal look. Suspenders are removable and adjustable. The bow-tie is also removable. This dress is suitable for the first birthday party and also for weddings.
Boys Party Wear Tartan Waistcoat and Pant Set | Scottish Kids Waistcoat
This dress has a very European look. The wine colored Tartan waistcoat gives a very stylish look to your kid. The back side of the waistcoat is adjustable. Pants come with an elastic waistband which fits well with your kid. This is a perfect choice for any party. Buy Boys Waistcoat Collections Online
Little Boys Wedding Tartan Vest Suit with Matching Trouser
This dress is the best wedding attire for little boys. The Grey Tartan waistcoat has a Scottish look. The back side if the coat is adjustable. The dark color pant has an elastic band. Your baby will be very happy and comfortable with this outfit. Your baby will look stylish in this outfit.
This outfit is available for 0-6 months, 6-12 months, 12-18 months, 18-24 months, 1-6 year old boys.