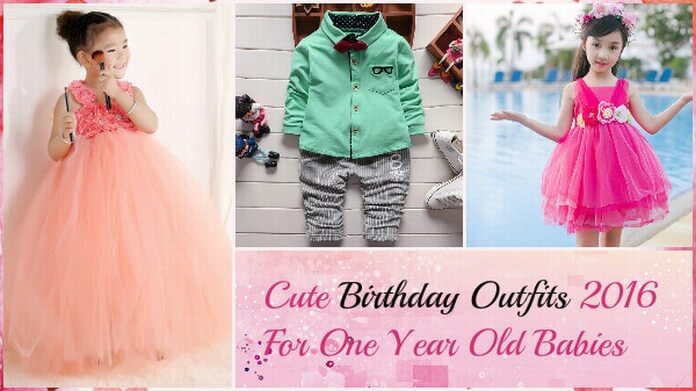 Beautiful choice of cute 1st birthday outfits for kids in 2022. Designer baby dresses for boys and girls in fashionable patterns on completing their first year. When your baby turns one, it is a special day for you as parents and for your little darling. We want to buy the best of first birthday outfits in vibrant hues and cute patterns to dress up young boys and girls in special first birthday party dress to make sure that our child looks the best on this day. We make all possible efforts to find the most amazing baby birthday dress which is simply gorgeous and stylish to suit the occasion.
To help you find the most beautiful kids' special occasion birthday clothes for girls in 2022, we bring to you the 7 cutest and most adorable one year old birthday designer outfits for babies and kids which are just perfect for the day. Read on and find out the smashing first birthday dress ideas for boys and girls for an exquisite look on their special day.
First Birthday Tutu Dress
Tutu dresses are the most amazing choice of princess birthday outfit for toddler girls. The designer baby first birthday tutu clothing comes with stylish crochet and floral bodice with complementing flare in attractive colors. You can have them in bright yellow, red, blue and purple colors or you can also find them in soothing pastel pinks, white etc.  Markets offer an irresistible range of one year old birthday tutu outfits for girls. You can even shop them online with just one click.
Minnie Mouse Dress for Baby
Cute Minnie Mouse dress is another interesting idea of adorable 1st birthday dress clothing. You can shop online for vibrant Minnie Mouse tutu dresses for young baby girls or you can buy stylish first birthday shirts for boys with Minnie Mouse print on it. These cartoon kids outfit make wonderful birthday clothing for children.
1st Birthday Pettiskirt Set
The frilled and fluffy designer pettiskirts in bright colors are beautiful baby girl dresses for when they turn one year old. They are a perfect blend of style and cuteness. Team them up smart tops and t-shirts to create a unique and fashionable birthday party look for your little princess.  You can buy them in different colors for your twin daughters as well.
Baby Girl Designer Dresses
Designer dresses for little girls are gorgeous gowns and frocks in interesting unique patterns.  These special occasion clothes come with exquisite bodice with floral patterns and marvelous designs making them an amazing pick for 1st birthday party of your girl. The trendy neck styles and sleeve patterns add more glamour to these kids' outfits.
Baby Boys Shirt and T-shirt
Whenever we talk about cute first birthday outfits for boys then funky t-shirts and dashing shirts always top the list. Dressing up young toddler boy in formal shirt or cool t-shirt is an interesting idea for special occasions. You can team them up with a pair of formal pants or jeans or shorts depending upon the season and your choice to transform the look of your child.
Baby Boys Formal Outfits
Little baby boys look adorable when we dress them up in formal apparels. You can shop online smart formal baby suits or formal romper sets for one year old boys to give them a stylish look on their 1st birthday party. Choose from the standard black and white combination or beige or grey colors to dress them like a little baby gentleman.
Birthday Party Accessories
Birthday attire is incomplete without birthday accessory. To complete their party look on this day, it is very important to shop for matching accessories. For baby girls, you need to buy beautiful floral baby headbands, hair clips, designer shoes, fashion jewelry etc. Likewise, for baby boys, you must buy smart caps or hats along with complementing shoes.
With these wonderful choices of clothing for 1st birthday celebrations, you can now comfortable dress up your little prince or princess exclusively and stylishly for the day which marks the completion of a year.
Top Search: