Dress up young girls in fashionable designer party wear wedding gowns and dresses for a stunning look. If you are a mother to a little girl then dressing her for parties is one of the most exciting things for you for sure. You want to buy the best kids party dresses for your girl to dress her in the most exclusive way. Gorgeous party wear kids gowns are one of the classiest clothing options for dressing up girls for special occasions like birthday parties and weddings. These cute and adorable occasion wear designer Indian party gowns for kids promise a ravishing look for your daughter.
Read this post to look at the most amazing baby party gowns for girls in India. These party wear frocks and designer gowns for kids are a must have clothing to give your daughter a diva-like look this season.
White Floral Wedding Party Gowns for your Little Baby
The divine wedding party gown in white color is delightful clothing for babies in India. This smart dress comes with ruffled frills flare and a designer sleeveless bodice with self-design making it a wonderful outfit to wear on special occasions and outings for a smart look.
Elegant Peach Fluffy Kids Party Gown
Dress up your baby girl in the fashionable peach colored birthday party gown for kids with a fluffy flare and elegant lacy bodice. This attractive baby clothing is a perfect Indian occasion wear dress for baby girls. It comes with stunning fitting and great style for birthday parties and wedding functions.
Ethnic Pink Designer Gown for your Princess
Try the exquisite ethnic designer gown for girls with a pink leheriya dhoti patterned flare and a white colored bodice with standing collars. This gorgeous gown gives a distinctly stylish look to your daughter. It is perfect for occasions like weddings and other festive celebrations for a traditional look.
Sea Green Tutu Style Princess Party Dress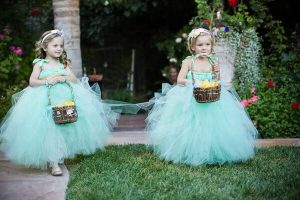 Cool summery trendy tutu party gown for young baby girls in soothing sea green color is designer clothing for outings this season. This stunning tutu dress comes with a mustard colored belt in contrast. This enchanting baby dress is a must addition to your girl's closet for formal gatherings.
Party Pageant Dresses and Gowns for your Daughter
If you wish to try something different and glamorous for your little girl then this pale yellow frock with ruffled frills flare with designer bodice is a wonderful choice. This smart party wear clothing for Indian kids promises a soothing and stylish look for your daughter when she goes out for birthday celebrations.
Select from these exclusive party gowns designed for your adorable daughter. Each of this piece is a beautiful creation and promises a distinct look for your princess when she is out for some event.