Weddings are the times to dress up lavishly. And when it comes to dressing up young baby girls, it is one exciting thing for every mother. Indian markets offer an attractive range of beautiful infant wedding dresses in magnificent hues. Shop online in Indian these gorgeous baby wedding attires which include colorful Indian lehenga choli for wedding, ethnic formal baby party dresses and designer princess wedding kids' outfits.
This post brings to you the choice of 8 most beautiful newborn baby wedding dresses which promise a perfect formal look. Read on and find out the latest fashionable toddler wedding dresses to shop for your little princess this season of weddings.
Ruffle Girls Wedding Gown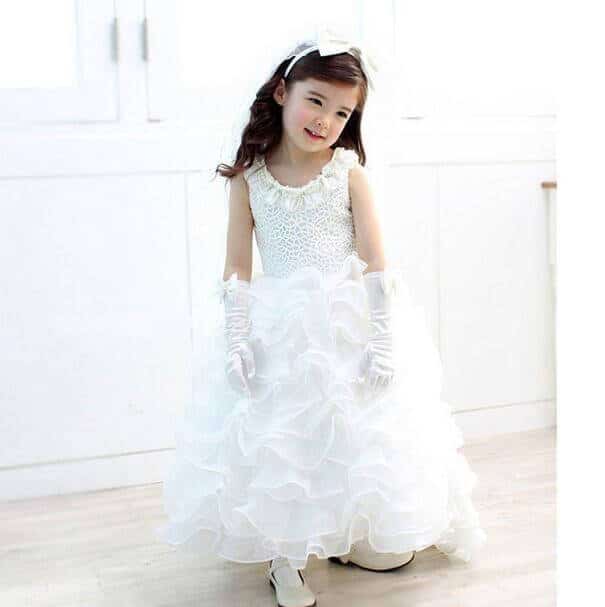 If you wish to dress up your girl in a gorgeous princess wedding dress then buy her the exquisite ruffle wedding gown. This smart and trendy designer clothing comes with a smart bodice with interesting floral and crochet patterns and the free flowing flare makes it an authentic girls' formal occasion dress. This stylish toddler party dress comes in different colors giving you a complete room to choose nothing but the best.
Wedding Tutu Dresses
The splendid wedding tutu dresses for girls have always been the most popular wedding costumes. The enticing flare in net is truly magical. The beautiful bodice in various patterns and neck styles add up to the glamour of this party wear wedding attire. It is a must have kids' outfit for your little girl to dress her exquisitely for weddings this season.
Kids Frozen Girls Dress
Give your little princess a beautiful surprise by buying her the exclusive Frozen girl dress for her. This is another choice of smart and fashionable party attire for your girl. These baby formal dresses come with a Frozen print on the bodice or the similar style which makes up a wonderful choice of attire for your toddler.
Frozen Wedding Tutu Dress
If you like more flare and more style then choose the gorgeous Frozen wedding tutu dress in mesmerizing hues. This exceptionally queenly formal outfit is designed around Frozen theme and will surely be loved by your cute girl. This designer wedding dress is an amazing clothing to add to her closet.
Dhoti Style Dress
Give your girl a complete makeover with this designer Indo western fusion clothing. Shop the unique and fashionable dhoti style dress. This is a wonderful blend of comfort of western dress and beauty of ethnic attire. This is a stately wedding outfit for your daughter which is a combination of Indian and western style.
Sari Style Dress
You can even dress up your princess in the most beautiful sari style dress. This exclusive designer wedding dress for toddlers is a ready to wear sari dress which ensures complete comfort of your little baby so that she can wear this ethnic attire with ease and also look amazingly gorgeous in this toddler wedding costume.
Ethnic Lehenga Choli
Lehenga cholis have always been popular Indian attire when it comes to weddings and special occasions. Girls love to wear the vibrant and resplendent lehenga cholis. They come in bright colors and wonderful ethnic patterns that promise a beautiful look for your daughter. The interesting flares match with the stylish cholis and dupattas.
Check this article: Latest Kids Plazo Set
Velvet Jacket with Skirt
Another choice of fashionable wedding dresses online for girls is the comfortable velvet jackets with skirts. These newborn formal dresses are fusion party wears which have the richness of Indian clothing and comfort of western attires. Each piece has been designed with intricate work and pattern to give these ensembles a splendid look.
These 8 different wedding dresses for girls in India promise a refreshing and fashionable look for your daughter. This wedding season dress your newborn baby in unique styles and patterns by shopping online for these exclusive attires for special occasions.
Top Search: