Fashion shows are all about dressing up fashionably and when it comes to dressing up your baby boys and girls for fashion show, it becomes a little tricky. The hunt for kids fashion show dress gets a little difficult when you don't know where to find them. But when you have the right place to dress your little ones for kids fashion show, you have nothing to worry.
In this post, we bring you the best fashion clothes for girls and boys. Have a look at the kids fashion dresses' that make stunning choices of kids fashion show clothing to have.
Ideas on What to Wear to a Fashion Show for Girls
We have come up with some interesting ideas for fashion show for kid girls. Browse through these new fashion dresses for girls 2021 to have your little ones look nothing less than the divas in making.
Pink Ombre Baby Gown / Dress for Kids Fashion Show
Have her walk with confidence and grace dressed in this pink ombre baby gown perfect for fashion show. This girls pink ombre dyed dress makes an exceptional outfit to have her rock the fashion show in unmatched style. This unique designer wear is something that is going to add on to her personality in the best way possible.
Red One Shoulder Sequin Dress for Girls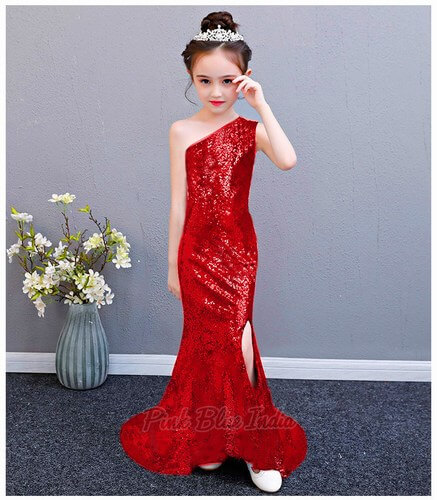 Red is the hottest color and this red one shoulder dress for girls with sequins makes the hottest sequins gown for kids to steal all the limelight at the fashion show. Go with this fancy and fabulous one shoulder toddler dress to give your little girl a beautiful makeover for the fashion show and stand out as the winner.
Little Pony Rainbow Theme Party Dress for Fashion Show
Surprise the audiences with the dash of colors with this inspiring rainbow theme dress that makes a lovely wear for a fashion show. Dress her up in this child rainbow dash dress that has been designed to make her look the prettiest. This little pony dress for girls is something that will help her get the attention on her.
Candy Girls Orange Dress | Kids Fashion Show Dress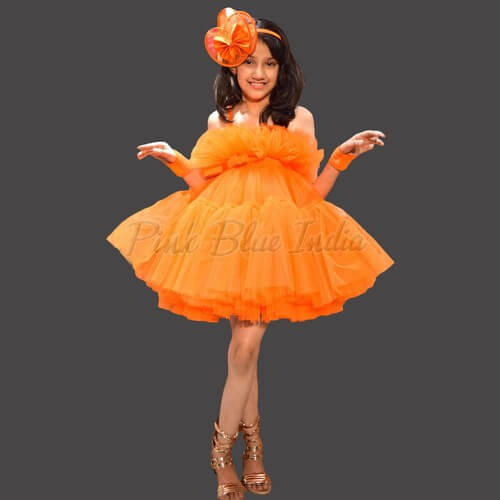 She is going to look colorful and gorgeous dressed in the bright candy girl orange dress. It makes one of the best choices for kids fashion show dress. She is going to love putting it on and judges are going to get impressed with this unique pick. Have her fill the room with brightness and happiness with this candy dress that is so cute and vivid.
Gorgeous Velvet Gown for Girl: : Velvet Kids Fashion Trend
If you wish to keep it classy and elegant then what is better than having a velvet dress for girls. This velvet sequins dress is an exceptional wear that will add on to her confidence and her grace. Freeze on this velvet kids gown that is a perfect fusion of elegance and fashion for your little fashion diva.
Ideas on What to Wear to a Fashion Show for Boys
If you are worried about finding the kids fashion show dress for boys then here are some fantastic choices for them. Have a look at the amazing ideas of fashion show dresses for boys that are just too good.
Boys Formal 5 Piece Velvet Suit
Boys and Kids birthday party outfit/Toddler to Teen Suits/Maroon Velvet Suit For Kids/Tuxedo For Boy/Toddler To Teen 5 Piece Velvet Suit/ Velvet Suits for Baby Boy. Boys Formal 5 Piece maroon Velvet Suit Boy First Birthday Party, Wedding Ages 1 Year up to 15 Years
Little Prince Outfit in Royal Blue and Gold
What is better than a royal little prince theme outfit in blue and gold colors to dress up your little boys for the fashion show. This is a unique and special royal baby boy prince costume that will help him shine like a prince at the event. Go with the lovely prince outfit that is a blend of cuteness and class.
Kids, Baby, Toddlers Boys 5-piece Blue Suit
The blue little boy suit is an exceptional choice of clothing for fashion show for boys. This kids suit is a combination of five different things that rightly dress him up for the event. The boys 5 piece coat suit is a complete baby boys dress for fashion show that will make sure that you don't need anything else to have him dressed right for the show.
Jungle Safari Theme Outfit for kids | Wild One Animal Dress
Keep it different and fun with a safari or zoo animal theme outfit that is just perfect. The jungle safari outfit for boys makes a promising jungle theme dress. Go with this wild animal/ wild one outfit that your little one is going to enjoy as much as the judges are going to enjoy seeing him dressed in. Have him win this competition with this unique safari themed dress.
Royal Prince Costume for Baby Boy
This royal prince charming costume makes one of the classiest toddler prince outfits that has been designed to help him rock the fashion show in unmatched style. Pick up this royal baby boy prince outfit that is the right dress for little princes. This dress is going to complement his cuteness and will certainly make him the winner at the event.
Black Velvet Tuxedo & Formal Suit for Boys
Keep it simply classy and stunning with the black velvet tuxedo suit. If you are looking for boys velvet suit for a formal gentleman like look then what is better than this unique outfit. He is going to look simply smart and handsome wearing this elegant piece of clothing that never fails to impress anyone around.