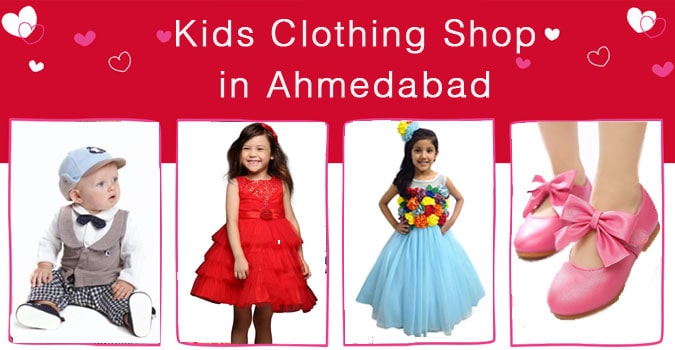 Ahmedabad is a city of culture and colours. For Ahmedabad moms who want to shop for latest designer baby girl clothes and children's wear then PinkBlueIndia is the first-rated kids clothing shop in Ahmedabad. It is a designer boutique Ahmedabad offering wide range of baby birthday party gowns, traditional Indian outfits, kids dress, baby boy formal wear and 1st birthday party dresses in engaging designs and patterns.
Find out everything you need to know about this best of online kids wear store in Gujarat for an unmatched shopping experience for your babies.
Baby Girl Party Wear Dresses in Ahmedabad, Gujarat
Let your baby girl put on the exclusive party wear dress with the delightful store offering exquisite range of baby girl party wear dresses, birthday tutu dresses, high low flower girl dresses and wedding gowns for little girls. Made with love and creative skills, this children's clothing store showcases a magnificent collection of stylish party outfits for baby girl. They come in fantastic patterns and lovely colors that promise a distinct look for her.
Kids Designer Frock and Gowns in Gujarat
Girls Frocks and gowns with frills and ribbons, flowers and flares make every heart melt. With this new born baby clothes shop in Ahmedabad, you can get your hands on these chic Girls Frock, Kids designer gowns that are perfect to dress her on special occasion like birthdays, photo shoot, fashion show, weddings etc. She will look impeccable wearing great style and class in these perfect outfits.
1st Birthday Dress for Baby Boy in Ahmedabad, Gujarat
First birthday deserved a special 1st birthday dress for baby boys. An inspiring fusion of style and design, these outfits sum up fashion in synch with the latest trends. With the newest and most unique collection of first birthday party outfits, your little one will always shine bright on his most important day. This online clothing store for kids surpasses all expectations with its collection.
Children Ethnic Wear Shop Online
Ethic wear for children in happy colours and charming patterns are the perfect choice of dressing them up for festive occasions and Indian weddings. Buy them at best ethnic wear shop for kids which has a wide range of children's traditional Indian clothing, kids ethnic wear, ethnic dresses, Nehru jacket, boys kurta pajama, Baby party lehenga dress , garba dress for baby girl to spruce them up. With magnificent dresses infused with ethnicity and Indian culture, have them dressed for special days.
Custom New Born Baby Shop in Ahmedabad
Give your babies a completely personalized look with custom clothes designed specially for them. Ahmedabad moms can now order for customized baby romper clothes for newborns to dress them different. Add on to their cuteness levels with made to order clothes for infants that are infused with love and creativity. Give your little ones the look you want with PinkBlueIndia.
Express Delivery from Jaipur To Ahmedabad in 2-3 Working Days
We ensure that you don't have to wait for your product you have order with us. We understand how excited you are to receive your order and we respect your feelings.
We offer express delivery from Jaipur to Ahmedabad within a span of 2 to 3 working days. Shopping with PinkBlueIndia comes with a double treat because you don't only get amazing products for your baby but also receive them quick!!!
The store offers not just cute baby dresses but also wonderful range of products. Browse them online or shop them from the store.
Where: B 92 Nehru Nagar Near Jain Temple, Jaipur
Timings: 9:30 AM to 6:30 PM
Facebook page: https://www.facebook.com/pinkblueindia
Phone No.: +918000011699, WhatsApp No.: +91-8003-550-118
Baby Clothes Shop In India