High spirits and happiness, colours and merriment are few words that define HOLI perfectly. To make this festival of colours an exceptional one, dress up your little ones in vibrant Holi festival kids t-shirts, Holi baby rompers and personalized Holi onesies. Forget those regular clothes because now you can have them flaunt the high energies in these adorable Holi festival clothes.
Buy Funny Baby Rompers Online From PinkBlueIndia.com
Long/Half Sleeve My First Holi Romer/ Baby Bodysuit
The first Holi has to be very special and with half or long sleeves bodysuits that adorably celebrate this festival. Dress up your little munchkins in these Holi festival onesies, my first Holi rompers.
Personalized Newborn Baby Holi Romper
Customized baby rompers in India to add more fervor to Holi celebrations for your baby boys and girls. Print what you like on these white Holi rompers and onesies for a personal touch.
Customized Unisex My First Holi Onesies
Buy the cute customized unisex baby rompers and onesies this Holi for kids. If you are planning to pick some baby clothes for your niece or nephew then they make a fun Holi present.
Cute Matching Holi T-shirts For Family and Couple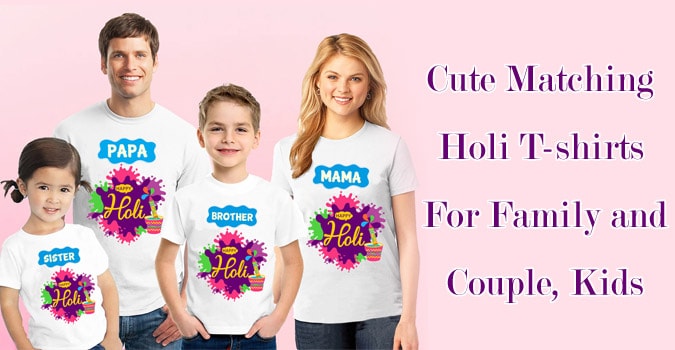 Make this Holi the best ever with vivacious Holi t-shirts. These Holi special combo t-shirts are just what you need to celebrate this colourful festival with your loved ones in the most fashionable way. With these custom Holi t-shirts for father, mother, family, couple, siblings and kids, post the most vibrant clicks on social media dressed in matching t-shirts for Holi. Make everyone around you feel jealous with the creative personalized Holi family t-shirts online that are going to make you stand out as a family. These Holi festival printed t-shirts make an awesome gift for your loved ones on this special occasion.
Holi T Shirts for Kids & Adults
Buy Holi printed t-shirts online for your kids as well as for adults. Designed around Holi theme, these adult and children t-shirts can be paired with shorts or jeans for a perfect match.
Customised Brother and Sister Holi T-shirts Online
Customised Cotton White Bro & Sis Holi T shirts – Buy Holi T shirts with Photo & Text Printed Online in India from PinkBlueIndia. Holi T-Shirts for Brother & Sister. Celebrate Holi with our special collection of Unique Holi Tees.
Personalized Children T-Shirt for Holi Festival
T-shirts for Holi festival with easy customization are the best way to dress your children on Holi. Ditch the usual clothes and add more spice to their look with these personalized kids t-shirts.
Have your children celebrate the hues of Holi in great style with the wonderful range of newborn baby rompers, bodysuits, t-shirts designed just for this spring festival. Affordable and cute, they are not to be missed!!!
This page was last modified on Friday, February 11, 2022