With festival soon to come, mothers get both excited and tensed about their kids clothes. It is seriously not easy to find beautiful and comfortable clothing for children. With Eid approaching, parents start looking for latest designer wear outfits which can make their little babies shine on the festival.
If you are looking for elegant Eid dresses for celebrations for your babies in India then get ready to shop online from the Eid special collection up for sale at our store. This Eid ul fitr range of party wear apparels has been designed by designers especially for this festival so that your children can dress up in the most fashionable formal dresses and look smart and stylish. Let us have a look at some of the styles which can be shopped online with ease.
Kurta Pajama for Boys
If you are looking for a fabulous Eid ul fitr dress for your little baby boy for festive celebrations of 2021 then nothing beats the set of Kurta Pajama for him. They come in various styles and patterns to suit your budget and needs. This is ideal ethnic formal clothing for your baby's first Eid celebration. Some of these patterns have been mentioned below:
Simple Cotton Kurta Pajama: It offers greatest comfort to the young children. They usually come in simple prints and lines in soothing colors with white pajamas. You can have it for your prince for day wear clothing.
Traditional Kurta with Stole: If you are looking for something heavy and unique then you can shop online for designer traditional kurta pajama set which comes with a matching stole.
Ethnic Kurta Pajama with Jacket: If you want to dress your kid in classy formal attire then go with the one with jacket. The jacket adds more grace and style to the single shade attire.
Formal Dresses for Boys
Another interesting choice of clothes for boys is the formal dresses which come in an elegant combination of shirts, pants and coats. You can select from the ravishing range of fashionable suits which come in subtle shades of whites, blacks and grey which are perfect for Eid parties and celebrations.
Salwar Kameez for Girls
This is surely one of the hottest selling apparels for baby girls in India for occasions like Eid and other festivals. You can shop online in India some of the most beautiful and colorful sets of salwar kameez in various styles for 2021. They are not only comfortable but are also ideal party wear formal clothing on this special occasion. They range from simple cotton ones to heavy ones with work and embroidery.
Designer Lehenga for Girls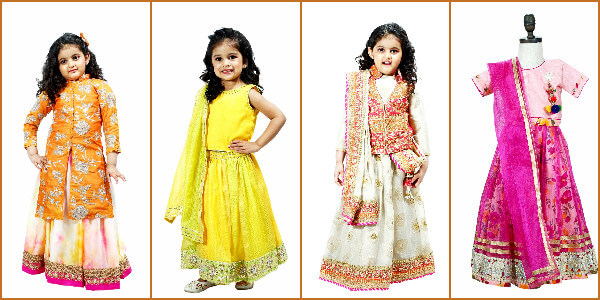 Lehengas are another very beautiful ethnic clothing option for newborn baby girls on Eid. They come in gorgeous designs and colors. Beautiful cholis with skirts with enthralling flare make it an apt selection for young girls in India. The matching dupattas add more grace to it.
Eid Mubarak T-Shirts – Eid Mubarak T-Shirt Designs
Make this Eid a more memorable as well as a fashionable one with the unique Eid Mubarak shirts and Eid Mubarak t-shirts. Select from the unique designs of first Eid t-shirt collection that features amazing Eid Mubarak print t-shirts for kids, babies, men and women. Dress on the auspicious occasion of Eid in great style with the best of Eid Ramadan t-shirt gifts. If it is the first Eid of your newborn baby then shop for the most adorable and exclusive first Eid t-shirt for your little one. Have it printed for your dear ones to surprise them with a thoughtful Eid gift.
You may be interested to read: My First Eid Outfits! Muslim Baby Clothing, Ramadan, Eid Dresses
Exclusive Dresses from Pink & Blue India
If you want to add some vibrancy to the wardrobe of your princess then you can include some elegant western dresses this Eid celebration. These tutu dresses, formal party frocks and gowns book beautiful on newborn baby girls. They are extremely comfortable and stylish. There is surely no harm in going for these crochet bodice and designer flare outfits for your daughter.
Choose from any of the above mentioned styles of clothing for Eid ul fitr this year and dress your children in the most beautiful way. You can shop for all of these patterns in India sitting at home. So put an end to all your shopping tensions and relax. These outfits promise you the most stunning look for your kids.
This page was last modified on Monday, March 15, 2021