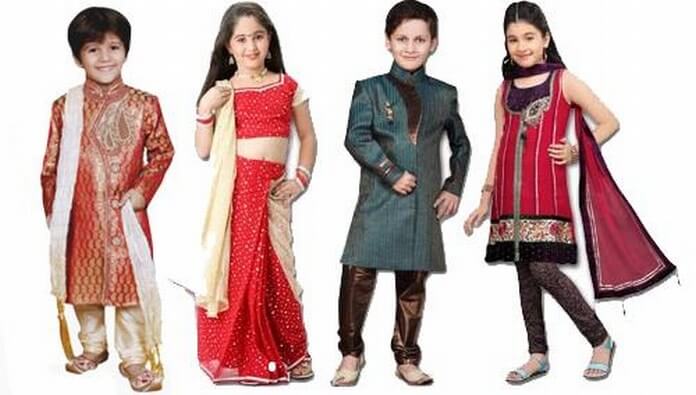 With the festive season on the run, ethnic fashion for kids in India seem to be on the role recently. Parents just love the idea of introducing ethnicity to the child's wardrobes. It helps infuse the feeling of a true Indian in the youngest generation. They allow their attire speak of culture and tradition and make fashion meet style and convention in this aspect.
What is seems to be debatable in this aspect is how practical is ethnic wear on kids. Many parents show concern on the comfort factor. But whatever it might be, kid in ghagras, salwars, kurti, pajamas and saree also rate the highest on the cuteness level.
Ethnic Wear Market for Kids
Fashion evolves with time and condition. Modern cuts, distinct styles and innovative patterns rule the online kid's ethnic market today. Fashion designers have been continuously inventing and reinventing their designs to suit the demands of the ever-changing tastes of new mommies for their little prince and princesses in the market.
Ethnic Indian wear for kids will hence never go out of style. And in a country like India, where celebrations and festivals hit almost every month this section of attire has been blessed with the immortal boon.
Ethnic Daily Wear for Kids
If you are considering ethnic daily wear for your baby girl, kurtis along with leggings will be the best option for you. They come with immense comfort and ease, are lightweight and can be worn in any weather condition. As for your little master you may consider kurta pajamas on high quality fabric. For rainy seasons you may go for synthetic materials such as chiffon and georgette as it dries pretty fast and keeps your child's skin harmless.
Looking for Ethnic unique Baby Jamna for newborn to 12-18 months
Traditional Festive Ethnic Daily Wear for Kids
India is a land of color and dynamism. This sentiment is also seen reflected on the attire fashion industry for kids. The market is full of colors galore wedding and festive occasion dresses for your baby boys and girls. Vibrant colors like fuchsia pink, turquoise blue, sunflower yellow, bottle green etc. seal the show. In the baby girl market Anarkali dresses, salwar kameez, ghagra cholis etc. attract eye candy activity for your kid. They are heavily embroidered dresses that make your kid a princess at the blink of an eye.
The boys section witnesses the blend of traditional and modern designs. Of the favorites include dhoti kurta, Children party wear kurta pajama, Indo western Sherwani and others. These add to the true essence and flavors of India to help explore its deep rooted culture.
Check this: Achkan for Baby Boy
Indian Ethnic Party Wear for Kids
The Indian fashion industry also deals in ethnic party wear for kids. Designers effortlessly work to make your toddler look neither too under-dressed nor over-dressed. They make use of different fabric for different season. For example, georgette, chiffon, cotton and satin dresses for summers and velvets for winters.
For little girls designers come up with anarkali dresses, salwar kameez, ghagra cholis, lehenga cholis, sarees etc. keeping pace with the changing taste in fashion. For baby boys collection includes children kurta pajama, kids Indo western sherwani, kurta chooridar dupatta, kurta chudidaar pajama and jacket etc.
Ethnic wear is very versatile. This addition adds class and innocence and helps your kids carry themselves on all occasions & festivities in style.