Plan to surprise your DAD with some amazing Father's Day outfits? We bring to you fabulously designed collection of personalized Father's Day outfits along with wonderful first Father's Day Clothing ideas to wish your PAPA. Celebrate Father's Day 2022 with PinkBlueindia's impressive range of Last Minute Father's day Gift Outfits for those who are late. Our range of exquisite outfits designed for fathers makes a perfect baby shower gift idea for dads to be and new dads. Explore the world of newest and most innovative ideas for an unforgettable Father's Day for your daddy!!!!
First Father's Day Romper & Onesies for Boy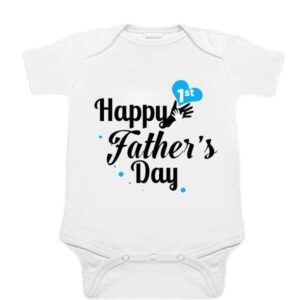 It is going to be the First Father's Day Daddy for him. Buy customized 1st Father's Day rompers and infant onesies to make it extra special for him. Check out our collection to pick up unique ideas that promise to bring a smile to his face. See his heart melt with love when you surprise him by dressing your baby boy in the most adorable romper or onesie.
Crafted using premium quality cotton fabric, these bodysuits come with snap closure making diaper changing sessions quicker and more convenient. Comfortable and soft, finely designed rompers for babies between 0-3 months. Cute, funny and funky rompers to make the best pick!!!
"Father and Son Best Friends for Life" adult t-shirt and kids' t-shirt or comfy bodysuit. We also have "Daddy and Daughter Best Friends for Life". Write a note when you place your order.
Buy Online: Matching Father and Son Outfits trends
Product Suggestion
Go with the cutest "Happy 1st Fathers Day Daddy- with your baby's name" to surprise the new daddy!!!
Personalized First Father's Day Onesie for Girl
In search of an exquisite Father's Day outfit for baby girl?
Cute little girl dressed in funny My First Father's Day onesies make it a celebration to remember. Designed with love and care, these 100% cotton crafted bodysuits at Pink Blue India feel soft on her skin. A perfect handpicked first Father's Day gift for first time dads. Dress your baby in charming "Happy First Father's Day" onesie and have your newborn wish her dad in a unique way. Order now for personalized Father's Day Baby Clothes and newborn onesies from our collection.
Product Suggestion
Specially designed Daddy Baby Onesie® My Fingers May Be Small but I've Got Daddy Wrapped Around Them ღ Cute Baby Onesie
Read Article: Best Father and Son combos Shirts for father's Day
Fathers Day Matching Father / Son / Daughter T shirts
Father's Day celebrations are more fun with personalized t-shirts for Father's Day!!!
Make the best pick from the largest range of funny father and son t-shirts and personalized dad and daughter t-shirt sets to celebrate this day dressed alike.
With PinkBlueIndia, make your own custom DAD and daughter t-shirts, matching father and me t-shirts, DAD and son t-shirts online in India. Perfectly matching father and son t-shirts for the daddies and his babies to get some memorable clicks this day!!!
Read also: First Father's Day Gifts ideas for Lockdown
Product Text Suggestions for T-shirts
We have some recommendations for you from our collection: "Father's Day Superhero t shirts", "I am a Proud Daughter and Father T-shirt" ,"Like "Father Like Son t-shirts", "Best Dad and Daughter Ever T-Shirt", "Daddy 01 & Daddy's Girl 01 ", "My Son/Dad My Hero Father Son Tees", "Touch Dad and Son Matching T-Shirt"
We do NOT print our onesies with cheap vinyl that withers away with time but we have them printed permanently for fresh and long-lasting print!!!
We promise to dispatch all orders within 2 working days so that your order reaches you fast.
Wishing a very Happy Father's Day with Love from Pink Blue India Team